Ever walked in and out of a clothing store, in a jiffy, absolutely sure about your purchase? I have not. In fact, choosing the store seems like a million dollar question already. Once I have become a millionaire, it's about choosing the outfit. But there are always so many options – so many styles, and sizes and colours and prices. The number one question to myself in the dressing room is, "Should I buy this?" Usually, this uncertainty lessens when I know that the store has a refund or return policy. But nothing scares me more than the bold and red FINAL SALE tag on the item. Indirectly, that tag indicates that if I am unsatisfied with my decision, after the purchase, I will be stuck with the outfit and the bill. Should I still buy it? – Uncertain group member
Similarly, we have faced varying degrees of uncertainty, on a more serious scale of course, throughout our community projects. So far, we have successfully completed two kitchen visits. The first, was at the Diamond Centre for Living – a very beautiful facility resembling a character filled house.
Being the first visit, there was a lot of nervousness around how the process would flow. But the butterflies soon flew away as we got to meet the kitchen manager. He made us feel very comfortable and was well prepared for our meeting. After what we thought was a smooth interview, we were given a tour of the kitchen which allowed us to make our observations as well as connect some of the things that were discussed earlier. The experience built a clearer picture of the project in our minds as we left with feelings of awe.
Filled with a higher level of confidence, we embarked on our second visit. We had made the call and gotten a time that was convenient for the agency. However, when we contacted the director to confirm the appointment, the director postponed the meeting to a later time on the decided day. Still excited about the visit, we arrived at the place. But upon arrival, we were informed that the director was engaged in prior commitments. With heavy hearts, we decided to wait but thoughts of uncertainty had already begun to conquer our minds – that is, whether we would have to leave without interviewing the director. After a long wait, she invited us into her office for the interview but she had very limited amount of time to offer. On one hand, we were delighted to being able to interview her but on the other, we were uncertain about the quality of the interview and the opportunity to take a tour of the kitchen. Thankfully, she was very cooperative and gave us enough information in the short amount of time. Also, she let us tour the kitchen, although independently, after our quick but successful interview.
In the end, things may not have gone as planned but we were able to accomplish what we had set out to.
Our variety of experiences, during these visits, have made it clear that, as a group, we are on the same page and have given us insight on how to proceed. We have realized that breaking down larger tasks into smaller tasks, makes the challenge much less daunting. Entering the next few weeks, our main objective is to complete the rest of our kitchen visits efficiently and adequately. After which, we hope to organize and analyze the full set of data in a manner that can be presented to our peers, teachers, kitchen administration, and community partners. Also, we are determined to maintain a strong communication within our group in regards to our perspectives on the progress much like the activity we had at the workshop in our tutorial last week.
During the workshop, we personally reflected on our moments of significance and came to similar conclusions. One of our major moments of achievements was successfully scheduling and completing our first visit.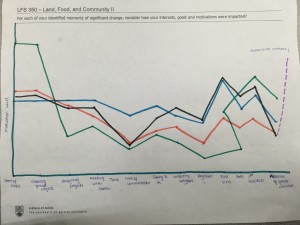 Since, it had been very difficult to connect with the person in charge for many of the facilities, being able to schedule and actually conduct an interview was a big step for us as a group. The actual interview was very interesting, enlightening, and we were very fascinated being a part of the project. In addition, it was strongly encouraging for the group members who did not go to the first visit, especially since we had encountered huge roadblocks in terms of contacting kitchens. It had finally begun to feel that there was actually some light at the end of the tunnel.
Although, there lingers a huge uncertainty about whether we will be able to successfully contact four more kitchens, in the limited amount of time left, and that one wrong decision may cost us much more than a shopping bill, we will continue in our efforts. Since we believe that now we hold a better understanding of how uncertainties may occur, it is our goal to deal with them even more proficiently. We aspire to continue expanding our knowledge and become more confident exercising our skills throughout any uncertainties that may arise within each visit. So bring on the final sale!