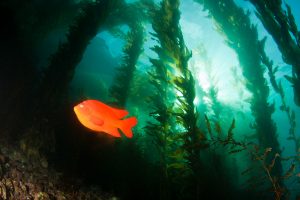 British Columbia is known for forests covering its mountains, but less seen is the kelp forests in the ocean. Kelp forests much like trees, are foundations for ecosystems. It's a habitat for sea otters, nursery areas for fish, home of sea stars, sea urchins and many more. They help control erosion on coasts, are highly productive areas for fisheries and oxygen producers. Kelp forests are shrinking all over the world because of the loss of top predators, a warming ocean and increase in sedimentation from land sources.
There is good news! Multiple restoration actions or "recipes" are showing promising results along the British Columbian coast and elsewhere.
Recipe 1: Urchin Removal
In Haida Gwaii and Southern California, the human removal of urchins has been successful in increasing gonad size (used for sushi, Uni) and the return of kelp. The process of human removing urchin needs to be a continuous action as we would act as the top predators. This can be costly and labor intensive. But could the urchin be sold and a sustainable fishery produced? The problem is the small gonads found in urchin barons are not marketable. To reach a sustainable fishery, lot of urchins would need to be killed and continued to be killed to support the fishery. Then if people stop wanting Uni, could mean less urchin removal, reversing any progress made.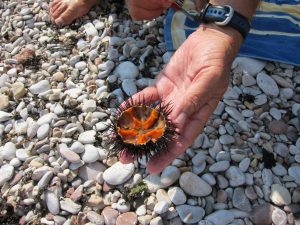 Recipe 2: Sea Otter Reintroduction
The reintroduction of sea otters would bring back a natural predator of urchin. Otters though prefer larger urchin, and the small and medium urchins found in urchin barrens would eaten by sea stars. Human reintroduction of otters poses problems as their return can harm human fisheries of First Nations and other local communities, who need to be involved in the planning if this process is used. The Coastal Voices is a group of Indigenous leaders, knowledge holders, scientists and artists from British Columbia and Alaska who share what the reintroduction of sea otters mean to them and how it may be best to wait for the otters to reintroduce themselves.
Film by Ilja Herb in collaboration with Heiltsuk Integrated Resource Management Department, Haida Nation, Nuu-chah-nulth Tribal Council, Simon Fraser University.
Recipe 3: Sea stars
Sea stars may be better for decreasing the numbers of the small and medium sized urchin. Sea stars have their own problem of  sea star wasting disease which is currently still being researched into causes and solutions.
Recipe 4: Replanting kelp
Replanting kelp can be done too, similar to the idea of replanting trees.  In Orange County, California, replanting done by citizen scientists have restored the forest. Unique challenges include needing protection from predators and limited times to "plant" because of ocean conditions.
Recipe 5: Improving human management
Improving human management involves reducing the harm to oceans done by human activities. These other restoration plans will only work if the destructive pressures stop.
Restoration Feast:
Restoration plans work better when they are not done alone, much like a feast is made with multiple recipes. A mix of these "recipes" tailored to fit local conditions and community involvement in planning is necessary to create a "restoration feast" or successful plan.
Video of bull kelp forests in Central Coast, British Columbia by Jenn Burt 2013.
Further readings/videos:
Coastal Voices videos on sea otter reintroduction.
More success stories from Orange County Coastkeeper, Puget Sound Restoration Fund, and Coastal Restoration Project (has a good video of a urchin excloser).
Video of kelp forests off of Haida Gwaii with urchin barrens.
Video of conservation of kelp forests off West Sussex, England.
References:
Bengtson, B. 2019. Sea otter research nets new marine discoveries. Available from: https://www.nsnews.com/community/sea-otter-research-nets-new-marine-discoveries-1.23880044?fbclid=IwAR1mdF-2zwoUAZ4T1RkLNsos85P1gfg–BHWm54vpZ–dtTvX51uC7l0lQ4 (Accessed: 28/1/2020).
Bland, A. 2017. As oceans warm, the world's kelp forests begin to disappear. Yale Environment 360. Available from: https://e360.yale.edu/features/as-oceans-warm-the-worlds-giant-kelp-forests-begin-to-disappear (Accessed: 28/1/2020).
Goldman, J.G. 2019. Restoring Harmony in Haida Gwaii. bioGraphic. Available from: https://www.biographic.com/restoring-harmony-in-haida-gwaii/ (Accessed: 28/1/2020).
House, P., A. Barilotti, H. Burdick, T. Ford, J. Williams, C. Williams, D. Pondella. 2018. Palos Verdes kelp forest restoration project. Available from: https://www.santamonicabay.org/wp-content/uploads/2018/12/Kelp-Restoration-Year-5-Annual-Report-2018-2.pdf (Accessed: 28/1/2020).
NOAA. 2020 A. What lives in a kelp forest. Available from https://oceanservice.noaa.gov/facts/kelplives.html (Accessed: 28/1/2020) 
NOAA. 2020 B. Impacts on kelp forests. Available from https://sanctuaries.noaa.gov/visit/ecosystems/kelpimpacts.html (Accessed: 28/1/2020) 
Salomon, A.K., J.M. Burt, I. Herb, Kii'iljuus B. Wilson, Hup-in-Yook T. Happynook, Skil-Hilans A. Davidson, Wigvilhba Wakas H. Humchitt, Wii-tst-koom A. Mack, Gitkinjuuaas R. Wilson, N. Tanape Sr., L. Wood. Coastal Voices. Available from: www.coastalvoices.net (Accessed 28/1/2019)
Schultz, J., Howe Sound Research and Conservation, and Coastal Ocean Research Institute. 2018. Sea star wasting. Available from: http://oceanwatch.ca/bccoast/species-habitats/sea-star-wasting/?doing_wp_cron=1580326069.9579319953918457031250 (Accessed: 28/1/2020).
 Simke, A. 2020. sometimes nature needs a little TLC, the 'Kelp Lady' is here to help. Available from: https://www.forbes.com/sites/ariellasimke/2020/01/18/sometimes-nature-needs-a-little-tlc-the-kelp-lady-is-here-to-help/#15da261f3b9e (Accessed: 28/1/2020).
Smale, D.A., M.T.  Burrows, P. Moore, N. O'Connor, and S.J. Hawkins. 2013. Threats and knowledge gaps for ecosystem services provided by kelp forests: a northeast Atlantic perspective. Ecology and Evolution 3: 4016-4038.