Global Market Insights Inc. is a global market research and management consulting company catering to leading corporations, non-profit organizations, universities and government institutions. Their main goal is to assist and partner organizations to make lasting strategic improvements and realize growth targets. Their industry research reports are designed to provide granular quantitative information, combined with key industry insights, aimed at assisting sustainable organizational development. Market Insights publishes over 200 industry research reports, providing data points mentioned below:
Industry Research
Market Sizing & Forecast
Competitive Intelligence
Market Entry Strategy
Pricing Trends
Sustainability Trends
Customer Insights
Technology Evolution
Innovation Trends
Distribution Channel Assessment
I wanted to focus on one of their recent reports on AI in the Education Market publication and especially the image highlighted below from the report. I find it interesting that while some countries in North America and Europe have the resources for growth in adoption of AI powered educational games, rise of AI services via mobile devices, implementation of collaborative learning model, and the facilitation of the improved course designing activities that afford new opportunities in the market, the countries on the right below, would struggle to keep up. This is where AI in the education market would be segmented and open a digital AI divide on the basis of end user, educational model, application, and geography. While enterprise resource planning and learning management system (LMS) in developed countries such as the U.S. UK and China offer ample opportunities for market growth, it would not be a level playing field for the rest of the world. AI in every field is developing rapidly and we are playing catch up to harnessing the perfect blend of AI pedagogy software with current hardware. Maybe in 5 years?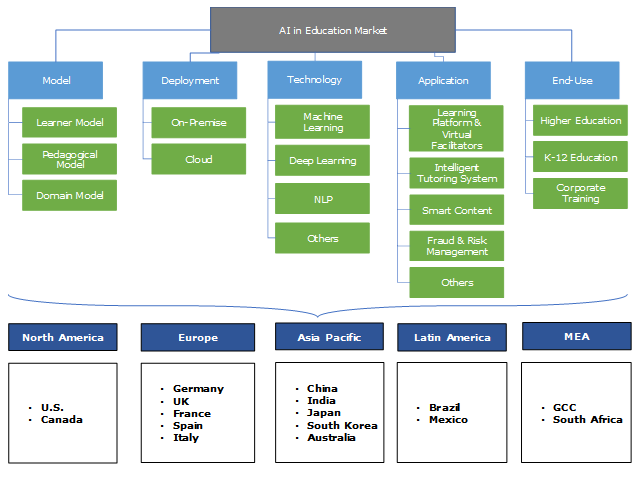 ---