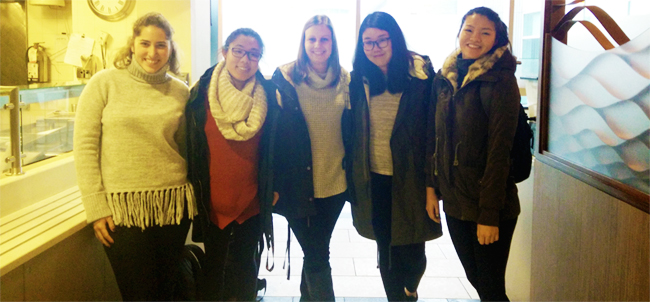 Introducing… Group 19! From left to right:
Dafna Bicaci
Originally from Istanbul, Turkey, Dafna is interested looking into issues regarding food security and sovereignty in the developing countries. She is currently studying Food, Nutrition and Health at the University of British Columbia. With a huge passion for helping others, she has been volunteering locally at the UBC farm and at several Soup Kitchens but also volunteered internationally like Nepal and Turkey. Dafna believes addressing community food security problems may help us evaluate global context of food security in a more effective way.
Julia Wu
Julia is a food science student from Auckland, New Zealand. Coming to Canada for University has been a unique, but extremely rewarding experience. Her interests lie heavily in product development, and hopes to work with functional foods or foods for people with dietary restrictions in the future. She believes that this project will teach her how to take different approaches to problem solving, as well as learn how to engage and participate in a community setting.
Alyssa Johnston
Alyssa is a third year Applied Biology student majoring in Food and the Environment. She is interested in increasing the use of sustainable agriculture practices and improving local food security. A few reasons that drove her to want to be apart of this project is the importance of making healthy, local food accessible to everyone and personal experiences with her secondary school's cafeteria not having many nutritious meal options available to the students.
Xiao Han (Kat)
Kat is an international student from China. Achieving the degree of Nutritional Science in the University of British Columbia is her dream, and now she is enjoying this process! She chooses this major because she loves food, and she wants to know more about what people eat in different families. She is willing to travel around the world and teach people how to improve their local food systems after graduation.
Tiffany Ku
Third year FNH student originally from Taipei, Taiwan. Her interests include investigating local food distribution and consumption- in particular, which foods are more accessible, as well as the range of accessible nutrients. She likes to observe long term effects of different diets for people with specific needs, and understand how nutrition collectively works in promoting health/disease prevention. Building multifunctional and balanced communities is a very important concept to her as she believes it is the key to conservation and sustainability. It is her goal to take part in the endeavours of bringing food security to all nations.