"Together we grow"

– Gordon Neighbourhood House
Welcome back to our blog!
We are now a few weeks into our project and busy getting ready to develop our recipes. Recently, we had the opportunity to visit GNH and participate in preparing and serving a lunch. This was an amazing experience for all of us and we will definitely be drawing on this when completing our project. We developed our project proposal after our meeting with our community partner, Katelyn, which you can read through here: Group #8 Proposal Report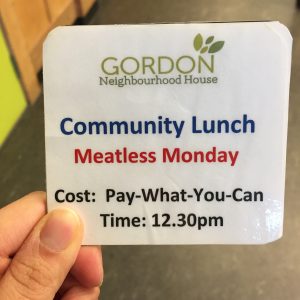 Figure 1. Community lunch meal ticket for GNH's Meatless Monday
In preparation for the next few weeks, we have created some weekly objectives, as well as highlighted some of our achievements thus far.
Weekly Objectives
March 5: By this time we will have finished our second blog post and will be meeting to find and develop recipes to test.
March 12: We aim to have tested all our recipes by this date and to have started scaling up some of the recipes Katelyn has provided.
Achievements
Met with our community partner, Katelyn, and discussed the project details.

From this meeting we were able to determine the next steps that we needed to take, and gave us the needed information to complete our project proposal.

Katelyn gave us inspiration on how to develop our recipes.

Completed our very first blog post!

Completed our project proposal.

Visited GNH to help with the preparation of a lunch.

Met staff that informed us about the type of food GNH typically receives from the food bank, and the types of ingredients they normally purchase.

Met volunteers that showed us how a typical lunch at GNH was carried out.

Helped prepare and serve the lunch.

Received feedback from the guests on the food served.
Figure 2. GNH's community lunch set up
Reflection on a moment of significance
What?
Veganism is commonly associated with white people of privilege (Alkon, A. H., 2011), whereby the white people are made the norm and are allowed to marginalize the other people of colour. This creates structural barriers to inequity in the food system as mentioned in the video by Malik Yankini. However, GNH provides strategies to this barrier by serving vegan community lunches on Mondays. This allows the introduction of vegan foods to the other people of colour and as such, racial discrimination can be eliminated. Furthermore, these vegan meals aim to emphasize on accessibility, inclusivity and improved food literacy among the community members (Gordon Neighbourhood House, 2017). By providing vegan meals, not only can everyone, including those with religious dietary preferences or choices be included, but it can also help to eliminate food insecurity. Community lunches serve as a social assistance that allows food insecure individuals to have adequate and secure access to food.
Upon our visit to GNH during reading break, as two separate groups on two consecutive days, we experienced the process of how the staff at GNH prepared the food for their community lunch. Our group took this opportunity to engage with the community members taking part in the lunch, to determine what they enjoyed about the existing recipes and their suggestions for improvement. Our group members also had a chance to participate in the preparation of a lunch, and work with the head chef as well as some regular volunteers. In addition, we gained a general idea of the amount of ingredients needed for each meal, and the proper meal size served to each person. We also had a chance to look at their storage room to see what ingredients are available on a regular basis to incorporate into our vegan recipes. This included items such as pasta, canned corn, and canned chickpeas. One group observed a Monday lunch, which is when the vegan meals are served, while the other group went on a Tuesday, to observe a meal where meat was served. Therefore, we had the opportunity to compare differences between the two days, including serving size, the budget for that meal and ingredients used, and how the ingredients got to GNH (donation, purchase etc.)
So What?
Visiting GNH was significant for our group, as we were able to get a hands on experience in the preparation of the lunches that GNH serves. It also provided us with some more context in how the lunches are carried out, and what the kitchen and dining facilities offer. This experience will assist us in preparing the vegan recipes, as we can draw on this to determine if a certain recipe will work with the kitchen space and utensils that GNH has and the ingredients that are available to them. Being able to prepare and serve a GNH lunch was an important step in understanding the process from recipe to completion, as well as feel a connection to the community GNH serves.  Another theme we felt with our hands-on experience at GNH was the importance of providing clean and healthy meal options. "Because residents of social housing have low incomes, they are vulnerable to both food insecurity and dietary-related disease." (Miewald & Ostry, 2014). Since GNH is a resource for many low-income people who may be food insecure, having options like the Meatless Monday vegan meal is important in ensuring the most vulnerable parts of the community have access to nutritious food to keep themselves healthy.
In addition, this experience fully immersed us in asset based community development. We were able to assist the individuals at GNH and gain knowledge on the history of the program, and what skills and assets GNH brings to the table. This ensures that GNH and the community are at the centre of our project. Furthermore, this approach "recognizes and mobilizes the unique capacities and skills in a community" (LFS 350 website, 2018), so that they can grow and implement the recipes we suggest. In this framework, we are able to see how every member of GNH contributes something valuable to the community. This includes the volunteers that help out with the preparation and serving of the lunches and the participants of the lunch, who keep the community lunch program running.
Now What?
Now that we have explored the recommendations set out by the LFS group from last term, on some nutrients that may be lacking in GNH's lunches, and the type of food that is available to GNH, we can start creating and researching low-cost vegan recipes. With this, we hope that our group's informational diversity can help us bring together different and unique information (Phillips, K.W., 2014) regarding nutritious vegan recipes, which we can then use to incorporate into our recipe development. In terms of scaling up recipes, we need more information to determine how to correctly scale up spices in the recipes we develop and find, to ensure the flavour of the final product is not too subtle or overpowering. Going forth, a challenge we could possibly face is finding a time we can all meet to test out the vegan recipes we develop or find. In order to avoid this from happening, we will need to plan and set a date early.
To ensure we are on track for completing our project, we have set some goals for us to achieve. First, we would like to discuss the proposal with Katelyn and potentially make changes according to her feedback. We will communicate with Katelyn through email to determine if she would like us to adjust any of our methods, or include/exclude anything from our proposal. Next, we will be scaling up the existing recipes. We will do this using an online calculator, ensuring to make any necessary adjustments. We will also draw on past courses, where we learned how to scale up recipes for a large number of people. This will be followed by brainstorming and creating 3-5 nutritious vegan recipes. For developing and creating our vegan recipes, we will look at the Pulse Canada and The Vegan Society for inspiration. From there we will select a few recipes to test in the kitchen. We will test the new vegan recipes on a small scale, before scaling them up for GNH. We will do this to ensure they taste good and that they are visually appealing. Once we have tested them, we will be able to determine if the recipes are feasible for GNH to recreate on a larger scale. We hope to be able to test the recipes out together, however if this is not possible, we will need to test them individually and combine our results.
Closing remarks
With only four weeks remaining, our project is underway and we are approaching the most crucial stage of our project – that is, scaling and creating new vegan recipes for our community partner. Stay tuned to find out about our progress in creating vegan recipes in our next blog post!
References
Alkon, A. H. (2011). Cultivating food justice: race, class, and sustainability. Cambridge, Mass: MIT Press.
Christiana Miewald & Aleck Ostry (2014). A Warm Meal and a Bed: Intersections of Housing and Food Security in Vancouver's Downtown Eastside. Housing Studies, 29:6, 709-729.
Gordon Neighbourhood House. (2017). Food Philosophy-GordonHouse.org. Retrieved Janurary 21, 2018, from http://gordonhouse.org/about-gordon-neighbourhood-house/right-to-food/ 
LFS 350 Website. (2018). Session 2 – Food Justice + Asset-Based Community Development. Retrieved February 28 2018, from https://lfs350.landfood.ubc.ca/session-notes/term-1-session-notes/session-2/ 
Phillips, K. W. (2014). How Diversity Makes Us Smarter. Retrieved August 24, 2016, from https://www.scientificamerican.com/article/how-diversity-makes-us-smarter/