The Vancouver Aquarium is perhaps best known for its extensive displays and impressive outdoor shows. Perhaps what is less known is its marine rehabilitation program known as the Marine Mammal Rescue Centre, which work is largely carried out behind the scenes.
What does the Marine Mammal Rescue (MMR) Centre do?
The MMR is an on-site hospital for ill, injured and abandoned marine mammals from the BC Coast. Mammals are rescued, cared for, and then released back to their natural habitats. Animals include elephant seals, sea otters, sea turtles, common dolphins, killer whales, and harbour seals. The most commonly admitted patients are harbour seals. The MMR team receives calls from members of the public who suspect that a particular animal, usually seals, is in distress. The team then reviews pictures provided and decides how to best intervene.
The MMR has written protocols on how to care for different species, based on research done on animals previously treated by the aquarium.They also focus on educating the public on how to respond to marine mammals that they see could be distressed. As a general rule, if a mammal is suspected to be in distress, the public is advised to
1. Not touch or move the mammal
2. Keep people and pets away from the mammal and
3. Call 604-258-SEAL to report the mammal.
MMR team includes a veterinarian and consulting vets, animal health technicians, animal care and rehabilitation specialists, and volunteers.
What happens when the mammals are rescued?
New mammals might be suffering from bacterial, viral or parasitic infections, and/or with compromised immune systems. They are placed under quarantine for at least 14 days, so as to prevent transmitting disease to the other animals.
Each animal is also given a physical assessment of body measurements, physiological conditions, and examined for wounds, parasites or other abnormalities. Blood and stool samples are taken, and veterinary staff tailor treatment plans for each mammal. Treatment may include rehydration, wound care, or antibiotic therapy. More seriously ill mammals also undergo surgeries.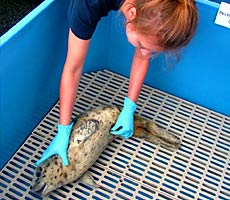 Did you know that wild animals are adapted to avoid showing signs of weakness and disease? This is because doing so would make them more vulnerable to predatory attack. In order to avoid detecting symptoms of illness until the condition has progressed, the MMR team is conducts close regular observations of the behaviour of the rescued mammals, and monitors signs such as changes in appetite or bowel movements.
After the mammal is accessed to be healthy enough, it is released back into the wild.
On the MMR and public engagement
On the MMR webpage is a link to a blog, which describes cases of specific animals being rehabilitated. Here, we learn about Toby the seal, who was rescued from Garry Point in Steveston, and named after Toby Ng, a badminton player, whom he later got to meet.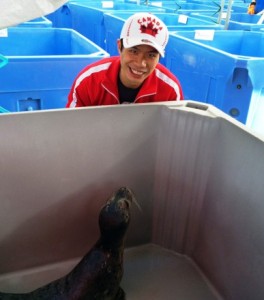 We also read about Bobby Orr, who was found by a worker in Sawmill Company in Port Moody, surrounded by log booms, on the top of a sawmill machine.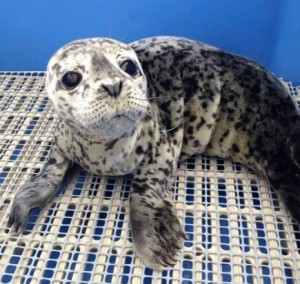 I think this great example of scientific communication. Members of the public are made aware of this program and are taught how to identify and respond to marine animals they think could be in potential danger. Public engagement is sought in conservation. People are encouraged to take action when they see a distressed animal. The MMR blog also gives the program a more personal feel, instead of seals etc just being figures and statistics.
Promoting a vigilant citizenry will foster more personal interests, towards the ocean. Marine life is treated humanly and people are better informed. Sometimes discourses surrounding the doom and gloom in a perceived lack of action taken towards sustainable ocean health, and a supposedly apathetic populace, can be discouraging. But what MMR has shown is that marine life can and has been treated humanly, with partnership with a better informed public. And sometimes, ocean conservation takes the form of rescuing one seal at a time. I'd say this calls for some #OceanOptimism.
—–
Sources consulted
https://www.vanaqua.org/act/direct-action/marine-mammal-rescue/about-mmr
https://www.vanaqua.org/act/direct-action/marine-mammal-rescue/rehabilitation
http://www.aquablog.ca/