Hi! We are Group 22, also known as the Indigenous Foodscape Explorers and welcome to our blog!
As you might infer from our name, we are indeed exploring Indigenous Foodscapes. We are collaborating with Farm to School BC on a pilot project they are administering in various schools in Vancouver that is funded by the Ministry of Health and the City of Vancouver.
What is a Foodscape you say!? Well, "A foodscape is a physical space for growing food, as well as a cultural and social space for sharing, preparing, eating and learning about food" (Indigenous Foodscapes in Vancouver Schools). Pretty amazing! We hope you enjoy our blog as we document our journey every step of the way!

Project Objectives and Community Organization
Credit: Farm to School BC presentation
Our wonderful partner that we will be working with, Farm to School BC,  is our local branch of the amazing international initiative. Farm to School has three major components: 1) bring healthy and local food into schools, 2) provide students with opportunities to develop food literacy in a more hands-on approach, and 3) strengthen local food systems through enhanced school and community connectedness.
The vision of the Indigenous Foodscape project, as part of Farm to School BC, is to bring, "Native plants and traditional food knowledge in the minds, hearts and bellies of children and youth." Our particular goal for assisting with this vision is to document the garden planning stage at various schools throughout Vancouver and submit a report that will be reviewed to determine funding allocation. We will be the reporters, the eyes and ears on the ground, taking in all of the information on the walking tours of the schools.
We are a 4-member team excited to listen, learn and contribute to this community partnership project.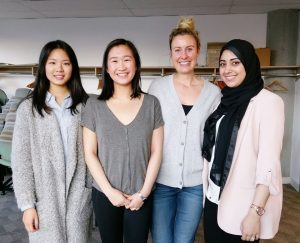 Allow us to briefly introduce ourselves:
Ali
Hello! My name is Ali and I am a third year Dietetics student. I'm sure it therefore comes as no surprise that I am incredibly passionate about food, especially the chocolate stuff. When I'm not experimenting with new cookie recipes in the kitchen, you can find me out hiking, running and exploring this amazing place we live in with my husky Rogue!
Arooj
Hi! I'm Arooj, and I'm also in third year Dietetics, so definitely another foodie! I love exploring how food plays a central role in our lives, especially in terms of our health, because we now understand that the leading causes of death worldwide are all diet-related (heart disease, diabetes, and many forms of cancer). When I'm not studying to understand the relationship between nutrients and our health, you'll find me either baking and decorating cakes as a hobby business or getting a rush of endorphins at the gym or posting free content on social media to help more of us develop a balanced healthy lifestyle that includes the pleasures of life like dessert! I firmly believe that food is more than just nutrients, it's a way for all of us to connect and enjoy life too.
Michelle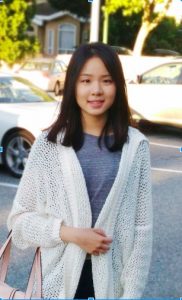 Hi! My name is Michelle Yang and I am a third year student in the Food, Nutrition, and Health program at UBC. I believe that food is the basis for good health, and I love learning new recipes that incorporate a variety of nutrients into the diet. I am excited about the opportunity to help develop food literacy in our community through this Indigenous Foodscapes project, and I hope to inspire some future food enthusiasts! Aside from school, I enjoy exploring the stunning scenery and delicious foods of Vancouver.
Vinci
Hey there!
My name is Vinci Lai and I'm a third year student studying Food, Nutrition, and Health at UBC. Even as a young child, I have always been interested in health, fitness and science. This led me to pursue Food, Nutrition, and Health, and it is safe to say that it's the perfect program for me. Not only am I able to broaden my knowledge on nutrition, I am able to learn more about sustainability, and meet extraordinary people. I feel like i'm part of a community at UBC, and I believe that together we can make the world a better place. In the future, I want to travel the world and meet different people from an array of cultures. It is truly amazing what different cultures can teach and offer you and I am excited to learn from them.
Group interests, goals, reasons for choosing this project, and what we want to gain from our experience in LFS 350
Although we all have diverse backgrounds and interests, we share many similarities such as a passion for helping others, a love for food, nutrition and health, and a desire to learn and create positive change. This particular project grabbed our attention as it encompassed our various passions and is an exciting concept that we know very little about. Indigenous Foodscapes within schools is an amazing initiative that will provide youth with a wonderful learning opportunity. Developing an appreciation for the surrounding land and all that it has to offer is a powerful step in understanding the importance of sustainable food systems. And what better way to do that than a "living library" in which all of the students' senses can be engaged!
Additionally, and perhaps more importantly, we also feel an obligation to learn from our Indigenous leaders and knowledge-keepers in the community, because we currently live on unceded lands. We are really happy to see that this project seeks to re-establish Indigenous norms in school backyards to help bring back Indigenous plants and stories in a manner that is respectful to the land, and therefore much more sustainable than our current capitalist approach that brutally exhausts all available resources.
Not only that, but from the first introductory meeting with our community partners, there seems to be an appreciation that we are now many different cultures sharing this land together, hence this Indigenous initiative is seeking to also open ways for children of all ethnicities to share their backgrounds and stories. For example, our Indigenous walking tour guide and leader on this project, Lori, described a plant called fireweed, which can be found growing in the circumpolar regions across the world. So a lot of different cultures living in places like Russia, China, and the Baltics actually share appreciation and use of this plant. Needless to say, facts and stories like this can help better promote intercultural understanding among children at schools, especially in current divisive political climate.
What we wish to gain from our experience
Like the start of any journey, we all are excited and motivated to get begin! Through this experience, we want to learn, not only about Indigenous Foodscapes, but also about the process of creating change within school settings. This is never an easy thing to do and we want to learn as much as we can about how this process can occur and the people it takes to create these changes. We also want to learn more about the organization, Farm to School BC, that we will be working with. And lastly, we want to learn about how we can help, and be a part of this inspiring initiative by contributing in a way that is meaningful to our community partner.
First impressions of the process to date
Exciting! Our community contact person has been extremely organized and great at describing the organization, project and our particular goals. This project is a wonderful example of Asset-Based Community Development as it is specifically focusing on the existing assets at schools to create these Indigenous Foodscapes. Our goal is to put a spotlight on these assets in our final report and poster presentation! We also get to be fully immersed in the process of listening as highlighted by Ernesto Sirolli in his TED talk, "Want to help someone? Shut up and Listen!". We will be listening to the Indigenous walking tour leader as well as the school teachers, and learning all about their thoughts, ideas and vision for creating and/or better encapsulating these Indigenous Foodscapes. We are "emptying our cups" and getting the opportunity to just be 100% open to receiving our community members' insight, needs and goals for this project.
In addition, we can already appreciate how this community project is an excellent example of food justice at play. As Beth Dixon describes in "Learning to see food justice", it is far too easy to forget the identity of the people who eat and our popular mainstream narrative readily hides the true constraints on free choice. Upon reflection from our meeting this week, we could sense something like longingness in our Indigenous walking tour guide, Lori's, voice, as she described a time when the current open green fields we see in schoolyards used to be a beautiful wilderness that people could roam through, and interact with the plants for food or medicine or other such uses. The history of this land is undeniably brutal, with land being stolen and Indigenous foods and practices either being ignored or outright called barbaric. We appreciate the opportunity to be reminded of this so that we can be part of the solution today – and that solution too which is advised and lead by an Indigenous guide, rather than yet another "outsider" deciding what is best. The vision for this project is incredible… to re-establish that a living and functional library, with tiny snippets of the immense Indigenous knowledge and traditions of this land, for everyone to enjoy in schoolyards: children, youth, parents, teachers and community members. How awesome is that?!
We are also now able to implement one of the ideas put forward by Patricia Allen in her paper, Mining for Justice, and are engaging in a research initiative with "real people in their real lives" in a participatory approach. This is exciting for us to go beyond the walls of the classroom and finally get out and engage in a meaningful project! It is rare that students are presented with such an opportunity and we are grateful for LFS 350 for taking this teaching/learning style approach.
Two of our group members had the opportunity to go on the first school tour and begin the listening and documentation process. It was a cold and windy day, but that did not put a damper on any of the moods of the teachers or the walking leader. They were all very excited to begin moving forward with the Foodscapes project. What quickly became apparent was just how knowledgeable the teachers were with regards to how best to use the school land, where the existing structures already were for the Foodscapes gardens to be planted, and how the plan could successfully be implemented. They were very much in collaboration with Lori, the walking leader, and everyone together shared their ideas. It was a pretty special experience to be able to sit back and document the partnership and community collaboration. It was also a wonderful reminder of how we as academics do not need to be the ones guiding or informing, but can help and contribute in other more meaningful ways by paying attention and listening.
Credit: Photo taken at Nightingale Elementary School