Keynote Speakers

Cheryl L'Hirondelle
Cheryl L'Hirondelle (Cree/Halfbreed; German/Polish) is an interdisciplinary artist, singer/songwriter and new media curator whose family roots are from Treaty Six: Papaschase First Nation / amiskwaciy wāskahikan (Edmonton) and Kikino Metis Settlement, AB. Her work investigates and articulates a dynamism of nēhiyawin (Cree worldview) in contemporary time-place incorporating Indigenous language(s), music, audio, video, VR, sewn objects, the olfactory, and audience/user participation to create immersive environments towards 'radical inclusion' and decolonisation. As a songwriter, L'Hirondelle's focus is on both sharing nēhiyawēwin (Cree language) and Indigenous and contemporary song-forms and personal narrative songwriting as methodologies toward survivance. Cheryl was part of the historic Minquon Panchayat – a group of Indigenous and artists of colour who radically challenged and changed the artist-run movement in the early 90's. Since 2008, she has been co-writing songs with incarcerated women, men and detained youth in federal prisons, provincial correctional centres and municipal detention centres. Cheryl was awarded two imagineNATIVE New Media Awards (2005 & 2006), and two Canadian Aboriginal Music Awards (2006 & 2007 as part of M'Girl) and is a recipient the 2021 Governor General's Award in Visual and Media Art. She also exhibits, performs and presents nationally and internationally and she is currently a PhD candidate with SMARTlab at University College, Dublin, in Ireland.

Michelle Lavalee
Michelle LaVallee is Anishinaabe (Ojibway) and a member of the Neyashiingamiing Chippewas of Nawash Unceded First Nation in Cape Croker, Ontario, and has Canadian Settler heritage of English/Scottish/French descent from her mother. She currently holds the position of Director of Indigenous Ways and Decolonization at the National Gallery of Canada. Previously she was Director of the Indigenous Art Centre at Crown-Indigenous Relations and Northern Affairs Canada (Gatineau, QC), where she was responsible for the development, care, and management of Canada's oldest and only federal heritage collection devoted to Indigenous art. She worked as part of the Corporate Secretariat management team and led the Art Centre team towards better stabilization with regards to human resources, budget, acquisitions, and collection maintenance. LaVallee was Curator at the MacKenzie Art Gallery in Regina, Saskatchewan (2007–2017), and has curated exhibitions for galleries including A Space Gallery (Toronto) and Gallery 101 (Ottawa). Her curatorial work has explored the colonial relations that have shaped historical and contemporary culture through exhibitions including: Moving Forward, Never Forgetting (2015); 13 Coyotes: Edward Poitras (2012); Blow Your House In: Vernon Ah Kee (2009); and Miss Chief: Shadow Catcher—Kent Monkman (2008). LaVallee organized the historical and nationally touring exhibition 7: Professional Native Indian Artists Inc. (2013–2016) and award-winning book contextualizing their influential role in contemporary Canadian art history. She has been a chosen participant for a number of Canadian Indigenous Curators Delegations sent to Australia, New Zealand and Venice, and her curatorial work has been recognized by three Saskatchewan Book Awards, and the City of Regina Mayor's Arts and Business Awards.

Steven Loft, Vice-President, Indigenous Ways and Decolonization at the National Gallery of Canada
Steven Loft is Kanien'kehá:ka (also known as Mohawk), turtle clan of the Six Nations of the Grand River, also with Jewish heritage. He has recently been named the inaugural Vice President, Indigenous Ways and Decolonization at the National Gallery of Canada. Previous to this, he was the Director of Strategic Initiatives for Indigenous Arts and Culture and formerly Director of the Creating, Knowing and Sharing: The Arts and Cultures of First Nations, Inuit and Métis Peoples program with the Canada Council for the Arts. A curator, scholar, writer and media artist, in 2010 he was named Trudeau National Visiting Fellow at Ryerson University in Toronto. Loft has also held positions as Curator-In-Residence, Indigenous Art at the National Gallery of Canada, Director/Curator of the Urban Shaman Gallery (Winnipeg); Aboriginal Curator at the Art Gallery of Hamilton and Producer and Artistic Director of the Native Indian/Inuit Photographers' Association (Hamilton). He has curated group and solo exhibitions across Canada and internationally; written extensively for magazines, catalogues and arts publications and lectured widely in Canada and internationally. Loft co-edited the books Transference, Technology, Tradition: Aboriginal Media and New Media Art (Banff Centre Press, 2005) and Coded Territories: Indigenous Pathways in New Media (University of Calgary Press, 2014).
Tracy Kim Bonneau
Tracey Kim Bonneau is a member of the syilx Nation, born and raised in the unceded traditional territory of her ancestors the syilx -Okanagan. Tracey is a veteran writer and producer who has achieved recognition and awards from The Canadian Association of Broadcasters, American Indian Film Institute, BC Association of Broadcasters and BC Motion Picture Arts & Sciences Foundation of British Columbia (Leo Awards). Her most current works include her documentary series Quest OutWest Wild Food airing on the Aboriginal Peoples Television Network. As series creator Tracey produced, wrote and hosted 39 ½ hour episodes since 2014. Quest OutWest is scheduled for production, in the spring of 2022 for 13 more episodes. Tracey's experience in print, radio, television and multimedia digital platforms spans over thirty years of freelance work and media arts project management. In 2018 Tracey joined the IM4 Lab, created by Loretta Todd. Tracey serves as a Matriarch with the IM4 lab in collaboration with Emily Carr University. The IM4 Lab offers free workshops to provide an accessible training forum for Indigenous peoples.IM4 is dedicated to Indigenizing VR/AR/360 by enabling Indigenous communities to find effective ways to incorporate these technologies into educational, cultural, language, artistic, and commercial applications. Aside from her art career, Tracey is employed by a non-profit organization as the Manager of Arts Culture and Adult Higher Learning at En'owkin Centre located in Penticton.
Artists in Residence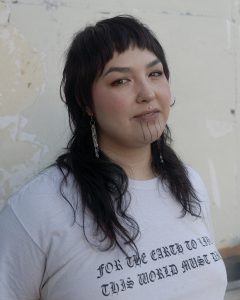 Kablusiak Carpenter
Kablusiak Carpenter is a renowned multidisciplinary Inuvialuk artist and curator who uses Inuk ingenuity to create work in a variety of mediums including, but not limited to, lingerie, white flour, soapstone, permanent marker, bed sheets, felt, acrylic paint, and words. Their work explores the dis/connections between existence in Inuit diaspora while maintaining family and community ties, the impacts of colonization on Inuit gender and sexuality expressions, as well as on health and wellbeing, and the everyday. Kablusiak holds a BFA in Drawing from the Alberta University of the Arts in Mohkinstsis, where they are currently based. In 2021, Kablusiak was part of a team of 4 Inuit curators who curated the inaugural exhibition for Qaumajuq, entitled INUA. In all of their creative work Kablusiak seeks to demystify Inuit art and create the space for Inuit-led representation of the diverse aspects of Inuit cultures.  Kablusiak's work can be found in the collections of the Indigenous Art Centre, the Alberta Foundation for the Arts, the Art Gallery of Alberta, Banff Centre for Arts & Creativity and Global Affairs Visual Art Collection among others.

Lisa Myers
Lisa Myers is an Associate Professor in the Faculty of Environmental and Urban Change and holds a York Research Chair in Indigenous Art and Curatorial Practice. As a curator and artist with a keen interest in interdisciplinary collaboration, her research focuses on Contemporary Indigenous art considering the varied values and functions of elements such as medicine plants and language, sound, and materials. Through many media and materials including socially engaged art approaches, her art practice examines place, underrepresented histories/present/futures, and collective forms of knowledge exchange. Part of her curatorial practice includes artist advocacy. She is a co-chair of CARFAC Ontario and is passionate at navigating institutional barriers and limitations. Myers is a member of Beausoleil First Nation and is based in both Toronto and Port Severn, ON.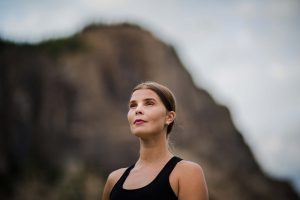 Meagan Musseau
Meagan Musseau is L'nu (Mi'kmaw) from Elmastukwek, Ktaqmkuk territory (Bay of Islands, western Newfoundland). She nourishes an interdisciplinary arts practice by working with customary art forms and new media, such as basketry, beadwork, land-based performance, video and installation. She focuses on creating artwork, dancing, learning Mi'kmawlanguage, and facilitating workshops as a way to actively participate in survivance. Meagan is the recipient of numerous awards including the Sobey Art Award, longlist (2021); the Atlantic Canadian Emerging Artist, Hnatyshyn Foundation (2018); Emerging Artist Award, VANL-CARFAC (2018); Aboriginal Arts Development Award, First Peoples' Cultural Council (2016). Her work exhibits nationally and internationally.

Manuel Axel Strain
Manuel Axel Strain is a 2Spirit artist from the lands and waters of the xʷməθkʷəyəm (Musqueam), Simpcw and Syilx peoples, based in the sacred homelands of their q̓ic̓əy̓(Katzie) and q'ʷa:n̓ƛ'ən̓ (Kwantlen) relatives. Strains parents are Tracey Strain and Eric Strain, Strain's grandparents are Harold Eustache (Chu Chua), Marie Louis (nk̓maplqs), Helen Point  (xʷməθkʷəy̓əm) and John Strain (irish). Strains Great Grandparents Are Tina Cole (Sḵwx̱wú7mesh) and Tony Point (xʷməθkʷəy̓əm), Rose and Ben Louis (nk̓maplqs) and Manuel and Christine Eustache (Chu Chua). Although they attended Emily Carr University of Art + Design they prioritize Indigenous epistemologies through the embodied knowledge of their mother, father, siblings, cousins, aunties, uncles, nieces, nephews, grandparents and ancestors.
Creating artwork in collaboration with and reference to their relatives, their shared experiences become a source of agency that resonates through their work with performance, land, painting, sculpture, photography, video, sound and installation. Their artworks often envelop subjects in relation with ancestral and community ties, Indigeneity, labour, resource extraction, gender, Indigenous medicines and life forces. Strain often perceives their work to confront and undermine the imposed realities of colonialism. Proposing a new space beyond its oppressive systems of power. They have contributed work to the Capture Photography Festival through Richmond Art Gallery, the Vancouver Art Gallery, Surrey Art Gallery, and more distant places across Turtle Island. UBC Okanagan gallery artist in residence programming 2022.

Charlene Vickers
Charlene Vickers is a Vancouver-based Anishinabe artist from Kenora, Ontario.. Her painting, sculpture and performance works explore memory, healing and embodied connections to ancestral lands. She is the recipient of the 2018 VIVA Award. Vickers graduated from Emily Carr University of Art and Design (94), Simon Fraser University in Critical Studies of the Arts (98), MFA (2013). Vickers has an extensive national and international exhibition history including recent solo exhibitions Big Blue Smudge at the University of Saskatchewan (2022), Ancestor Gesture: Diviners at NADA project space, NYC, (2022), Contemporary Art Gallery in Vancouver (September 2021), a duo solo summer exhibition along side artist Lawrence Paul Yuxweluptun Lets'lo:tseltun at Macaulay & Co. Fine Art (2021), Rain Shadow at the Nanaimo Art Gallery (2021), Where Do We Go From Here? at the Vancouver Art Gallery( 2020), the Biennale national de sculpture Contemporaine 2020 in Quebec, Where We Gather at Macaulay & Co. Fine Art(2020).

Csetkwe Fortier
Csetkwe Fortier (she/her) is a multi-gifted artist with her roots in the Syilx (Okanagan) and Secwepmec (Shuswap) Nations. Holding the respect of being a sqwuy (mother to a son) stamiya (Two Spirit) and a Traditional Knowledge Keeper, she mainly works in performance art, song/ poetry writing, painting and illustration. She is a graduate of the En'owkin Centre of Indigenous Art, receiving a National Aboriginal Professional Artists' Training certificate and Nsyilxcn Language Program certificate. She honed her love for performance art during her time in the Full Circle Ensemble Program in Vancouver, BC. Csetkwe's performances include those of a Singer/ Song Carrier, Spoken Word Poet as part of the k̓ ʷem k̓ ʷem słénsłénəy – Indigenous Female Drum Collective and as the former frontwoman in multimedia performance collective Skookum Sound System. As a visual artist, Csetkwe is grateful to contribute to the Kama Collective and Ullus Collective.

Carola Jones
Carola Jones is a knowledge keeper of historical traditional textile practices of Algonquin Southeastern Woodlands people of color. Academically trained studio artist, art historian and teaching artist in K-12, community college and university settings including online instruction. A multi-generational natural dye practitioner, garment maker, and quilter. As a founding member of the international Seed To Runway Project, she teaches people to grow and harvest local plants and flowers for color and medicine as a way of self-healing by reconnecting with ancestral land and developing entrepreneurial skills. She is a studio artist, Pow Wow dancer, working traveler, writer, bundle binder, and storyteller who lives on the Coastal Plains of Eastern North Carolina. Carola's blood ties represent many historical townships of the First Contact Tuscarora Confederacy, and her ancestors are connected with culturally significant events on the Outer Banks, Pamlico Sound, Fort Neyuher:uke, Contentnea Creek, Neuse River Basin, and Indian Woods.

Terrance Houle
Terrance Houle (Niitsitapi/ Saulteaux) is an internationally recognized interdisciplinary media artist and a member of the Kainai Nation/ Blood Tribe. Involved with Aboriginal communities all his life, he has travelled to reservations throughout North America participating in Powwow dancing along with his native ceremonies.His work ranges from subversive to humorous absurdity to solemn and poetic artistic expressions. His work often relates to the physical body as it investigates issues of history, colonization, Aboriginal identity and representation in popular culture, as well as conceptual ideas based on memory, home, and reserve communities. Houle works in whatever media strikes him, and has produced work in photography, painting, installation, mass marketing, performance, music, video, and film. Houle's work has been exhibited across Canada, the United States, Australia, the UK and Europe.
Faculty 

Tania Willard
Tania Willard, of Secwépemc and settler heritage, works within the shifting ideas around contemporary and traditional, often working with bodies of knowledge and skills that are conceptually linked to her interest in intersections between Aboriginal and other cultures. Public Art projects include, Rule of the Trees, a public art project at Commercial Broadway sky train station, in Vancouver BC and If the Drumming Stops, with artist Peter Morin, on the lands of the Papaschase First Nation in Edmonton, AB. Willard's ongoing collaborative project BUSH gallery, is a conceptual land-based gallery grounded in Indigenous knowledges and relational art practices.

Mariel Belanger
Mariel Belanger spent the last 30 years devising a life with sqilxw 'of the land' self-directed digital performance art to revise history. Applying lived experience to her scholarship as PhD student at Queens University in sqilxw worlding and continuing in Indigenous Performance Theory, Mariel unsettles history through photography, poetry, personal genealogy and attachment to place, reviving and reclaiming ancient technology of weaving architecture as self-governance, sustainability and our responsibilities to timw – all of life's creation
UBC Okanagan, located on the ancestral and unceded territory of the Syilx Okanagan Nation

Troy Sebastian
Troy Sebastian |nupqu ʔak·ǂam̓ is a writer from the Ktunaxa community of ʔaq̓am. He is a doctoral student, Vanier Scholar and Sessional Instructor in the University of Victoria's Department of Writing. His story tax niʔ pikak̓— a long time ago– was longlisted for the 2018 CBC Short Story Prize and the 2019 Writers' Trust Journey Prize. In 2020 he was selected as a Writer's Trust Rising Star and was longlisted for the CBC Poetry Prize. He has published with The Walrus, The Malahat Review, The Globe and Mail and Prairie Fire. He is represented by Rachel Letofsky at CookeMcDermid.

Dr. Kerrie Charnley
Dr. Kerrie Charnley has a PhD in Language and Literacy Education from the University of British Columbia. She is Coast Salish from Katzie First Nation and over the past 17 years has taught courses in Indigenous Education, Literature, and Health at UBC, SFU, and the Institute for Indigenous Governance (NVIT).
.
UBC Okanagan, located on the ancestral and unceded territory of the Syilx Okanagan Nation