Kari Grain is a PhD candidate, sessional instructor, and Vanier scholar in University of British Columbia's Department of Educational Studies, where her research focuses on global community engaged learning, social justice, and critical emotion studies. Grain's doctoral work in rural Uganda uses PhotoVoice and storytelling to examine the ways that hope and criticality are transformed through relationships between marginalized communities (often those living in poverty) and privileged outsiders – outsiders who often mean to "do good" through volunteer work, community-engaged learning, charitable giving, or international development strategies. She seeks to centre community voices and perspectives in this work, as they are so often left out of the academic research narrative. Kari also conducted her master's research in schools and communities throughout Rwanda, garnering the Michele Laferriere Award for top Canadian thesis in international and comparative education.
Professionally, Grain has worked extensively at the intersection of experiential education, diversity & multiculturalism, and program development for more than a decade. In her work with the Canadian Centre for Diversity, she oversaw and facilitated programs across Canada that focused on multicultural education, genocide awareness, anti-racism, and interfaith dialogues. She was also division manager in immigrant settlement and education services in the non-profit sector, and then manager of the University of Calgary's Centre for Community Engaged Learning. More recently, her focus has been aimed at higher education teaching and learning strategies as a specialist at the Centre for Teaching, Learning, and Technology. There, Grain works with diverse UBC faculty to enhance and evaluate innovative teaching strategies. As a sessional instructor in the Faculty of Education, Grain teaches EDST 403 (Education, knowledge, and curriculum) and EDST 401 (Social justice and educational institutions).
Kari recently completed her doctoral fieldwork in Uganda, and is collaborating with Ugandan community members, writing/publishing a number of journal articles, and co-editing the upcoming Wiley International handbook of service-learning for social justice, due to hit presses in late 2017. In keeping with her passion for nature, artistic expression, and human connection, Grain continues to seek creative ways to encourage a dance between the emotional, the intellectual, the experiential, and the political.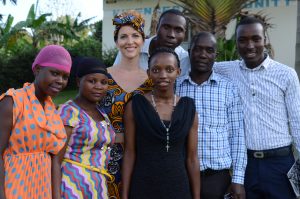 Above: Members of the Kitengesa Youth Leadership Team pose for a photo with Kari Grain during the Community PhotoVoice Exhibition in Kitengesa, Uganda (March, 2017)
Above: PhotoVoice participants look through their photography with researcher-facilitator, Kari Grain, during a PhotoVoice workshop (February 2017)