Research
I am a recent PhD graduate and Vanier Scholar from University of British Columbia's Department of Educational Studies, where my research focused on global community engaged learning, higher education, and social justice. My dissertation work in rural Uganda used PhotoVoice  to examine the community impacts of international service-learning programs from the community's perspective (rather than the institution/student/learner perspective). I am curious about the interface between (often privileged) university/college learners and the communities who host them for experiential learning programs; I am equally interested in integrative education of university learners, and how they make meaning of diverse experiences as they look ahead to their future. In alignment with my community based research paradigm, whenever possible, I aim to centre community voices and perspectivesin this work, as they are so often left out of the academic research narrative. My work has been published in the International Journal of Diversity in Education, Canadian Journal for the Study of Adult Education, the Michigan Journal of Community Service Learning, and the Journal of Experiential Education, and I served as Assistant Editor for a volume entitled The Wiley International Handbook of Service Learning for Social Justice.
Professional Experience
Professionally, I have been working extensively at the intersection of experiential education, diversity & multiculturalism, and program development for more than a decade. Most recently, my professional focus has been aimed at research and leadership in experiential education [See my Experiential Education website]. In my two-year role as Analyst, Experiential Learning, I have been tasked with conducting a university-wide research project that provides foundational evidence for the development of recommendations to UBC leadership. In Spring 2020, and under the leadership of Dr. Simon Bates (Associate Vice Provost, Teaching and Learning), I shared a now-public report outlining research findings and actionable recommendations for how UBC can systemically enhance the support of experiential education in the decade ahead. Our work has been presented to UBC Senate and now dovetails with interdisciplinary and integrative education as we think through how students can connect their learning experiences and how UBC as an institution can break down systemic barriers for doing so. This project has given me the rare opportunity to conduct and disseminate research that impacts the educational experience of thousands of UBC's future students.
Teaching
I am grateful that teaching has formed the nucleus of my career thus far. As a sessional instructor in UBC's Faculty of Education and Faculty of Arts, I have taught such courses such as:
ASTU 401H / SOCI 495E (Community Based Participatory Research Methods) – 2018, 2019, 2020
ASTU 401I / SOCI 495F (Community Based Research: International Applications) – 2018, 2019
EDST 403 (Education, knowledge, and curriculum) – 2018
EDST 401 (Social justice and educational institutions) -2018
I am also preparing to teach two online courses for Summer 2020, including:
ADHE 328: Adult Education and Learning (2020)
EDUC 527: Global Education, Citizenship and Cross-Cultural notions of Education (2020)
Contact
kari.grain@ubc.ca or kari.grain@gmail.com
Twitter: @karigrain1 
LinkedIn: Dr. Kari Grain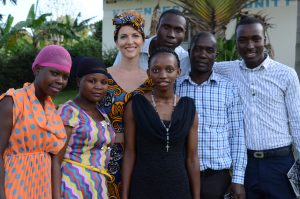 Above: Members of the Kitengesa Youth Leadership Team pose for a photo with Kari Grain during the Community PhotoVoice Exhibition in Kitengesa, Uganda (March, 2017)