Leanne Rachid
GRSJ 300-99A
Dr.Chris Shelley
"Tom Ford for men ?"  
2. The advertisement I have chosen is a Tom Ford fragrance advertisement.
  The product being advertisment specifically is: Tom Ford Fragrance  
Addressing the advertisement: Throughout this course we have discussed a variety of issues that are problematic within society. Topics which range from: gender norms, race and ethnicity, stereotypes, and many other social constructions which have to do with gender and society. I chose this advertisement because it is a very suggestive ad which clearly displays objectification of women and contribution to the gender norms within society and, the dehumanization of women through objectification. Commercials these days used and target specific gender roles to sell their products. Tom Ford happens to play on using women as sexual and  submissive objects. In the first advertisement you see a female model, with no clothes and a bottle of Tom Ford on her chest, the model's mouth is wide open and she has the ironically shaped fragrance bottle in between her breasts which is very suggestive, with red nails and matching red lipstick. Although this advert has a target market of men as primary consumers, it objectifies women as sex objects altering the public's perception of how women should look or maybe even the idea that using Tom Ford cologne will result in beautiful women at your beck and call.  The female model is juxtaposed with the male model figure who has the Fragrance bottle over his privates. This is hyper suggestive of what the fragrance is equivalent to if "men" were to purchase it. They too will end up with attractive women, meaning women are nothing but the prize or form of end result.
As shown above, commercials gender roles are still repeated in today's media for marketing. The ways which companies find it impactful to capture the attention of consumers is by contributing to sweeping societally created social structures of either race, gender or sex. In this case, the advertisement and company found it necessary to sexualize their ad, and contribute to patriarchal sexism and hypersexualization of women at the same time.
3. Jammed Image: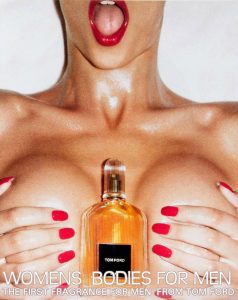 4. What is the advertisement really saying?
Sexual Objectification Theory
Objectification theory postulates that many women are sexually objectified and treated as an object to be valued for its use by others. Sexual Objectification occurs when a woman's body or body parts are singled out and separated from her as a person and she is viewed primarily as a physical object of male sexual desire (Bartky, 1990).  
I found it important to include a scholarly theory because this advertisement along with many others which I came across , are not really selling the product, and if they are selling a product they use sex to sell. I mean, is this ad really telling us that there is a new Tom Ford fragrance that is for men? It's really the woman who is for the man in this advert. I find it hard to believe that consumers and viewers would see the bottle of cologne before they notice her breasts, mouth and red nails. This assignment helps me understand the balance between what society wants and how companies and corporations can get what they need from society in order to maintain operations and profit. The altered jammed ad conveys what the image is really saying. Her body is glistening which indicates wetness / and is appealing to the eye. But let's be honest, if we really wanted to buy a fragrance, we will buy it because of the smell and maybe packaging- the original advertisement does not carry any characteristics of the actual product that is being advertised, nor does it indicate to the consumers what it could possibly smell like. The only thing that's really selling in this ad, is the female model's body, and it is contributing to more benevolent and overt sexism as well as oppression under patriarchal systems which slip their way into daily consumerism via mass media. 
References:
Attwood, F. (2009).

Mainstreaming sex: The sexualization of western culture

. New York;London;New York, NY;: I.B. Tauris.
Szymanski, D. M., Moffitt, L. B., & Carr, E. R. (2011). Sexual objectification of women: Advances to theory and research.

Counseling Psychologist, 39

(1), 6.