I was born in Iran, Isfahan. A city that is famous for being the beating heart of Iranian art from centuries ago. At the age of eleven, I took up painting as a pastime without focusing on any particular style. When I was fourteen painting became my greatest passion. I started learning academic principles and methods of drawing and painting at private classes during high school. Later on, I studied impressionism with Mohammad Reza Atashzad, a well renowned watercolor painter. After four wonderful years, this inclination towards impressionism was then replaced by a passion for modern art. I started learning principles of modern painting and I created expressionist and cubist artwork at private classes held by Mahmud Samandarian. Then I took classes with Gholamhosssein Nami, one of the leaders of Iranian modern painting. I began experimenting with mixed media and exploring the fascinating world of abstract painting. My art was deeply influenced by this era that took four years.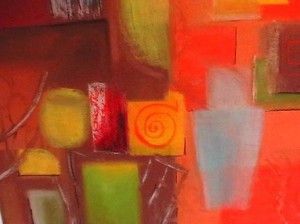 I also studied literature and calligraphy for years. I used to write poems, I still do occasionally. In my artwork I often make use of handwriting, mostly I write poems eithr by famous poets or any spontaneous poems from my own, anything that describes the moment and the feeling that I want to express. Many of my paintings was inspired  by The Fish, a poem by Ahmad Shamlou. I called them "Mirror Pond Collection". Following is an excerpt of the poem:
"Oh certainty gone astray,
oh runaway fish in the ponds of slippery mirror within mirror!
I am a clear lagoon;
now through the enchantment of love,
find a path from the mirror-ponds to me!"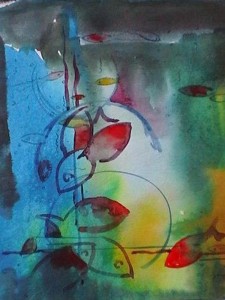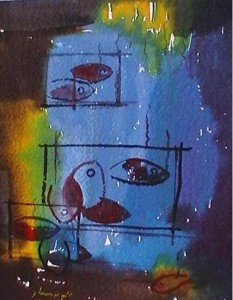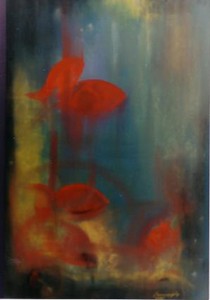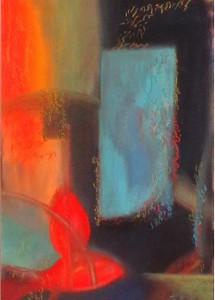 Since after, I became extremely keen in collage. I deeply believe that collage is one of the most creative forms and techniques in modern art: using pre-existing materials or objects to create something else, in most cases something totally different. I have created collages of Persian music instruments inspired by Pablo Picasso and Georges Braque cubist colleagues.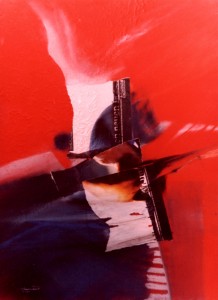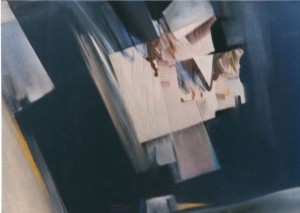 Currently, I am interested in using materials that has been less used in collage. In 2009, I started experimenting with knitting material. My inspiration was my beloved grandmother who used to weave and knit for us with so much love and passion. These artwork got into a juried exhibition in 2010.
Some of my older Paintings:
Exhibitions:
2010, Engineering got talent, University of Victoria, Victoria, Canada
2010, Group exhibition in Cost collective gallery (Abstraction), Victoria, Canada
2005, Individual exhibition in Museum of Contemporary Art of Isfahan, Isfahan, Iran
2004, Group exhibition in Atashzad Art Gallery, Tehran, Iran
2004, Group exhibition in University of 'Sanate Ab va Bargh' Tehran, Iran
2003, Group exhibition in Atashzad Art Gallery, Tehran, Iran
2002, Group exhibition in Atashzad Art Gallery, Tehran, Iran
2002, Individual exhibition in Daryabeygi Gallery, Tehran, Iran
2001, Group exhibition in Haft Peykar Gallery, Tehran, Iran
2000, Group exhibition in Kosar gallery, Isfahan, Iran
1996, Group exhibition of engineering students of Iran in 'Elm and Sanaat' University, Tehran, Iran
Awards:
2010, Engineering Got Talent (for the fine art exhibition), University of Victoria, Victoria, Canada
1998, Teaching Drawing Principles at Azad University of Tehran, Tehran, Iran
1996, 2nd position in the National Competition of Calligraphy, Engineering Students' of Iran
1995, 3nd position in the National Competition of Calligraphy, Engineering Students' of Iran