Impressive New Marine Reserve Created in Antarctica
October 17, 2016 marked the day where 598,000 square-miles of ocean was deemed protected as the world's largest marine protected area (MPA) in a motion towards achieving the goal of 10% global ocean protected by 2020 (1). The MPA was created by The Commission for the Conservation of Antarctic Marine Living Resources (CCAMLR), an international body that is responsible for Antarctic waters, and covers areas located within the Ross Sea off the coast of Antarctica.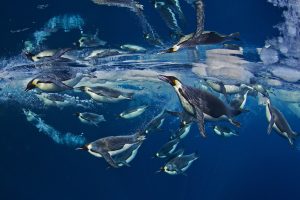 This area was originally proposed by both the United States and New Zealand since it is a largely intact ecosystem relatively void of human interference with large-scale trophic cascades that exist there (2). However, there was some resistance by a few member nations concerning limitations to fishing and possibilities of seabed mining. But over 500 scientists signed a petition urging for protection of the Ross Sea and finally, all countries came on board (3). Power to you scientists!
The Ross Sea region MPA is divided into three zones with different objectives differing levels of protections (4):
General Protection Zone: a representative protection of several bioregions and habitats which will help eliminate or mitigate potential ecosystems threats from fishing and will support ongoing and future scientific research and monitoring.
Special Research Zone: with representative protection but designed as a reference site to help advance scientific understanding of ecosystem effects of fishing and climate change.
Krill Research Zone: a krill catch zone designed for scientists to better understand life history, biological parameters, ecological relationships, and varying biomasses and production of the ecologically important Atlantic Krill.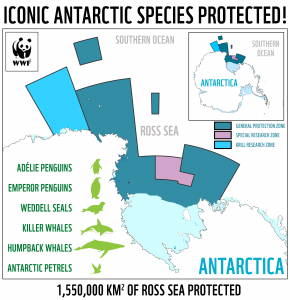 This ground breaking MPA is not only impressive in size but is also the first created in international waters by an international body and could potentially be the first step in creating more protected areas in other international waters.
It's never sunshine and daisies though!
It took a soul crushing 5 years for the proposal to be accepted and the protection is only set to last 35 years before it is re-evaluated. Additionally, the CCAMLR is not a legally binding organization and therefore is subject to compliance issues which has the potential undermine the protection plan if issues of illegal fishing and exploitation occur.
Cheers to a little #OceanOptimism
Gaining the protection of the Ross Sea was a huge win for scientists and the conservation of the marine environment but it can't stop there. Citizens and scientists alike have to push for compliance by member countries to ensure this new MPA works to its full potential. We also can't get distracted from the bigger goal of reaching 10% global ocean protection by 2020… one big MPA is great but many big MPAs are even better!
---
For further information check out sources consulted below.
If you enjoyed this blog follow me on twitter @karyssarnett for more ocean conservation opinions.
---
Sources Consulted