3.2 The Reader's Guide to Aurality in Thomas King's Fiction
Find three examples of names that need to be spoken aloud in order to catch the allusion. Discuss the examples as well as the reading technique that requires you to read aloud in order to make connections. Why does King want us to read aloud?
I have gained a deep appreciation for Thomas King's ability to flawlessly combine the structures of the oral and written cultures in his narrative in Green Grass, Running Water. This novel is a portrayal of oral culture in a written form. There is a combination of the mythical aspect of the oral culture, along with the rigid, structure of the written word. A mix of mythology and reality is persistent throughout the duration of the novel. King's narrative technique is encompassed by the technique of written orality. Within this novel, King demonstrates the ability to incorporate the fundamental principles of orality into his narrative. After I read this story aloud to myself, the three names that popped out to me in terms of their allusion and meanings were: Dr. Joseph Hovaugh, Alberta Franklin, and Eli Stand Alone.
When I read Dr.Joseph Hovaugh's name aloud, I could not help but abbreviate it in order to make the allusion crystal clear: Dr.J Hovaugh = Jehovah. His character shows God-like characteristics and it is his cold-blooded attitude along with his self-perceived superiority that makes this comparison so fitting. By reading this name aloud, I was able to understand the perspective from which Hovaugh's character sees the world from. He has a superiority complex that he demonstrates within his search for the four elder Indians who have left the hospital. In  one passage in the novel, he plays the role of God by declaring that the Indians are dead, and suggests that a death certificate should be made claiming their deaths by "Heart attack, cancer, or old age" (King 47). The allusion associated with the pronunciation of his name shows the ideals of the white settlers that were colonizing the lands of the First Nations people. This is shown by Hovaugh when his car goes missing, and he blames the people of the land: "It's the country..Look around. Just look around" (King 345). His occupation is telling as he is in a position of authority, and seems to think he is in control of everything, even though King shows this is not the case as Hovaugh really resembles an old man who is set in his own ways, and has a misconstrued vision of the world he is living in.
Alberta Franklin's name was an interesting experience when I said it aloud. It had the allusion of a place, because i was under the impression that King's use of "Alberta" was not just by mere coincidence. I did some further research, and it turns out that her name alludes to the location of Frank, Alberta. After finding out this information, I repeatedly said the name aloud, and King's genius began to make sense. Two words. A pause after each word when a sentence is pronounced. "Alberta, Franklin". Just like the location, Frank, Alberta. I say this was an interesting experience because of the symbolic meaning behind Frank, Alberta, as it was the location of a devastating landslide that claimed that not only damaged its surrounding territory, but also claimed the lives of many people. Alberta is a character who seems on the verge of catastrophic breakdown, as she cannot decide how to navigate through her world as a woman who wants a baby without the stresses of marriage. She is also similar to a landslide in the sense that her story is intertwined with the lives of those around her, especially Charlie and Lionel. Wherever she goes, they go with her.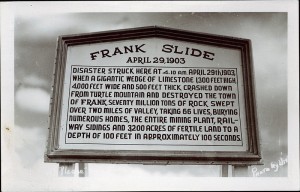 Eli Stand Alone. Saying this name aloud has a feeling of loneliness associated with it. Eli. Stand. Alone. The words become real objects, and King has us say this name aloud to illustrate the struggle of finding identity. It is extremely difficult for this Eli to let go of the past and move into the modern world. Boundaries between the past and future are not easily penetrable for him, as the boundaries between the oral and literate cultures are for Thomas King. There is a crisis of identity that is evident because the character does not have a last name or a family to which he strong associates with. He is "Alone". With all the biblical references that are littered throughout the novel, I researched Eli's name and found out that it alludes to the biblical version of Eli. I was able to find out that both characters are similar in their beliefs, as well as the manner in which they both vanish from the physical world.
Works Cited
Gibert, Teresa. "Written Orality in Thomas King's Short Fiction". Journal of the Short Story in English. Autumn, 2006. Web. March 09, 2015.     
King, Thomas. Green Grass Running Water. Toronto: Harper Perennial, 1999. Print.
"1 Samuel 2:27 – 4:22". New International Version. March 09, 2015. Web. www.biblegateway.com/passage/?search=1+Samuel+2%3A27-4:22
"Frank Slide, Alberta". March 09, 2015. Web. http://www3.sympatico.ca/goweezer/canada/frank.htm
"Frank Slide". University of Alberta. Photograph. Retrieved March 09. 2015.