The Master of Management Society (MMS) strives to enhance the student experience both academically and socially. The MMS endeavours to promote the UBC Master of Management (MM) degree by establishing strong business relationships with the external community and creating partnerships with local and international business. The Society is led by an executive team elected by the class at the beginning of each school year. 
MM EXECUTIVE COUNCIL 2019
---
Ali Webster – President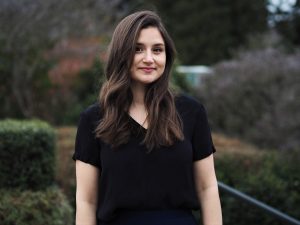 Seeking adventure and challenge, I moved from Vancouver to Montreal in 2012 to study at McGill University, graduating in 2016 with a BA (Hons) in Women's Studies. I returned to the West Coast to work in the tech and media space before coming to UBC Sauder to pursue my MM. I am passionate about sustainability and food politics, exploring how we can make a positive impact on the environment and world at large as individual consumers. In my down time, I love trying new coffee shops, cooking for myself and my friends and taking in Vancouver's beautiful beaches and mountains!
---
Charlee Ning – VP Internal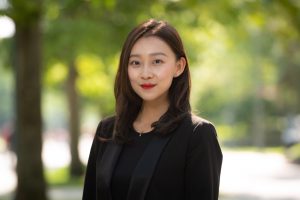 After living in Vancouver for about six years, I decided to explore the eastern climate and moved to Waterloo, Ontario in 2014 for my Bachelor of Arts (Honours) in Psychology. During my three years at the University of Waterloo, I found a passion for research in the area of industrial organizational psychology, and sought to unravel the dynamics of cultural influences in the workplace. Through the MM program, I am hoping to bridge the gap between research and application, and learn more about how culture influences decision-making processes pertaining to consumer decisions and sustainability. When I'm not hurrying off to group meetings or cramming for exams, you can always catch me with a book under my arms, raving about the latest good movies that I've seen, or singing off-key to my little ukulele.
---
Lama Sujata – VP Career Affairs
Born and raised in Kathmandu, Nepal, I moved to Vancouver in 2015. Through the MM experience, I am an aspiring global leader, advocating for sustainability and global issues. I believe in living in the moment, and I love the outdoors and nature. Having experimented with a number of jobs and volunteer works in the past, I seek to find balance between work and life. In my free time you can find me buried in books at school or somewhere in the mountains on the weekends!
---
Cindy Lin – VP International
Specialized in Psychology with a business background, I see myself as a people-oriented individual who welcomes new challenges in this era of constant changes. I am interested in business development and marketing strategies. I am also passionate about building meaningful relationships with people and enhancing consumer experiences. In my spare time, I love travelling (ask me about the 15 countries that I've been to in the past 10 years), playing golf, and personal development.
---
Mackenzie Jones – VP Events
Originally from northern Idaho, I moved to Boston, Massachusetts when I was 18. I studied International Affairs and Political Science at Northeastern University there. My time at Northeastern was unorthodox, in that much of it wasn't actually at Northeastern. Various opportunities led me to study in Greece, work in Bosnia and Herzegovina, and take a class in Switzerland. I was drawn to Vancouver because of its majestic beauty, the MM program, and the people. In my spare time I like jogging, journaling, playing volleyball, and occupying myself with art. I'm excited about enhancing the cohort's MM experiences through events.
---
Marco Ng – VP Health & Wellness
Born and raised in Vancouver, I did my undergraduate in Biology at UBC. At UBC, I was a part of the biggest undergraduate societies (Science Undergraduate Society) and lead many initiatives for sports engagements for students. My interests are hiking, volleyball, basketball, and playing the piano. As one of the executives of the Society, I wish to build more interpersonal relationships for my cohort through health and wellness initiatives through team sports and fun social events.
---
Kitty Li – VP Finance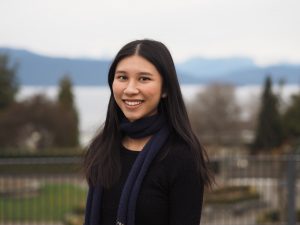 Born and raised in Guangzhou, China, I fell in love with Vancouver during an exchange opportunity, and decided to pursue my MM degree here at Sauder School of Business, UBC. As VP Finance, I am responsible for planning budget for MM program events and activities, managing MM bank accounts, and helping other executives create better experiences for the cohort. In my spare time,  I enjoy travelling, doing yoga, and taking a dab in photography.
---
Previous Executives 
President: Chris Gorczynski ('13), Kenneth Lee ('14), Ammar El-Sherif ('15), Naomi Giberson ('16), Frank Bailey ('17), Tim Feng ('18)
VP Internal: Shannon Cumming ('13), Elizabeth Sun ('14), Ashley Dhaliwal ('15), Sarah Maciejewski ('16), Sounndous Ettayebi ('17), Arushi Gupta ('18)
VP Career Affairs: John Clarke ('13), Nate Bentley ('14), Adrian Dingle ('15), Ramtin Hajimonshi ('16), Britanny Tuttle & Vivian Tong ('17), Raewyn Danvers & Jenna Macdonald ('18)
VP Finance: Maureen Wong ('14), Min Huang ('14), Michael Miller, Boden Anderson ('16), Kelvin Benger ('17), Marco (Wingman) Choi ('18)
VP Events: Christina Meng & Danny Lee ('13), Perline Li ('14), Gabi Maia & Erica Yan (Lundy) ('15), Renee Cadenhead ('16), Nicole Hausman & Kristen Underwood  ('17), Adam Isman & Diana Zhao ('18)
VP Health & Wellness: Nick Hignell ('13), Cidnee Vaykovich ('14), Kanha Shete ('15), Camille Wallace ('16), Ben Magnuson ('17), Terry (Po Chuan) Chen ('18)
VP International: Parawin Adisayathepkul ('15), Anoop Banodkar ('16), Ellen Lee ('17), Ryan D'Souza ('18)