Faculty Advisor: Dr. Elic Chan
*****************************
Sojourners Vol. 15 (2022-2023) Editing Team
Editor-In-Chief
Beth Patrick
Beth is a fourth year Sociology major and Anthropology minor at the University of British Columbia. She is excited to be the Editor-in-Chief this year and collaborate with others to publish Volume 15! Within sociology, her research interests are surrounding culture, higher education, gender, and sexuality. Specifically, she is interested in learning more about the discourse surrounding multiculturalism in a Canadian context. In her spare time, Beth is usually watching Marvel movies, listening to music, or relaxing at the beach. She is really looking forward to this year's journal submissions and working with the editing team!
Associate Editors

Areeba Asif
Areeba is in her final semester at UBC and is excited to be a part of the Sojourners editorial team in her last few weeks as an undergraduate student. She is majoring in Sociology and minoring in Economics. She is passionate about the sociological effects of technology and skill gaps in society, particularly the effects it has on labour force participation, type of employment and wage gaps across race, genders and classes. She is currently working as the Indigeneity, Equity and Diversity(IED) Committee at the UBC Sociology department under Dr. Kimberly Huyser where she focuses on strengthening IED strategies and policies for the department in accordance with the Indigenous Strategic Action Plan. Areeba looks forward to editing your work this semester!

Teodora Rawsthorne Eckmyn
Teodora grew up on the unceded Musqueam, Squamish and Tsleil-Waututh lands known as Vancouver. Her academic background is in Peace and Conflict studies which she studied at Langara College, and which inform her current studies as a third year student of sociology and human geography. She is particularly interested in the sociological study of power, politics, social movements, social change, labor, and environment, and is inspired by the potential of sociological research and theory to bring positive change to individual, collective, and societal realities. Outside of her studies you can find her reading, people-watching, cooking, enjoying the beach, and working on community urban gardening projects. She is grateful for the opportunity that Sojourners will give her to learn from the incredible research and writing of her peers and to collaborate with UBC's sociology community.
Lindsey Eiwanger
Lindsey is a third-year Sociology major and English Language minor. She is very excited for her second year editing for Sojourners! Lindsey is thrilled about this amazing opportunity to grow and connect with others in the Sociology community through her position as an Associate Editor. She is looking forward to working with brilliant fellow editors and fantastic authors who all offer unique sociological perspectives. Lindsey appreciates how Sojourners provides a valuable space for students to gain insight into the process of peer review and academic journal publication while highlighting student voices. Her research interests include Indigenous rights and issues, the intersections of race, gender, and class, and work and labour inequality. Outside of Sociology, Lindsey is an avid brunch enthusiast who loves spin, yoga, reading, and long walks.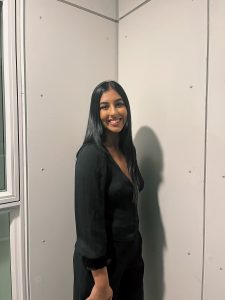 Manjot Mangat
Manjot is a third-year Sociology Major at UBC. Her research interests revolve around social inequality, race, ethnicity, and gender. Specifically, she is committed to understanding how these components interrelate to construct multifaceted experiences and environments of privilege and oppression for various groups and individuals. Apart from school, Manjot enjoys spending time attempting the many hikes BC offers, adding new books to her collection, exploring restaurants in Vancouver, and listening to her favourite artists on Spotify! This is Manjot's first year on the UBC Sojourner's Editor Team, and she is looking forward to working alongside a team of excellent editors to assist undergraduate students in expanding their research writing abilities.
Lauren Klarich
Lauren is in her third year, majoring in sociology with a minor in anthropology. Her research interests vary widely but include issues of sexuality and gender norms, as well as the way crime and deviance function in society. She is very excited to learn and collaborate with fellow peers regarding a variety of sociological topics as she believes that seeking out differing perspectives is vital for developing in academia. In her spare time, she loves to bake, play video games, and listen to her favourite playlists.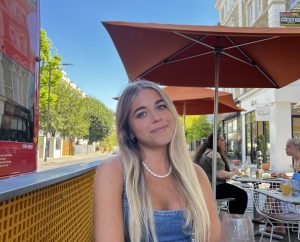 Martina Atanackovic
Martina is currently in her third year at UBC, majoring in Sociology and minoring in History. As a peer academic coach within the faculty of Arts, she is devoted to broadening access to engagement opportunities for all students, as she believes social collaboration is imperative for learning. Therefore, she is thrilled to be joining the Sojourners team as an Associate Editor, eager to interact with exciting new research from the Undergraduate community. Her research interests include Urban Sociology and Human Ecology, with an emphasis on built environmental design and housing policy. Martina is also inspired to assess current organizational structures of work under the realm of Economic Sociology, focusing specifically on the interactions between labour markets and globalization. In her spare time, she loves to travel and explore Vancouver's local art & music scene.

Ishita Agarwal
Ishita is a third-year student at UBC. She is majoring in Psychology and minoring in Sociology. Her interest lies in understanding the sociological underpinnings of psychological behaviour and how we continue to be affected by our social environment, family structure and relationships. In her spare time, she enjoys reading and watching sitcoms, and her favourite book is 'The Five People You Meet in Heaven' by Mitch Albom. Ishita is grateful for the opportunity to join Sojourners as an Associate-Editor and she is looking forward to working with an amazing team!
 Claire Van Roggen
Claire is a fourth year Sociology major and Psychology minor. Her interest in the publishing process and her desire to be fully immersed in the world of academia drew her to the Sojourners Undergraduate Journal. Claire plans on pursuing a Master's in Sociology and her research interests lie in the realm of gender and sexuality. Post-graduation, Claire envisions herself with a career in public policy, academia, or as the owner of a small bookstore. Outside of her educational pursuits, Claire has been working in the hospitality sector for seven years and enjoyed backpacking trips of South East Asia and Europe before beginning her Bachelor's degree in 2019. In her free time, Claire enjoys working in her garden, reading contemporary literature and graphic novels, and watching Korean dramas.
 Rohil Sharma
As an Associate Editor for Sojourners, Rohil is excited to promote student scholarship in the field of sociology at UBC. Through publication, he is eager to work with his peers and create avenues for students to partake in dialogues typically reserved for academics. Rohil is currently in his third year at UBC, majoring in Sociology and minoring in Law & Society. His research interests include economic relations, digital media, and the law as constructed from a sociological perspective.