Hi there. It's nice to meet you. I'm Nick. I make cheap Adele jokes.
I was going to begin by telling you which year I'm in, but given that it's the summer term, I'm not exactly sure whether or not I am in my third or fourth year. Ultimately, it's up to you. I major in International Relations with a focus on political theory and philosophy. Stepping into the realm of literature studies is somewhat different for me, but exciting nonetheless. A year ago, I was involved in creating a provincial arts and culture policy framework, a process that had me very engaged with many artists and cultural workers around the province. Finally getting my academic hands dirty with the literary arts is something I am looking forward to. My non-academic identity is that of a musician – a drummer, to be exact. Here is a handful of the projects I've taken part in. Pictured below is me and Jackie Chan.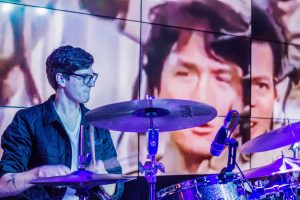 This is a blog that will follow a course offered by the English department at UBC titled "Canadian Studies." Broadly, this course examines the creation of particular, and perhaps universalizing, narratives about Canada, Canada's history, and the stories of Canadians. Specifically, this course focuses on how Canadian literature is canonized in a way that serves to further a colonial project and silence marginalized or less mainstream narratives, such as those of Canada's Indigenous population. Given that the Government of Canada just signed on as "a full supporter, without qualification," of the UN Declaration on the Rights of Indigenous Peoples, this course serves to carve a much-needed path forward in the understanding of Canadian historical and contemporary landscape. For the success of the coveted "nation-to-nation dialogue," simple dialogue is hardly enough. Each party must listen to, engage with, and understand the stories of their partner, and this Canadian Studies course provides a gateway for just that.
Much of my study in IR revolves around the creation of knowledge. Who gets to claim truth? Who decides what "fact" means? The way stories are told and the way that narratives are formed determine how we perceive ourselves, however largely "we" is conceived. I hope that the course will serve as a venture below the meta-theoretical. By examining texts in both European and Indigenous canons, I hope to gain the intellectual wealth there is to be had by listening to stories that are heard infrequently. Beyond just talking about how uncovering certain narratives might benefit our conceptual capacities, it is my expectation that this course will give me the experience I need to push my own thinking in a way that is more expansive, more plural, and more hungry.
Works Cited
"BC Creative Convergence." Alliance for Arts + Culture. Alliance for Arts + Culture, n.d. Web. 12 May 2016.
"Nick Babey." SoundCloud. SoundCloud, n.d. Web. 12 May 2016.
"United Nations Declaration on the Rights of Indigenous Peoples." Government of Canada. Indigenous and Northern Affairs Canada, 9 May 2016. Web. 12 May 2016.