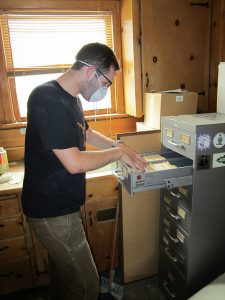 After five+ years of work the NRS History and Archive project website is live for your archival research!: University of California Natural Reserve System History & Archive Project
The University of California's Natural Reserve System (NRS) is the most extensive system of university-run biological research field stations in the world with 39 sites representing every major ecosystem in California. The first reserve site was founded in 1937, and the reserves came together into the NRS in 1965.
The UC NRS History & Archive Project aims to identify, preserve, and make aid in the use of all historical materials held on NRS sites or held elsewhere and pertaining to the NRS and its role in the development of environmental knowledge for over three quarters of a century.
Please see our published works from the project:
Peter S. Alagona and Tim Paulson, "From the Classroom to the Countryside: The University of California's Natural Reserve System and the Role of Field Stations in American Academic Life," Landscape and the Academy: Dumbarton Oaks Garden and Landscape Studies Series, ed. Jon Beardsley and Daniel Bluestone (Washington, DC: Dumbarton Oaks Research Library & Collection, 2019), 207-228.
Kelly Easterday, Tim Paulson, Proxima DasMohapatra, Peter Alagona, Shane Feirer, and Maggi Kelly, "From the field to the cloud: A review of three approaches to sharing historical data from field stations using principles from data science," Frontiers in Environmental Science 6 (2018).