You've got your CRM and you've got your Social Media. Well, I just read an article and learned that the two have been married together to form one of the newest buzzword sub-segments of the digital marketing universe, Social CRM (super original name). CRM stands for Customer Relationship Management, and in the past systems were put in place to do just that.  But the landscape is shifting.
We know that today's customer accesses information and interacts with brands and products across many different platforms and in a much different way then the traditional customer. They are savvy, expect to be listened to and have much higher expectations in terms of engagement. More so then ever, the balance of power in the business-customer relationship has shifted with the advent of the "social customer". This new "social customer" now owns the relationship and businesses must strive to earn their trust and respect.
In order to fully serve and meet the needs of this new "social customer", businesses must be transparent, integrated and responsive. These new requirements have resulted in the evolution of traditional CRM, leaving us with what those in the esoteric world of eMarketing call SCRM. Paul Greenberg, author and leading authority on SCRM, stated that Social CRM is "…designed to engage the customer in a collaborative conversation in order to provide mutually beneficial value in a trusted and transparent business environment. It's the company response to the customer's owning of the relationship."
We have talked in class about the need to effectively triage and prioritize customer interactions via the multiple SM platforms that exist and this is central to the SCRM concept, as I understood it.  The following diagram maps out an example of this process.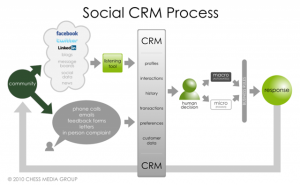 The bottom line is that as customers change and interact with businesses differently, these businesses must in turn look at how they interact with this new breed of customer.  Have a read of the full article, pretty interesting.
http://mashable.com/2010/05/21/social-crm/