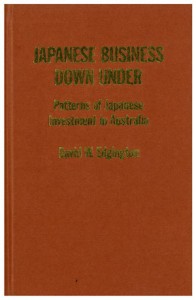 David W. Edgington
April 1990, Routledge
As more Japanese companies move overseas, international business interest is focused on their operations in host countries. Since 1957 Japan has been investing heavily in Australia, and now that Japan is making headway in other parts of the world, including the UK and the USA, government and business in those countries have much to learn from the Australian experience.
The first comprehensive study of post-war Japanese transnational corporations in Australia, this book gives invaluable insights into the particular characteristics of Japanese overseas investment. It looks at how, shy, and where Japanese corporations have set up their business activities in Australia, focusing on the economic, political, and geographic factors shaping their operations. It deals with all the major aspects of Japanese investment in Australia from the 1957 Australia-Japan Commerce Agreement to the sharp strengthening of the yen (endaka) at the end of 1985 and presents case-studies of Japanese trading companies, manufacturing companies, banks, and financial institutions. As well as highlighting the essential differences that separate the Japanese transnational corporations from those of the UK and the USA, the study gives new theoretical insights into the complex behavior of Japanese corporations in their host countries.