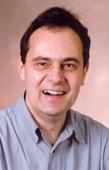 David W. Edgington (Ph.D. Monash University; Master of Urban Planning, University of Melbourne; Masters of Business Studies, University of Edinburgh; B.Sc. Estate Management, University of London)
David Edgington joined the Department of Geography in 1988, and was promoted to Associate Professor in 1992. Before coming to Vancouver he worked as an urban planner in Melbourne, Australia. His current research and teaching focuses on the geography of Japan and the Pacific Rim. He is the Director of the Centre for Japanese Research at the Institute of Asian Research. For more information, and a list of publications, click here.
For Dr. Edgington's faculty profile in the Geography Department, click here.