---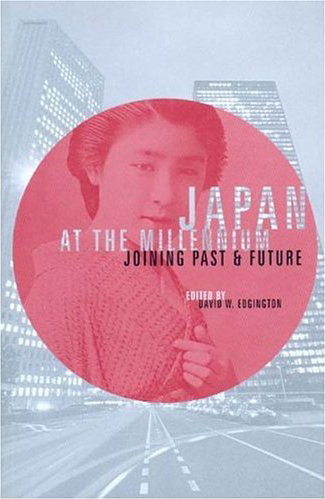 Japan at the Millenium
David W. Edgington
Jan 1 2004, University of British Columbia Press
Japan today is at an important historical Juncture, the nation has become an amalgam of the traditional and the modern. As a result, the country has become increasingly difficult to categorize: how are we to represent today's Japan effectively, and fairly predict its future? How can the opposing forces of "change" and "continuity" be reconciled in order to understand the nation as a cohesive whole?
This critical, multi-disciplinary collection explores the convergence of past and future in contemporary Japan. Contributors comment on a wide range of economic, socio-cultural, and political trends — such as the mobilization of Japanese labour, the burgeoning Ainu identity movement, and the shifting place of the modern woman — and conclude that despite the rapid changes, many of the traditional facets of Japanese society have remained intact. Institutional change, they assert, is unlikely to occur quickly, and Japan must find alternate ways to adjust to 21st century pressures of global competition and interdependence. A pleasure to read, this broad volume will be welcomed by upper level undergraduates, graduates, and specialists in Japanese studies.
---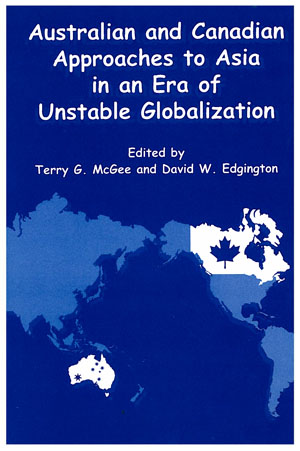 Australian and Canadian Approaches to Asia in an Era of Unstable Globalization
Edited by Terry G. McGee and David W. Edgington
2004, Centre for Australian Studies, Institute for Asian Research
This book examines the relationship of both countries to the Asian region from the perspective of the opening years of the millennium. Australia and Canada share many similarities, including the importance of agriculture and mineral resources, as well as federal systems of government. Over the last 20 years or so both countries have been impacted by powerful forces of globalization, and in particular by the development of trade, investment and immigration linkages with the countries of northeast and southeast Asia. In 1997 and 1998 the Asian financial crisis led to sudden instability in the region and provided an opportunity to examine the various implications of developments in Asia and their relationships with Australia and Canada. With an emphasis upon comparative contexts, the essays in this volume consider a number of relevant themes, including the challenge of addressing human rights in Asia, trade and economic relations, immigration and multiculturalism, and metropolitan responses to globalization.
---
New Regional Development Paradigms: Volume 2 New Regions–Concepts, Issues, and Practices
David W. Edgington, Antonio L. Fernandez , Claudia Hoshino
August 2001, Greenwood Press
Covering experiences from transitional, industrialized, and developing economies, this timely book emphasizes the critical prerequisites for effective regional planning. These prerequisites include sustainable institutions, social mechanisms, trust relationships, leadership, and public-private sector partnerships. Questioning many conventional approaches, the book considers the changing context in which regional planning now occurs. Exploring globalization, regions straddling international borders, the position of transitional economies, decentralization and empowerment of local governments, regional competitiveness, mega-urban regions, and new forms of regional governments this work covers much ground. Using such examples as the Arizona-Sonora corridor, the book specifically considers cross-border regions, or trade corridors, including the need to include economic complementarity and cultural differences in development policy. Examining the need to redefine regional planning, the book concludes with innovative strategies from China, Thailand, Japan, and the Philippines as well as the Americas. With contributions from both academe and practitioners, the volume shows that regional development planning involves integrated physical, economic, and social planning and that regional development planning has to address new regional forms, regional competition, and local governance. Based on fully revised papers given at a United Nations Centre for Regional Development conference, the book illustrates the changing context in which regional planning is now conducted, thereby providing a useful resource for planners and academics.
---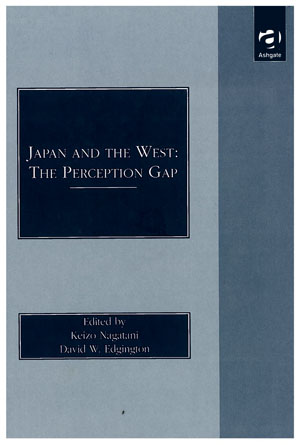 Japan and the West: The Perception Gap
Keizo Nagatani and David W. Edgington
April 1998, Avebury
Six members of the Centre for Japanese Research (CJR), an area unit of the Institute for Asian Research at the University of British Columbia, came together in 1989 to work on a common theme of sponsorship of the Japan Foundation. They were motivated by the fact that after over a century of cultural, economic and political interaction between the two regions, mutual misunderstandings or perception gaps remain deep and wide and by the belief that highlighting these differences, as they manifest in diverse areas and manners, might potentially contribute to a better understanding, if not an immediate narrowing, of the gaps. The six essays contained in this volume are the products of such group efforts. Three authors are Westerners and the remaining three are Japanese by origin. By speciality, they represent modern Japanese literature, cultural anthropology, art history, political science, economics and geography.
---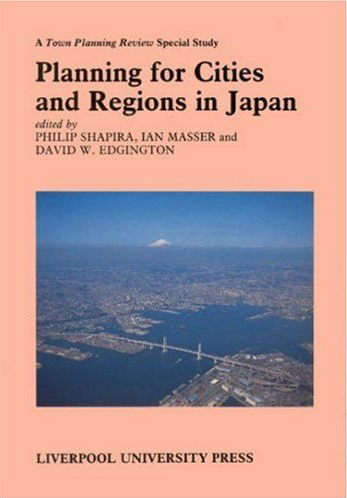 Planning For Cities And Regions In Japan
Philip Shapira, Ian Masser, David W. Edgington
Dec 31 1994, Liverpool Univ Press
This book brings together a series of contributions which examine the processes of contemporary city development and urban and regional planning in Japan. A central theme of the book is to consider, from a range of perspectives and situations, the role, policies, methods, and effectiveness of planning in guiding city development in Japan and in addressing present and emerging urban issues. Areas of particular concern include inner city development, the urban periphery, the institutional and regulatory context of planning, and planning for urban and regional economic and technological change. In many instances, the book draws parallels between Japan's urban experience and planning approach with those of Europe and North America. Earlier versions of all but two of the chapters were published in issues of the Town Planning Review, but not only does the book have the value of brining these contributions together in one volume, it has also allowed the authors to make major revisions updating their work and incorporating new developments. The editors have contributed to a substantial, reflective introductory chapter and have also included a chronology of Japanese planning legislation and an annotated guide to selected English-language literature on Japanese urban and regional planning.
While the main aim of the book is to provide a detailed interpretation of current urban planning issues and policies in Japan, the chapters also provide a foundation for understanding how Japanese city planning may evolve in the future.
---
Japanese Business Down Under: Patterns of Japanese Investment in Australia
David W. Edgington
April 1990, Routledge
As more Japanese companies move overseas, international business interest is focused on their operations in host countries. Since 1957 Japan has been investing heavily in Australia, and now that Japan is making headway in other parts of the world, including the UK and the USA, government and business in those countries have much to learn from the Australian experience.
The first comprehensive study of post-war Japanese transnational corporations in Australia, this book gives invaluable insights into the particular characteristics of Japanese overseas investment. It looks at how, shy, and where Japanese corporations have set up their business activities in Australia, focusing on the economic, political, and geographic factors shaping their operations. It deals with all the major aspects of Japanese investment in Australia from the 1957 Australia-Japan Commerce Agreement to the sharp strengthening of the yen (endaka) at the end of 1985, and presents case-studies of Japanese trading companies, manufacturing companies, banks, and financial institutions. As well as highlighting the essential differences that separate the Japanese transnational corporations from t hose of the UK and the USA, the study gives new theoretical insights into the complex behavior of Japanese corporations in their host countries.