Archive for the 'Lectures/Workshops' Category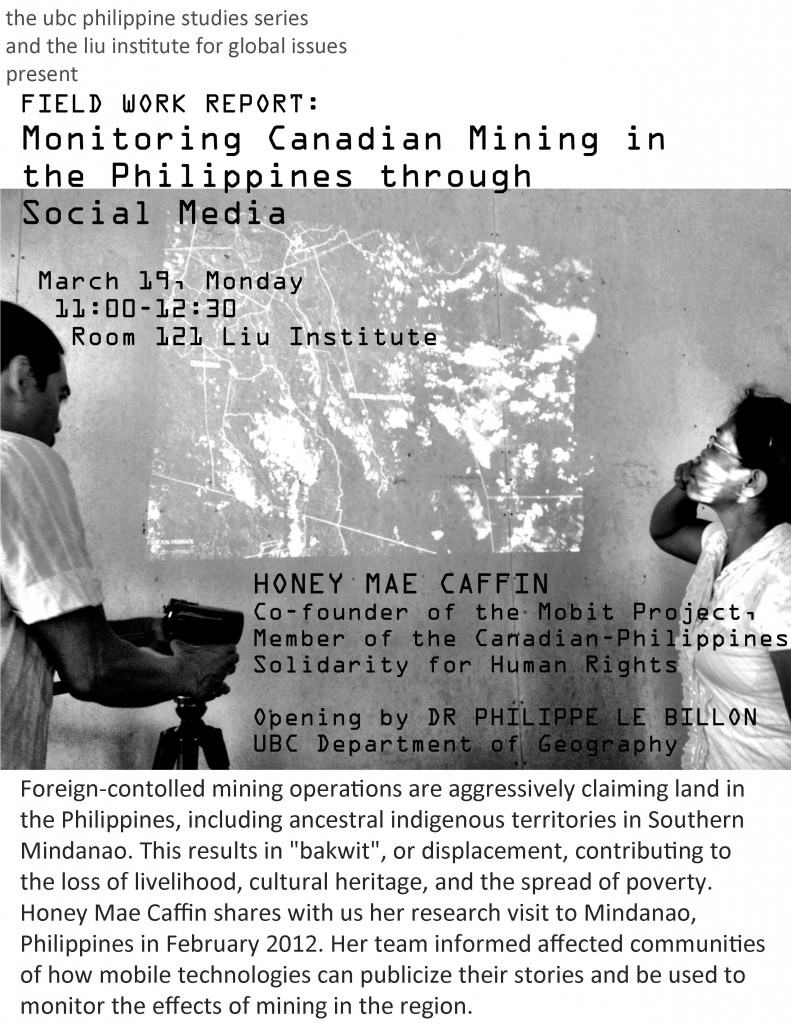 The UBC Philippine Studies Series
and the Liu Institute for Global Issues
present the fieldwork report
"Monitoring Canadian Mining in the Philippines through Social Media"
with Honey Mae Caffin, co-founder of the Mobit Project, and member of Canada-Philippine Solidarity for Human Rights
March 19, 2012, 11:00-12:30
Room 121, UBC Liu Institute for Global Issues
with an introduction on Canadian resource extraction and debates on the monitoring of Canadian mining operations by Dr. Philippe Le Billon, UBC Department of Geography
About the presentation: Foreign-controlled mining operations are aggressively claiming land in the Philippines, including ancestral indigenous territories in Southern Mindanao. This results in "bakwit", or displacement, contributing to the loss of livelihood and cultural heritage, and the spread of poverty. There is also conflict developing between small-scale local miners and foreign-owned operations. In one area, a Philippine mining company has been acquired (80% ownership) by a Canadian mining corporation. The endeavour of the local people to organize a resistance movement has had little progress in the two years since the murder of one of the main organizers, which remains unresolved until today. This operation is controversial also due to the supposed mining ban (with 1,600 applications awaiting approval from the government).
Honey Mae Caffin will talk about her research visit to Mindanao, Philippines, in February 2012, to conduct a series of workshops on the potential of social media and mobile technologies in the monitoring of Canadian mining operations in the Southern Philippines. The goal of the first phase of the project is to inform the communities affected by mining operations of the potential of mobile technologies for reaching out to the public with their stories, and for monitoring the effects of mining in the region. This project is done in cooperation with the Panalipdan-Southern Mindanao, an alliance of organizations and individuals with a commitment to defend the region against environmental destruction caused by the government-sanctioned corporate exploitation of natural (mineral) resources.
About the Speaker: Honey Mae Caffin is co-founder of Mobit, a community-based mobile monitoring project designed to provide social media literacy and infrastructure to rural communities via mobile devices and internet connectivity. She is the founder of Design School for Girls, and also the principal consultant at Intertextual Design Communications. Her research and creative products are inspired by topics such as the feminized migration of labour, decolonizing methodology, aboriginal rights redress, object-oriented ecology, networked-learning, FLOSS/DIY culture, and social media strategies for cross-cultural communication, among others. She also works as the in-house graphic designer of UBC Press.
To RSVP or for more information, please email ubc.pss@gmail.com or visit the UBC PSS Facebook page. This presentation will be followed by a Reading Session.
UBC Philippine Studies Series
and the Liu Institute for Global Issues
invite you to
USAPAN "Education/Edukasyon": What are we teaching our children?
A film screening, and a lecture by UP professor Lorina Calingasan,
and 2012 Usapan planning session.
Tuesday, December 20, 2011
4:30-6:30 pm, Liu Institute For Global Issues Boardroom (3rd Floor)
Download PDF Invite
The UBC Philippine Studies Series
together with the Liu Institute for Global Issues,
incooperation with the
Global and Transnational Ethnographies Research Network,
St. John's College,
and the Trudeau Foundation
invite you a two-day event with
Dr. Vicente Rafael, University of Washington
About the Speaker: Dr. Vince Rafael is a renowned historian teaching at the University of Washington, whose cross-cultural work focuses on the Philippines, comparative colonialism and nationalism. He is writer and editor of several books, including White Love and Other Events in Filipino History and  Contracting Colonialism, which both won the Philippines National Book Award for History awarded by the Manila Critics' Circle in 2000 and 1989, respectively. He was also the recipient of fellowships, such as the Simpson Humanities Center at the University of Washington Fellowship (2004-2005), Andrews Visiting Chair at the University of Hawai'i at Manoa, Residential Fellowship at the Rockefeller Foundation in Italy (1997), the Mellon Fellowship at Stanford University (1986-87), and many others. Dr. Rafael received his PhD and Masters in History from Cornell University, and his undergraduate degree in History and Philosophy from Ateneo de Manila University with highest honours.