What?
Over the last few weeks we have been working hard to finalize the last details of our project. We have been in contact with our community partner and over the last week we had the opportunity to do a school visit to watch the program in action. We did the school visit over two days to allow the majority of our group to attend and observe. On each day the visit was done at different schools.
November 15 2017: Visit at Florence Nightingale School
We are asked to arrive in the cafeteria of the elementary early in the morning at 8:30 AM. Upon arrival, we met with the primary breakfast producer Nancy, who is in charge of general food preparation of the school. There were no volunteers aside from Nancy to help run the breakfast program. On most mornings, there are a few breakfast options serving a total of 40 to 50 children. The two breakfast options on that day were either cheese toast or a choice between cereal or oatmeal for children that do not prefer cheese. Both options are accompanied by seasonal fruits such as sliced oranges or apples. Usually, there are no leftover foods however occasionally, foods that are leftover are packaged for snacks on the bus. Each morning, Nancy begins preparing at 8:00 AM and usually finish food preparation at 8:30 AM. It takes the children around twenty minutes to complete breakfast and school starts at 9:00 PM. According to Nancy, the sources of food come from a food distribution center partly sponsored by the Breakfast Club of Canada and the children were given the option to choose which breakfast they wanted earlier in the month. Something that is different from expected was the lack of volunteers involved with the program at this location and also the fact Nancy created most of the recipes herself. Overall, we had a great visit and felt very warming watching children eating breakfast.
November 16 2017: Visit at Queen Alexandra School
We visited Queen Alexandra School the day after visiting Florence Nightingale School. We met with Ryan and Jessica at 8:30am. They led us to the dining room in the basement where we visited the kitchen and the cafeteria. The staff prepared a Cheese Hash Brown Wrap that morning with milk and fruits that they served every single morning like bananas and blueberries. The operators who cook the breakfast are staff working in the school. The staff told us that there are usually 35 – 50 students per day, which would be considered a high attendance rate. For breakfast they serve hot meals every day and the foods are normally easy to go since some older kids prefer "to-go" rather than sitting in cafeteria. They prepare food with a strict control, so there is usually no left over. The ingredients they use are purchased online, and certain companies will order for them.
Ryan and Jessica told us that a high proportion of kids in this school are facing poverty. Therefore, there are many other food programs in Queen Alexandra for helping alleviate food insecurity. For example, a program called "Backpack Buddies" that gives kids bags of pasta sauce for free during Christmas and school breaks. There is another one called "Firefighter" that provides snakes to school every year. Ryan also said that only a small portion in total 90 elementary schools in Vancouver have breakfast programs, so there is still a lot we could do for helping kids who are food insecure.
So What?
From this learning, we considered the fact that older school aged children prefer "on the go" meals. In our recipe book we include a large "on the go" section that includes meals for these students who prefer not to sit down in the school cafeteria. We also took into consideration the proportion of students participating in the program and expanded our serving sizes within the recipes to ensure no food is going to waste. We also took into consideration the fact that most of the volunteers in the program are staff at the school. From this learning we adjusted our recipes to include simple directions and recipes with fewer ingredients so that the staff could successfully recreate the recipes.
Moreover, we found that the standard breakfast recipe repeats after 7 day in Florence Nightingale School (see pic). The children may be bored with eating the same kind of breakfast every week. Therefore, we adjusted our recipes to include different styles of breakfast and tried to avoid repetition. Also, we double check each other's work and make sure every user of our recipe can fully understand the directions. By making these changes, we hope our recipe will be helpful and useful for both children and kitchen stuffs in the school.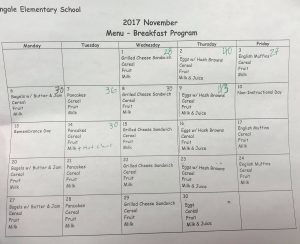 Now What?
From this learning, we are going to do the last editing for our recipes including proofreading and editing the layout. No matter what kind of difficulty we met, or the potential drawback there was, we were still happy that we could contribute to this project, and it was a pleasure to be given the opportunity to collaborate with the Breakfast Club of Canada.
Moving forward, we hope more and more people can pay attention to the problem of children food insecurity, because children's health is vital to the nation's present and its future. Through providing them healthy and nutritious breakfast, it will help children to keep up with the demands of growth and development. Since children's healthy growth is of the most vital indicators of health that want to see; we hope all parts of society can dedicate to this project, like donating money or volunteering in the organizations. Though our joint efforts, the end of children's food insecurity should not be far away. In the future, when afforded the opportunity, we hope to use our professional knowledge and experience to mitigate food insecurity in further place.
Some final words:
It is time to say goodbye. We thank you for all of your time on reading the posts we have blogged so far. Even though it is end of this project, it is not end of our academic career. We will continue to study in seeking better solutions to contribute to solving food insecurity one day. We appreciate the chance to work with our community partner, Breakfast Club of Canada. We have truly cherished the experience and the friendship we gain from this project.