The Agronomy Garden is a community gardening space at UBC Vancouver whose purpose is to showcase environmental and social stewardship of plants and food. It has its origins in a SEEDS project conducted in 2016 to explore the possibility of constructing a community garden in the middle of the public realm at UBC — on Main Mall. The vision and plan for a garden on Main Mall was developed collaboratively with students from groups like Roots on the Roof, and with staff and faculty involved in the UBC Food System at the UBC Farm, the Orchard Garden, and in the Faculty of Land and Food Systems.
By working with Campus and Community Planning and UBC Building Operations, we were able to identify a site at the corner of Main Mall and Agronomy Road that would bring the UBC Food System into the open, and invite interdisciplinary involvement and collaboration.
With funding from the AMS Sustainable Projects Fund, and a one-year development permit issued by Campus and Community Planning, the garden was built in July 2017.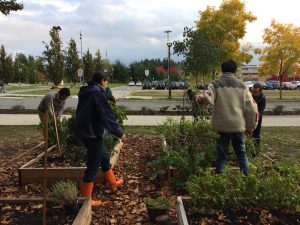 Since construction, the Agronomy Garden has been run by a small interdisciplinary team of students. Throughout 2017-2018 academic year, we organized casual gatherings to tend to the garden and harvest the fruits of our labour, and to continue building the vision for the future of the garden. Two SEEDS projects in winter 2018 developed a signage strategy and a 2018 expansion plan collaboratively with other students.
Over the summer of 2018, we organized the construction of a new sign, four new raised beds, and a new social space: an arbor with benches that will one day be covered in food-producing vines! As of August 2018, these projects are nearly complete, and will be ready for all to enjoy by the beginning of the upcoming academic year.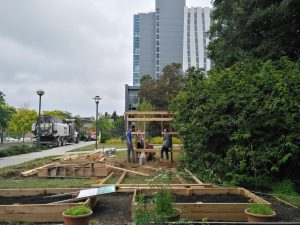 Get in touch!
Facebook: @theagronomygarden
Instagram: @agronomygarden
Email: agronomygarden@gmail.com