Monday, October 31st, 2022:
3:30-5pm: Guofang Li's Keynote: "Multilingualism as a Gift: Changing Mindsets, Changing Worlds," Asian Studies Auditorium
Abstract: Despite the presence of multiple languages in many homes, schools, and workplaces, monolingualism still persists as a normative educational and everyday practice in Canada and many places around the world. In this talk, based on stories of language maintenance and loss from my research studies, I share how such monolingual beliefs and ideologies frame multilingual parents' language policies and management at home and teachers' instruction in schools and how these practices often lead to learners to prioritize English over other languages. Advocating for a changing view of multilingualism as a gift, I discuss the need and the ways to challenge the deficit narratives of multilinguals to celebrate the strengths and the worlds of possibilities that they bring.
See Guofang Li's here.
Please register for this in-person event here.
Tuesday, November 1st, 2022:
3:30-5pm: Katherine Kelp-Stebbins' Comics Keynote: "Materializing Multilingualism in Comics from Haida Gwaii to Beirut," via Zoom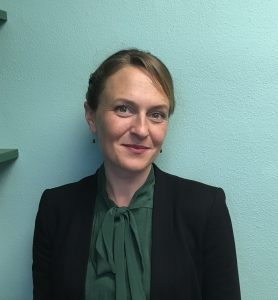 . 
Abstract: How might the visual grammar of comics be drawn upon to highlight the labour, theory, and practice of translation? At the intersection between the world republic of letters and the domain of images, comics necessitate techniques and physical spaces for reading that challenge assumptions of linguistic–and cultural–equivalence. Examining Haida artist Michael Nicoll Yahgulanaas' A Tale of Two Shamans and the trilingual Lebanese comics magazine Samandal, Prof. Kelp-Stebbins considers the comics page as a site that brings together a wide swath of encounters between peoples, cultural techniques, nomenclatures, spatial demarcations, and commodity objects. By compelling readers to reflect on differences between spaces of language, the multilingual pages of A Tale of Two Shamans and Samandal articulate relations between and among readerly practices. These works remind us that the co-presence of Xaad Kil, French, Arabic, and English texts alongside images on the space of the page does not imply parity between languages; rather, the page orients a reader to anticolonial struggles for recognition and literacy within the world system of comics.
See Kelp-Stebbins' bio here.
Register for Katherine Kelp-Stebbins' Comics Keynote (Tuesday, November 1 @ 3:30pm) "Multilingualism in Comics from Haida Gwaii to Beirut" here.
Wednesday, November 2nd, 2022:
10-12pm: Cole Pauls's Artist Talk: "Kwändǖr: Comics and Indigenous Language Revitalization," via Zoom
.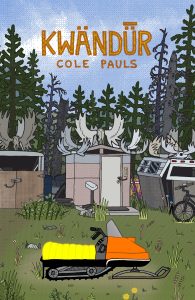 Abstract: Comic Artist Cole Pauls (Tahltan First Nation) gives you a first look at his latest graphic novel, Kwändǖr (Published by Conundrum Press). Learn how Pauls researches and creates his comics about Southern Tutchone culture, Yukon history, Arctic Games, identity and racism.
See Cole Pauls's bio and more information on his work here.
Register for Cole Pauls's Artist Talk (Wednesday, November 2 @ 10am) on Comics and Indigenous Language Revitalization here.
Thursday, November 3rd, 2022:
10am-12pm: Lightning Talks on Multilingual Pedagogies
Please see here for participant titles, abstracts, and bio.
Register for Lightning Talks on Multilingual Pedagogies (Thursday, November 3 @ 10am) here.
Friday, November 4th, 2022:
1-2pm: Luisa Maffi: "Voices of the Earth: Multilingualism from a Biocultural Diversity Perspective," Dodson (Room 302), IKBLC
Abstract: When talking about multilingualism at a societal level, we usually tend to refer to the presence (and recognition) of a variety of both native and immigrant languages within a country. From that point of view, Canada certainly counts as a multilingual country, with at least 200 immigrant languages and over 70 Indigenous languages spoken (or signed) within its borders in addition to its two official languages. British Columbia is also strongly multilingual, both in terms of immigrant languages and by comprising about half of all the Indigenous languages of Canada.
But how often do we think of "multilingualism without borders"—that is, the total diversity of languages spoken in the world today? Globally, the earth speaks in over 7,100 different tongues. Only a few of those languages have very large numbers of speakers, with about 25 languages comprising a whole half of the world's population. The remaining 7,000+ languages, the large majority of which are Indigenous, account for the other half, which implies that most of them have much smaller populations of speakers.
Celebrating multilingualism in its fullest sense means embracing all of the world's linguistic diversity. It also means opening up to a broader understanding of linguistic diversity as a part of the biocultural diversity of life on earth: diversity in both nature and culture. In this talk, we will explore biocultural diversity as both an idea and a field of knowledge and action and consider its significance for achieving a just, equitable, and sustainable future for people and the planet.
See Luisa Maffi's bio here.
Please register for this in-person event here.