Because we only have one theme (Twenty Ten) that supports the new WordPress menu manager and for those who like Cutline we now have Coraline: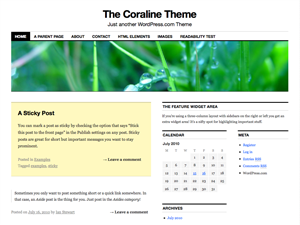 A squeaky-clean theme featuring a custom menu, header, background, and layout. Coraline supports 7 widget areas (up to 3 in the sidebar, four in the footer) and featured images (thumbnails for gallery posts and custom header images for posts and pages). It includes styles for print and the Visual Editor, special styles for posts in "Asides" and "Gallery" categories, and has an optional full-width page template that removes the sidebar.
Make the switch today! Especially if you are still using the horrible default Kubrick, like seriously people Appearance -> Themes pick anything but the default it pains me it really does.