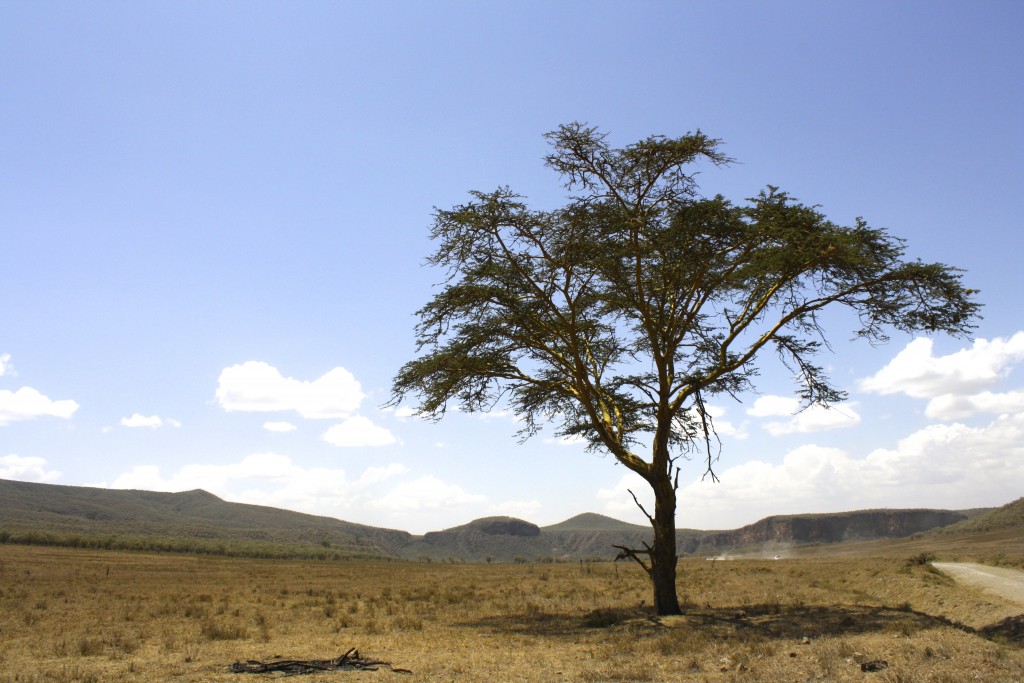 Last weekend's excursion was to Hell's Gate National Park, whose terrain had been the inspiration for the Lion King. I had started off the day bright and early, meeting my friend Joshua in Ayany before beginning the journey to Hell's Gate National Park. Joshua is a volunteer at Carolina for Kibera, who works with the scholarships program. He's been involved with CFK for several years, and lives in the Kibera village of Kianda with his family. He recently graduated from high school, and is currently awaiting his standardized test results that will determine what he can study in university; he is hoping to become a civil engineer, which will require top marks.
Once downtown, we met up with Scott, our fellow intern at CFK, who hails from Washington, DC's American University. He is a charismatic and talkative guy who is passionate about healthcare in the developing world. Together, the four of us hopped on the same matatu I had taken the previous weekend to Lake Naivasha, and settled in for the winding journey into the Great Rift Valley. Once we arrived in Naivasha, we were greeted by the town's many street touts, all of them desperately trying to get their hands on our tourist cash. Adamant about avoiding the over-charging that had plagued our previous Naivasha trip, we got Joshua to negotiate a fair price in Swahili with our potential cab driver.
Our cab driver dropped us off about 2 km away from the road, where a friend of his ran a small bike rental shop. For 500 Kenyan shillings (about $7 Canadian), I got a yellow Giant mountain bike with a bright blue seat for the entire day. After rigorously testing the brakes and buying another liter of water, we started riding off towards the gate of the national park. The road was hot, dusty, and bumpy – the dry season was in full swing, and the land was looking parched from the sweltering Kenya sun. We were sweating already by the time we arrived at the park's front gate. There, we paid our park entrance fees, which were quite a bit cheaper than we'd anticipated: since I have a student visa for the next six months, I am considered a resident and receive heavily discounted prices for all national parks. Thanks, UBC! Then we hopped back on our bikes and set off into the midday Kenyan heat.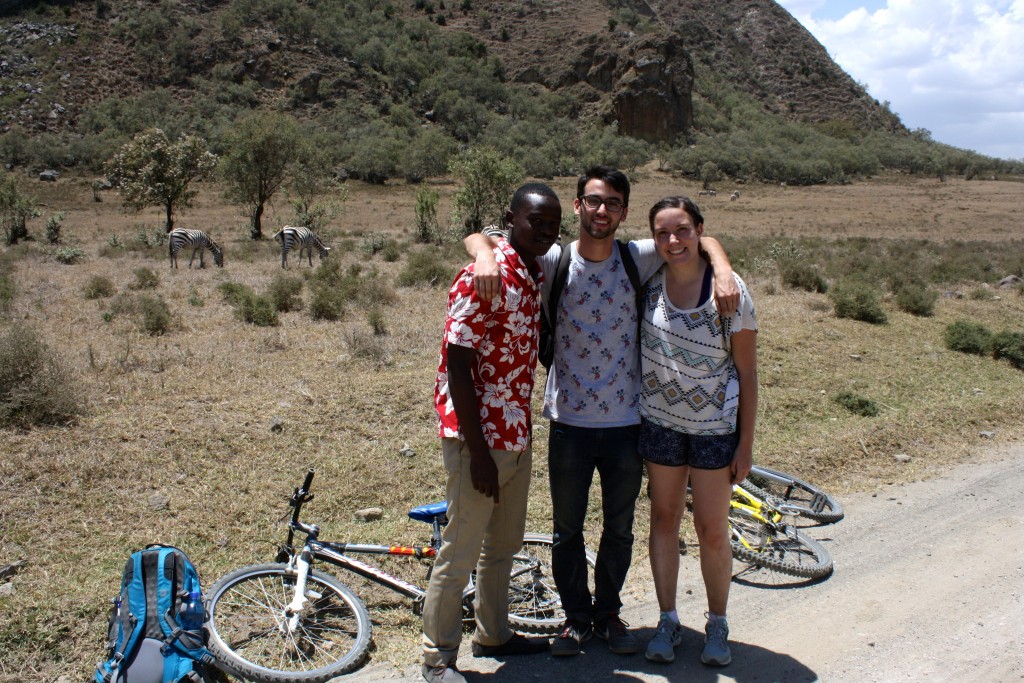 Joshua, Scott and I with our new zebra friends.
Not even five minutes after entering the park, we spotted our first sign of wildlife: a pack of zebras, grazing in the grass by the roadside! A coworker had told me I'd be bored of seeing zebras by the time my stay in the park was over, but staring at these gorgeous animals only a few feet away from me, I found that hard to believe. They stared at us with cautious curiosity as we edged closer for a photo op.
 Spot the rock-climbers…
Next to the munching zebras, a huge rocky tower jutted up towards the sky, looking out of place in the wide savannah. As we approached, I realized that this was a rock-climbing site – for 500 shillings we could scale the jagged rocks to the top. Being a huge adrenaline junkie with a sometimes-dangerous love for heights, I signed up immediately, and convinced Scott to come along with me. Within minutes, I was harnessed up and climbing towards the sky. Having only ever experienced rock-climbing at an indoor gym, this was quite a different experience: my eyes darted around constantly, trying to find my next foot- or handhold on the crag, and I was extremely conscious of the lack of padded mats on the ground below. After about 10 minutes of struggling, Scott and I made it to the top. We snapped a couple of victory shots, giving cheesy thumbs up, before belaying to our friends down below. Once we made it back to solid ground, completely elated from the experience, we convinced Joshua to climb up as well.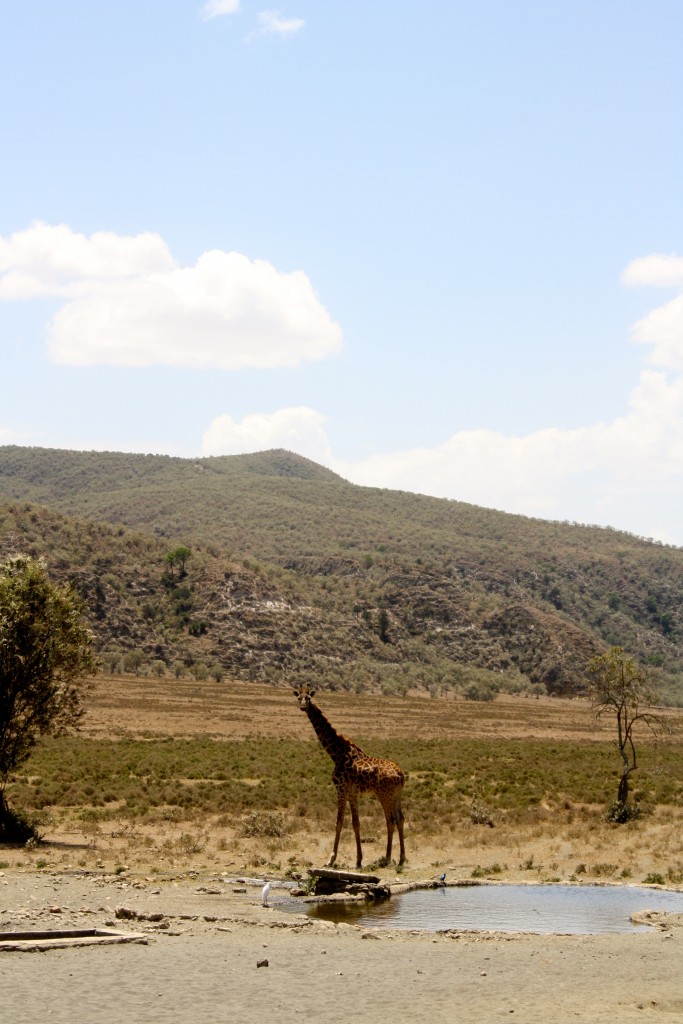 Whatchu lookin' at, bro?
We continued along the winding, dusty road further into the heart of the park, with the goal of finally reaching the famous Hell's Gate Gorge, about 11 km away from the park's entrance. The road was mercifully flat, giving us time to enjoy the amazing scenery around us. We passed by zebras and giraffes rehydrating at a watering hole, antelopes jumping around in the tall grass, and beautiful, colourful birds flitting around between the acacia trees. On either side of the road, huge red-brown rock formations reached towards the blue sky, looming hundreds of feet in the air over the grassy plains.
A stroll through hell.
Finally, we reached the famous Hell's Gate Gorge. Unable to head into the gorge without a guide, we reluctantly handed over 2000 Kenyan shillings to a young man named Francis, who led us down deep into the earth. Since it was nearing the end of the dry season, the water levels within the gorge were extremely low, with only a trickling stream running along its rocky floor. However, during the wet season the gorge swells with powerful flash floods that can be up to 10 metres deep – ominous signs warning about the dangers of these floods adorned the gorge's walls. We hiked over boulders and climbed ropes as we travelled through this geological wonder. Occasionally we would pass some hooks that had been used in the filming of the Tomb Raider movie; "Angelina Jolie," Francis said with a nod. We saw the "Devil's Bedroom", a large, circular "room" carved out of the gorge by water, passed by tall waterfalls, and alarmingly hot springs emerging from the gorge's walls. "I wash my face with this water every day," Francis told us, praising the healing properties of the mineral waters. "That's why I don't have any pimples."
Unlike our ride towards the gorge, which was filled with chatting, our return trip was mainly silent due to our exhaustion from rock climbing, biking 13 km, and hiking for two hours throughout the gorge (without lunch, I should add). We were able to add a few more animal sightings to our list, though: we passed a massive herd of buffalo and their companion white birds, and had a family of about 10 warthogs dash across our path. After what seemed like hours of cycling, the park gate appeared within our view, and we left the animals and the gorge in the dust behind us.