August 2nd, 2011 by jpopo | No Comments »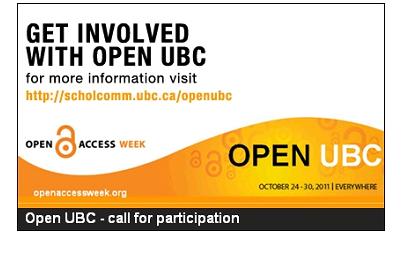 Open Access Week @ UBC 2011 is only three months away!
This year, the event theme is Open UBC and it will be held in conjunction with the International Open Access Week event, which encourages the academic community to come together to share and learn about open scholarship initiatives locally and worldwide.
Open UBC will be offering a week chock full of diverse events highlighting areas of open scholarship and research. In case you have not attended nor participated in Open Access Week @ UBC events in the past, these events typically include discussion forums, seminars, lectures, workshops, and symposia on topical yet timely issues from a variety of disciplines.
You are invited to attend and/or participate in these FREE and open public events happening during the week of October 24-30, 2011.
With an open "Call for Participation", this is your opportunity to get involved and share your scholarly output or research and/or tools with fellow UBC researchers, faculty, students, staff and the public.
Did You Know?
Last year, there were many Page displays, File downloads, and Top Country Views of the Open Access Week @ UBC event presentations which are archived within the Library Events collection in cIRcle, UBC's Digital Repository. At a quick glance, here are the Top Country Views from Open Access Week held during October 18-24, 2010: Algeria, Australia, Austria, Belgium, Canada, China, Columbia, Czech Republic, Estonia, Finland, France, Hungary, Italy, Japan, Kenya, Lebanon, Netherlands, New Zealand, Philippines, Russian Federation, Saudi Arabia, Ukraine, United Kingdom, and United States of America. To view the statistical detail of a cIRcle item, click on the "Show Statistical Information" hyperlink at the bottom of the item page.
Above image and partial excerpt in italics are courtesy of the Scholarly Communications @UBC website