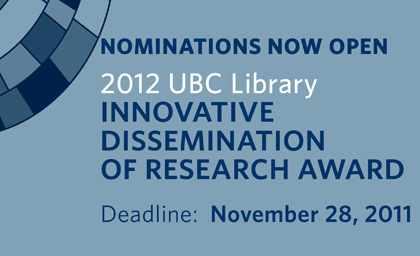 Time is running out! So, don't forget to send in your faculty, staff, or student nomination for the 2012 UBC Library Innovative Dissemination of Research Award.
About the Award:
@ honours UBC faculty, staff and students who are expanding the boundaries of research via new tools & technologies
@ focuses on new and innovative ways of communicating and disseminating knowledge
@ consists of a framed certificate of recognition and a $2,000 cash prize
Deadline for Applications: Monday, November 28, 2011, 5 p.m.
More details are available at: http://scholcomm.ubc.ca/events-awards/award/
Did you know?
Some of the previous award winners and honourable mentions are available in cIRcle at: https://circle.ubc.ca/handle/2429/33850
Above text in italics is courtesy of the Scholarly Communications @ UBC website and image is courtesy of http://about.library.ubc.ca/2011/11/02/innovative-dissemination-of-research-award-2012/
Nov 21st, 2011 by jpopo | No Comments »