"Don't cry because it's over, smile because it happened."
– Dr. Seuss
Welcome back everyone! Time really does fly when you're working hard and having fun! It feels like yesterday when we were choosing what project we wanted to work on, meeting each other for the first time, and having our first meeting with our community partner Joey. We've been through a long and eventful journey since then! With a few weeks left of the term, we are working hard and have already created our infographic, finalized our presentation pitch and started working on our final report.  For our final report, we are trying to outline significant conclusions from our data collection and synthesize our findings to provide our community partner a clear representation and summary of our project and possible ideas for more meals in the future. Reflecting on the last few months, we are very thankful for the wonderful learning experiences that LFS 350 and working with the Gordon Neighbourhood House (GNH) have provided us.  In our final blog posting, we will be reflecting on our experience implementing our second proposed meal and our main moment of significance.
---
What?
On March 15th, we had our last visit to Gordon Neighborhood House to prepare our second nutritious meal – a Mongolian Broccoli and Tofu Nourish Bowl.  We thought the second service went much smoothly and efficiently than the first service. This is because we listened to the tips and feedback from the first meal to improve the second service, which emphasizes Ernesto Sirolli statement that to achieve success, we must listen to the needs of others (Sirolli, 2012).  Our improvement from the first service also reflects the concept in the Freakonomics Podcast "Failure is Your Friend" that failures lead to success because by learning and improving from our mistakes during the first service we were able to make the second one even better (Cohn, 2015).  We went to the community lunch fully prepared and ready to go with few copies of the ingredient list and instructions of the designed meal. The ingredients were discussed beforehand and provided by our community partner Joey.  After preparing the meal and before serving, we briefly introduce ourselves, the name of the meal, and the aim of our project to the GNH community members.  We were a little anxious about serving our second proposed meal because there were a few negative views from the PWYC members on the first proposed meal and changing the meal of the Wednesday community lunch.  However, the community members were truly supportive, encouraging, and gave helpful suggestions throughout the meal service by personal communication.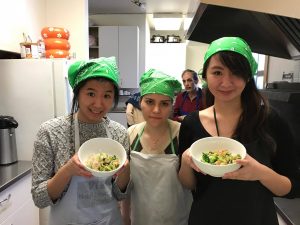 Group members displaying the delicious Nourish Bowls!
After the community members finished their meals, we then obtained the second set of required qualitative information through surveys completed by the GNH members and  interviews conducted with our community partner and the GNH volunteers. The overall feedback was positive and the community members were enthusiastic about the taste and look of  the new dish. In general,  we think round two was a complete success and we are certain that the new change of implementing nourish bowls in the Wednesday lunch menu will continue to be enjoyed by the community members.
Our moment of significance was having the opportunity to gain practical experience in the community by implementing our proposed meals, and feel the change that we are able to make by participating in the community projects. We now see the connection between how community lunches help improve community food security and bring diverse individuals together. We all agree that this experience of planning, implementing and working with the GNH to provide a nutritious meal to the GNH community has been a positive and memorable experience.
The Finished Mongolian Tofu and Broccoli Nourish Bowl!
---
 So What?
From our last two visits, we will summarize our data from the surveys and analyze the feedback from the community members about the two different meals. We will compare the feedback between the two meals, and also with the previous form of the Wednesday meals (soup and sandwiches). We will then finalize significant conclusions from our data collection and synthesize our findings in the form of the infographic and the final report. Our goal is to provide our community partner with a clear representation of our project which will provide insight towards helping the GNH to improve the quality and variety of the Wednesday Pay-What-You-Can (PWYC) community lunches. Through our observations and visits to GNH, we now understand that the PWYC community lunch is more than a meal but a place for members to communicate and build friendships with one another.  We are very thankful and happy to be a part of this wonderful and heartwarming community and truly believe food acts as a social equalizer by bringing people together.
---
Now What?
As mentioned, our project has been a long journey, from numerous meetings between our community partner, visits to the GNH, implementing our project, and balancing assignments. There have been many moments of uncertainty, frustration, failure, and confusion over what was expected for our project or in other terms what Shulman, describes as the "cycle of uncertainty and resolution." (Shulman, 2005). However, we were able to overcome these challenges through communication and collaboration and we now realize we have all benefited from the challenges for we have grown more as a team and have gained valuable knowledge.
We were able to acquire a diverse set of skills that will allow us to thrive as individuals in our future professional careers.  As well, we learned how to collaboratively plan, implement, and execute a low-cost, healthy meal for the community.  Although our journey with LFS 350 is coming to the end of the road, our interest in Community Based Asset Development will continue to grow. We will continue to utilize the knowledge we have learned through this project and LFS 350 in our future community work and our professional careers. We hope future LFS 350 students will continue to have the opportunity to work with the GNH and improve the Wednesday PWYC lunch program, continuing on our legacy.
As a final farewell, we would like to mention that we will truly cherish this experience and the friendships we have gained from the Pay-What-You-Can Community Lunch project. We feel fortunate to have had the opportunity to work with an amazing organization and community partner. We want to give a huge thank you to the Gordon Neighbourhood House, Joey, and all the hard working GNH volunteers for this amazing journey and we wish them all the best in the future. Despite the journey being an emotional rollercoaster, we are all excited to end this project on a positive note and look forward to presenting our project! We appreciate you all for joining us on this wonderful experience and we hope that you have enjoyed reading about it as much as we enjoyed being a part of it.  We invite you to come view our presentation on April 3rd in the UBC Nest. Hope to see you there!
All the best from The Pay-What-You-Can Team: Catherine, Nikki, Jennie, Yasaman, Razvan, and Tiffany!
---
"With good friends… and good food on board… we may well ask, When shall we live if not now?"
– Despain
---
References 
Cohn, G. (Producer). (2015, May 20). Failure is Your Friend: A Freakonomics Radio Rebroadcast [Audio Podcast]. Retrieved from, http://freakonomics.com/podcast/failure-is-your-friend-a-freakonomics-radio-rebroadcast
Despain, M. (2015). Finding ourselves in our food: M.F.K. fisher's the art of eating for the 21st century. Poroi, 11(1) doi:10.13008/2151-2957.1218
Sirolli, E.(2012, September). Want to help someone? Shut up and listen! [Video file]. Retrieved from, https://www.ted.com/talks/ernesto_sirolli_want_to_help_someone_shut_up_and_listen/transcript?language=en