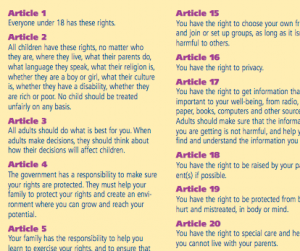 This resource showcases the rights of the child developed by the United Nations Convention on the Rights of the Child. It is based on the Universal Declaration of Human Right that childhood is entitled to special care and assistance. This is just a snapshot of the 42 articles outlined in the PDF. The following children's books also outline these articles in kid-friendly language:
I think this will be especially pertinent to touch on when dealing with the topic of Residential Schools and which rights they violated. Some children will be influenced by the wording in these rights, but many will be affected by the pictures detailed in these books.
Operation Street Angel is a local program in my area designed to assist those facing poverty. It follows the Ktunaxa Nation vision statement:
Strong, healthy citizens and communities, speaking our languages and celebrating who we are and our history in our ancestral homelands, working together, managing our lands and resources, within a self-sufficient, self-governing Nation.
It is important to be aware of local services available in our own communities. A colleague at my school has been making mittens out of recycled sweaters and her proceeds from selling these are going to the Street Angels. Our students are going to be involved in this project to help give back to our community and grow a connection to the services available.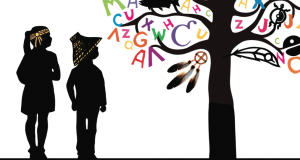 This resource was developed by the First Nations Education Steering Committee. With specific primary resources, units include All About Me, Gifts from the Earth, Stories of the Seasons, Our Animal Neighbours, The Spirit of Celebration, The Power of Stories, Making Our Ancestors Proud, and Stories from the Sky. This authentic resource with Aboriginal content also contains a link to a resource guide listing more authentic resources available on these topics. In addition, this resource contains contact information for teachers to connect with local Aboriginal contacts. There are many tips throughout this resource that will help guide teachers through the content while maintaining respect and authenticity.
This link is the link to resources I obtained from a conference I attended this weekend. This presentation was based on an inquiry project that the presenter engaged with her students and schools on Aboriginal topics. Their inquiry project included educating intermediate students using concepts of indigenous knowledge and history in BC's new redesigned curriculum. Students were put into multi-age and multi-class groups of 5-6 students. Together they created a field notebook and engaged with material containing Aboriginal content. In this notebook students would record images, connections, feelings, and emotions to the content they were learning. Next, students developed deep questions and decided on an inquiry project of interest and meaningful to them. The end result of this project was a museum and community event in their gym with project information on display. I really connected to the format of this inquiry project and hope to try it out with my own students soon.
This website was designed by teachers to educate students on authentic sources and research on the internet. The website design appears to be a legitimate place to find information about various explorers including Christopher Columbus, Samuel de Champlain, Jacques Cartier, John Cabot, and more. Selecting an explorer takes the viewer to a page of information. At first glance and scanning through much of the information appears to be accurate. However, open a closer read you will encounter some outlandish claims such as Samuel de Champlain founding the Quebecois nordique NHL and Christopher Columbus being fascinated by laptops and cell phones of the First Nations people he encountered. The purpose of this site is to show students how easily one can be misled with information on the internet. I think this will be important for me to use when doing any research projects with my students that includes online research.