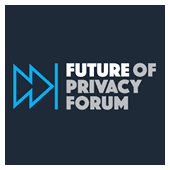 As educators we often need something to use in our classroom yesterday; consequently, privacy is often neglected when adopting new educational technologies. Future of Privacy Forum (FPF) is a nonprofit organization that focuses on bringing the two parties (developers and consumers) on either side of the technology of interest together to agree on a privacy plan to protect the user. FPF deals with data privacy issues that involve many technology sectors, but one that would be of interest to us is, of course, education. In this regard FPF acts as a privacy watchdog as technology and education continue to blend. 
Now, this venture is obviously not as shiny, and eye-catching as others we have seen; nevertheless, as we move forward with technology in the driver's seat with classroom educators, teachers need to consider the privacy of their students and take the precautions to keep them safe.
FPF's website is very user friendly where you can find the topic of privacy in education under "Issues" along with other issues that affect education such as AI and algorithms. Much is based on US privacy acts; regardless, privacy is something to seriously consider when inviting tech companies into the classroom.