About Us
Ryah Rondolo
3rd Year, Global Resource Systems
Interests: sustainable agriculture, international development, travelling, playing piano and guitar
Reasons for Choosing this Project: I'm interested in learning more about the local food production systems in Vancouver and the benefits they provide to our community. I think the Food Asset Map is a great way to share this information with others.
Leanne Perrich
3rd Year, Food, Nutrition, and Health
Interests: anything food related – nutrition, cooking, baking etc., being outdoors, generally being active, and reading
Reasons for Choosing this Project: I am excited to work in the community and on on the continuing development of the food asset map. I believe it will be a good tool for the public, especially those suffering from food insecurity to see the options they have within the community. I have a keen interest in food security after volunteering at the food bank and seeing how many people (singles, families, and couples) use and desperately need this service.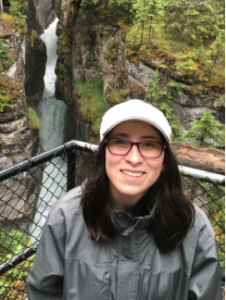 Chantel Chizen
3rd Year, Applied Biology (Plant and Soil Science)
Interests: skiing, hiking, gardening, listening to music, cooking, baking, and agriculture
Reasons for Choosing this Project: I am excited to be apart of this project because I believe that working with the community and developing a resource for accessing food from urban farms and community gardens will be an excellent experience. By creating a map of food production assets within the city I hope that we can help raise awareness of the available programs.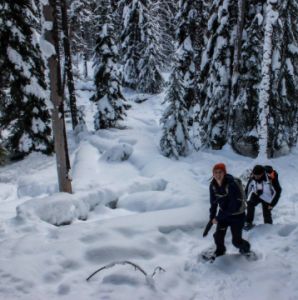 Carla Hick
Applied Biology (Food and the Environment)
Interests: skiing, kayaking, badminton, yoga, bowling, hiking, arts & crafts, travelling, culinary arts, sustainable agriculture, permaculture and seed saving
Reasons for Choosing this Project: I chose this project because I am very interested in growing food locally, reducing our food production footprint and making good food available to more people. I am quite excited to discover more food production operations in the city of Vancouver, to network and discover employment and volunteer opportunities for myself.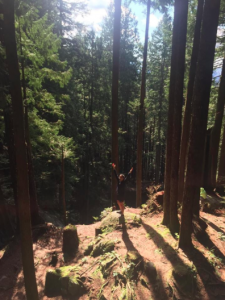 Sarena Sidhu
3rd Year, Food, Nutrition, and Health
Interests: Cooking and baking using plant-based foods, agriculture, sustainability, hiking, biking and snowboarding.
Reasons for Choosing this Project: Food insecurity is a global issue affecting many individuals and populations. I believe the first step in combating food insecurity on a global scale, is by addressing it in our own community. The Food Asset Map is an extremely valuable tool in connecting people who experience food insecurity with outlets that may provide relief. I believe the Asset Map is also a great tool to get all members of the community involved in local foods, educational workshops and community gardens.
Gunique Gill
3rd Year, Food, Nutrition, and Health
Interests: gardening, plant-based cooking and baking, travelling, Mother Nature
Reasons for Choosing this Project: I believe that food is medicine and our purpose in life is to eat. Moreover, I think it is important to know where our food comes from and how to grow it. I would like to see more societal contribution towards locally sourced foods, sustainable practices and making food more available.
---
Group Interests, Goals, and What We Wish to Gain from this Project
In our participation with this project we are all looking forward to engaging with community members and organizations. Through contributing to the map we will be working within the community, for the community. We have found that through this course we will be offered an experience were we can participate in creating connections in the community and promote community growth in regards our local food system.
Over the course of this term we will strive to strengthen our teamwork and communication skills. For instance, through investigating food production assets we can practice professional communication as we interact with local businesses and conduct trials of the map. By receiving feedback from community members after they have trialed the map we will be able to utilize the valuable perspectives shared with us and be able to build on their comments to enhance the existing food asset map.
Additionally, we hope to advance our own knowledge in regards to food production in Vancouver. By learning about the programs offered we will be able to take away information that we can benefit from in the future such as navigation of the city, food issues, and further community involvement opportunities.
---
Background on our Community Organization and Project
The Vancouver Food Asset Map is a project embarked on by Vancouver Coastal Health. Their main objectives are to provide care and health to communities while encouraging sustainability. This project is also supported by several community partners such as the City of Vancouver, the Greater Vancouver Food Bank, Fresh Roots, and UBC.
The Food Map is a living resource to help community members connect with local organizations or public spaces that offer food assets within Vancouver. Through community partners and students such as ourselves the map is updated with new information. The 5 food asset categories represented in the map are:
Free or Subsidized Grocery Items
Free or Low Cost Meals
Grocery Stores, Small Retail, or Markets
Kitchens or Food Programs
Growing Food (Food Production)
Our group will be focused on contributing to the current information on the food production category of assets. Past groups of students from LFS 350 and other contributors to the map have established several food production related assets and we will be working towards updating the information of current assets and finding new ones. Below is an example of the various food production assets within Vancouver that are currently posted on the Food Asset Map. To  learn more about the food assets offered in the City you can view the map here: Vancouver Food Asset Map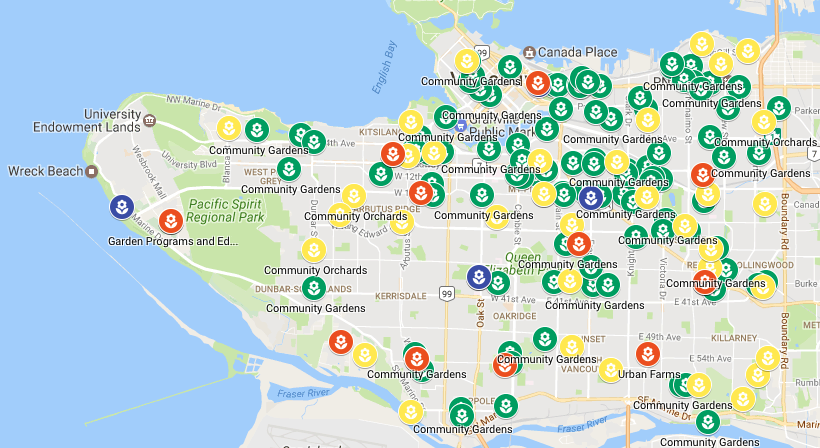 (Vancouver Coastal Health)
---
Project Objectives
Contribute to the 3 goals of the Vancouver Food Asset Map:
To provide a tool to community members and agencies for locating community food assets that is current, dynamic, and easy to use
To build capacity and support food access for community members dealing with food insecurity
To make it easier for Vancouver community partners to view and utilize community food assets strategically
(Vancouver Coastal Health)
Another objective is for us to seek information regarding community gardens and orchards, urban farms, garden programs, and educational workshops relating to food production. We will obtain, update, and summarize data on the food production options within Vancouver which will then be reflected on the Vancouver Food Asset Map.
---
First Impressions
Based on what we have learned in class and from the readings it is apparent that there is miscommunication, inequality, and various other unresolved issues in community food systems across the world. Problems that have arisen within food systems will progress so long as we do not refocus our ability to see food justice and accept the multidisciplinarity of the food system (Dixon, 2014).
Cities used to build around the availability of food which would inherently place a high value on the food source. However, in our society today, we have become more accustomed to buying foods from corporate grocers as compared to harvesting our own crops or accessing local foods. As a result the value and significance of food sources has declined. Within the majority of developed societies, it seems as if we are less connected to our food production. This then results in room for awareness, development, and innovation in how we grow food and how it reaches community members. Fortunately though, current efforts such as urban farms, community gardens, and educational are available within Vancouver. With these alternative practices we are not only able to deviate from the industry-style of food production but we can strive to address food justice issues within the food system (Allen, 2008). However, this can only be achieved if we ensure equality rather than serving just a privileged demographic, which may not even be intentional (Allen, 2008). By simultaneously being aware of ecological, social, and political issues in regards to food production we can positively contribute to the food system.
As said above there is opportunity for development in the food system and by using Asset-Based Community Development initiatives we can work together to put value back on precious food as well as put more value back into community dynamics. The Vancouver Food Asset Map project requires us to use an asset-based approach where we focus on what resources we already have in Vancouver to find solutions to community problems. While we are not solving poverty with this project, we are helping individuals to connect with available resources in order to provide relief and hopefully alleviate hunger.
In addressing problems in our community as students, it is crucial to come down from the 'ivory tower', and interact with community members. The extensive knowledge and experience of community members are valuable assets that must not be neglected (Mathie & Cunningham, 2003). Rather than a top-down approach, we should instead adopt a partnership mentality. This helps us acknowledge and better appreciate community assets that can be utilized in achieving community objectives together. Ultimately, helping someone starts with listening to them. It is foolish to suggest solutions to people's problems without first understanding the community context, their needs and wants, or if they even want our help at all. We should listen first before taking action (Sirolli, 2012). This strategy helps us develop and implement appropriate solutions and foster stronger relationships between all parties.
Very rarely do we get to work on community projects as part of an academic course. We are looking forward to this LFS 350 project and to have the opportunity to work alongside a community organization such as Vancouver Coastal Health. After learning more about the Vancouver Food Asset Map we are impressed with all that it has to offer and what is currently published.
Within in our group, personal experiences have allowed us to further connect to this project. Some of us have recently moved to Vancouver and by working on this food asset map we will be able to find what food production and other food asset resource are available to us as we navigate through the city. In regards to food production, we have diverse experiences, from growing up on a farm to having a strong interest in gardening, which motivate us in connecting community members with food and finding educational opportunities that can help individuals learn more about how food is grown.
In the past 3 weeks of this course we have been able to learn that through effective listening, working alongside community members, and teamwork we can make positive leaps and bounds towards sustainable communities. Social, economic and environmental sustainability within communities are ones that have food justice, sovereignty and security, where no one is left behind and resources are shared fairly. What we are hoping to achieve is an ideal food system that benefits all community members equally. As a society we will very likely face challenges in trying to resolve food system issues but there is hope that the action taken and awareness raised will drive us in the right direction towards a more sustainable food system for all.
"Shoot for the moon. Even if you miss, you'll land among the stars."
– Les Brown
---
References