This link will lead you to the first edition of Radio D – a mystery tale that is already accessible to those who are new to studying German (Level A1). Click here.
This link wil
l lead you to the second edition of Radio D. Once again you join Paula and Philip as they explore different aspects of German culture and history (Level A2). Click here.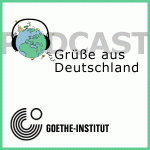 "Grüße aus Deutschland" – another great resource from the Goethe Institut – introduces you to German and Germany in 60 Episodes. Full transcripts of the audio materials are available for you to check your listening comprehension (Level A2). Click here.