Since our last post, we have made considerable progress. We have a new scope for our Grandview Woodland Food Connection (GWFC) project and have taken our first steps toward developing the interview guide that will be central in our new project direction. This post describes how our project will compare and contrast perspectives from food garden stakeholders and how our group's attitudes have evolved over the course of the semester
A New Direction
As described in our last post, the GWFC had suggested we support them in transforming a decorative garden into a food garden at the Teen Center. After investigating what would be required to successfully carry-out such a project, we quickly discovered that it would not be feasible to complete the garden transition by our April 3 deadline.
Weekly Objectives
Achievements
Feb 26th-4th
Defined new, scope appropriate project

Our group met with our TA to discuss the looming deadlines and to fine tune our prospective GWFC project
Came away with a new project scope which can be delivered by the deadline and provides value for future LFS 350 groups

Mar 5th-11th
Had a meeting scheduled with Ian

Developed draft interview guide

Marika had scheduled a face to face meeting with Ian Marcuse. This was ultimately postponed but provided an excellent opportunity for us to meet as a group
This group meeting led to the drafting of our Interview Guide

As shown above, a discussion with our TA, Colin, helped us lay the groundwork for the transition by elucidating perspectives from both the GWFC administration and the teens who will be accessing the proposed garden. Our project will revolve around developing an interview guide, driven by supporting literature, which will allow us to compare and contrast food justice and garden operation ideologies between the two groups, hopefully leading to an eventual garden that meets the needs and expectations of both groups.
As demonstrated by the example in Bradley & Herrera (2016), even two groups of people who work very closely together can have disconnected and uncommunicated viewpoints. In the story, they describe a pleasant, educated, white man in a position of power on a Los Angeles farm who knows nothing about the plants his Latino gardeners were growing and selling. This scenario demonstrates the importance of seeking stakeholder buy-in before implementing a project; different people from different backgrounds have different needs, wants and opinions. In our case, the majority of the teens are of First Nations heritage and may have different expectations from the Vancouver Coastal Health funded GWFC when it comes to food gardens.
Lee Shulman (2005) presents a persuasive argument for how an individual's training and experiences determine one's approach to problem solving. He reasons that through life, each of us develops a "signature pedagogy," or a problem solving algorithm we apply routinely. By applying the same problem solving strategy in every situation, we don't have to think about our method, instead allowing ourselves focus on the subject matter. We expect that because the two groups in our study have different training and experiences, that they will have different outlooks on this food garden situation.
The first step in our process was to be a meeting with Ian Marcuse, the Community Food Developer, to present a draft of our interview guide and to get a sense of what kind of questions he would like to have included in the guide. Unfortunately, our meeting with Ian was postponed, but we still met as a group to develop the beginnings of our interview guide.
Moment of Significant Change
What
Just as the focus of this project has evolved to key on sharing differing perspectives, so too has our group dynamic. In class, we shared how our experience had changed throughout the semester, specifically plotting "communication" and "motivation" against critical milestone's in our project's development. The image below demonstrates how our initial enthusiasm waned and how finding our second community partner was a big turning point for our group.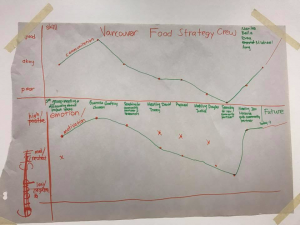 So What
This highlights the importance of flexibility when it comes to project management. Our grafting project ran into several significant challenges which would have made progress much more difficult and diminished the rewards. Learning that our course would conclude before prime grafting season and that no fruit would grow for several years are a few examples of the factors that led us to change tack.
Instead of crawling painfully forward, we decided to change directions and proceed with a new project with the GWFC. Our new project presented a clear path forward to our goal of completing a food justice project in the community. Finding a way around our obstacles as opposed to trying to plow through them led to a renewed sense of hope for our group which improved motivation and communication.
Now What
Going forward, we're hopeful that motivation and communication will continue to improve as both will be critical to ensuring our project is completed before the deadline. This experience will be a valuable reminder that maintaining a flexible mindset can reveal new possibilities and breathe new life into a team.
Upcoming Objectives
Week +1 Finalize interview guide with input from Ian Marcuse

Week + 2: Use the guide to identify what the teens and the administration (Ian) want to get out of the project

Week +3: Finalize a draft of our report, presentation and infographic

Week +4: Deliver presentation and infographic

Week +5: Deliver report
Strategy for Successful Delivery
In our compressed timeline, a big part of our strategy is going to be setting and hitting deadlines. We need to ensure our sequence of events kicks off early with the development of the interview guide, followed by the interviews to generate the data necessary to prepare our infographic and report.
To make this a reality, we will need to continue to communicate effectively to ensure that expectations are clear and that all the pieces come together as intended. If we can achieve these levels of performance, we will ensure ourselves a successful dismount.
References
Bradley, K., & Herrera, H. (2016). Decolonizing food justice: Naming, resisting, and researching colonizing forces in the movement: Decolonizing food justice. Antipode, 48(1), 97-114. doi:10.1111/anti.12165
Shulman, L. S. (2005). Pedagogies. Liberal Education, 91(2), 18.