Take 2: This time built on the internet
PWSD Educational Technology on PhotoPeach
PhotoPeach was not the right tool for telling my initial Educational Technology story, so I changed the story. I believe that there were better tools that would capture the other voices involved in this project, so instead I changed the story to a linear dissemination of my job which is a better match with PhotoPeache's strengths. Software as a service is something that I rarely think about. So long as the cost, access and interactivity is reasonable, where and how and what hosts the tool is secondary. I want a storytelling tool that I can afford, download or use on mine and my student's machines and that is the right tool to meet learner outcomes.
_____________________________________________________________________________
I set out to see if I could create a digital story completely on my handheld device. Here are my stories…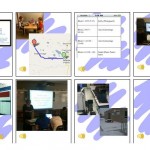 A Day in the Life of an Educational Technology coordinator is a story worth telling for three reasons.  First, in my new position as Educational Technology coordinator I want to be transparent in what I am doing.  I try to accomplish this through blogging, tweeting, Facebook and email, but I am still asked what I do every day.  Second, it is my job to model the tools I want our teachers to use.  Part of my educational technology plan this year is to have students create digital artifacts, one of them being digital stories.  As well we are in the process of working on a project that will include student handheld devices.  This assignment allowed me to model both digital storytelling and use of handhelds in one.  Finally, I believe that storytelling allows students to be actively engaged in their learning, meets a number of the ISTE NETS and performance indicators and requires students to use higher order thinking skills.    
I chose my tool based on what I could do on my iPhone for free.  While other criteria may have needed to be weighted more heavily, ease of use or functionality, I wanted to determine what I could do in the classroom tomorrow using only an iPhone or iPod and wireless internet.  Once I determined what free applications I could use, StoryKit and Story Robe, I also wanted a tool that would allow me to capture multiple voices.  The story that I wanted to tell had to include the teachers and students that I worked with.
The tool guided the way I told the story, which is why I have two different versions.  I really liked how Storykit allowed for multiple voices, internal cropping of images and adding text to slides.  However I did not like how it rendered as a single static webpage with tiny little blocks to click on.  I was hoping for something more movie like.  For that reason I decided to try and tell the same story using StoryRobe.  This app renders as a YouTube video but does not allow for text or multiple voices.  StoryRobe also limits you to three minutes worth of video recorded all in one sitting, which became extremely frustrating.  Together these tools would be wonderful, separate they are lacking some features but nothing that is insurmountable. 
Using Bates and Poole's SECTIONS model both apps are worthy of recommendation.  Students in a kindergarten to twelve setting have enough iPods and knowledge of the technology to use these tools in the classroom.  StoryKit and StoryRobe both are easy to use even for the youngest student.  Their menus use simple language and the buttons are intuitive.  However, because the cost, free, I am not sure how reliable these apps will be down the road.  Both applications also allow for interaction beyond just teacher and student as stories render to either a webpage or YouTube to allow for public consumption.  These tools allow for teaching the nuances of digital storytelling.  They both include a drag and drop storyboards, methods for re-recording and publishing.  I set out to pick free applications that work on wireless because of how my district is organized with open public wireless in each school.  Overall these tools can be effectively used for digital storytelling projects.
I can see students, using Story Kit to take pictures of their math work and record their thinking process.  They then share the link with their teacher.  I can also see StoryKit used in our second language classes.  A lot of the vocabulary our French and Cree classes learn has to do with everyday items.  They can take picture, record their translations and create a webpage of oral responses.  Conversely, I can see teachers doing the same thing, recording the proper pronunciation of words and then posting the link to the webpage in our Moodle. I see Storykit being used in a more traditional storytelling manner of creating and narrating a story. 
Digital storytelling has limitations.  Access to technology, be it terms of service and age restrictions, bandwidth or limited hardware will hamper it's use in the classroom.  Teacher comfort level with digital tools is also a limitation.  For many educators this method of storytelling is far outside of their comfort zone.  A digital story that is poorly executed will take up hours of time with very little to show for it, so this activity poses great risk.  Finally the power of storytelling lies in being able to share with others, which may be a limitation.  Freedom of information and privacy, terms of service for streaming services like YouTube and ethical use of copyrighted material make digital storytelling complicated.   These complications mean that educators may shy away.
The strength in digital storytelling is it's ability to incorporate higher order thinking skills, meet many of the ISTE NETS and performance indicators and actively engage the learner in their own learning.  To tell a story students must create and critically assess what needs to be included and excluded from their tale and the most effective medium.  They will need to become effective communicators and decision makers to plan, direct and produce their story.  A digital story also allows for student ownership over material.  This is the chance to design, create and articulate an idea of their own.  This medium can empower students by giving them a multitude of ways to show their learning.
Bates, A.W. & Poole, G. (2003). Chapter 4: a Framework for Selecting and Using Technology. In Effective Teaching with Technology in Higher Education: Foundations for Success. (pp. 77-105). San Francisco: Jossey Bass Publishers.
National Educational Technology Standards for Students. Available November 21, 2010 from
http://www.iste.org/Libraries/PDFs/NETS_for_Student_2007_EN.sflb.ashx