Since January 2015 (19.1–), I have been co-editor with Bernd Kortmann, Patrick Honeybone, and Elene Seoane of English Language and Linguistics (Cambridge University Press).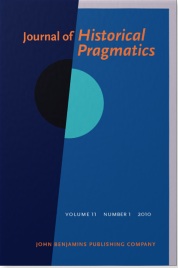 From April 2013 to December 2014, I co-edited with Dawn Archer the Journal of Historical Pragmatics (John Benjamins) (16.1-2, 17.1).
I am a member of the editorial boards of the Journal of English Linguistics, Anglia, Lexis: Journal of English Lexicography, Explorations in English Language and Linguistics (ExELL), and Working Papers in Early English Lexicology and Lexicography (WPEELEX). I serve on the series editorial boards for Oxford Studies in the History of English and Palgrave's New Approaches to English Historical Linguistics. I have reviewed widely for journals and presses as well as vetted abstracts for a variety of conferences.
From 2012 to 2015, I served as Associate Editor, A Dictionary of Canadianisms on Historical Principles. 2nd ed. (DCHP-2). Stefan Dollinger (Editor-in-Chief), Margery Fee (Associate Editor).