Welcome to our blog! We are a group of six food-loving UBC LFS 350 students who are passionate about environmental sustainability and improving food security. This blog is created as a part of our community-based experiential learning and is utilized to communicate our project progress with our community partners at Little Mountain Neighbourhood House and the working group. We hope that our blog becomes a source of information and inspiration for those who are interested in getting involved in Little Mountain community and their own communities.
WHO WE ARE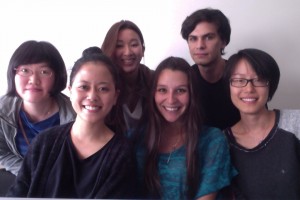 (Front row : left to right)
Devita Kireina – I'm a 3rd year student majoring in Food and Nutritional Sciences. I'm passionate in improving food security through innovative and nutritious food products. I hope to be able to develop food products that's not only flavourful but also functional in keeping all of us healthy and preventing diseases.
Cristina Figueroa – I'm a third year student majoring in Food Nutrition and Health. My main interests with regards to my degree revolve around global and local issues in the food system, specifically to do with food sovereignty and food security. These issues occur worldwide, both in the developed and developing countries, therefore I believe through innovative thinking and action plans we can contribute to the bettering of our food system.
Ann Wei – I'm a third year international student majoring in Food, Nutrition and Health who is passionate about how food choices directly affect our body and health changes, as well as food security problems among infants in developing countries. I'd like to believe that through our effort, a healthier food system can be created not only for us, but also for worldwide future generations.
(Back row : left to right)
Jarine Young – I'm a fourth year student majoring in Food and Nutritional Sciences major, interested in how food is produced, processed and its benefits to health. One of my beliefs is that people should rely on natural food produces more rather than nutrient supplements and drugs.
Danielle Gozali – I'm a fourth year student majoring in Food Science with a passion in creating delicious and nutritious food. I believe that food is a great way for communities to bond as we take the time to share and appreciate the food that we eat together. I hope to be a part of making food products that are natural and sustainably cultivated.
Hameed Dhanani – I'm a third year Applied Animal Biology student. My primary focus is to increase the net cuteness of the world. What I mean by this is that, while we are generally in agreement that other living creatures deserve to be treated with dignity, some interesting trade offs are presented. For example, marking and recapturing often causes harm to individual but provides valuable information about a population that could improve the conditions of many individuals.
Our group represents a lengthy academic journey that possess many strong qualities. Some of us are incredibly concerned with food security, while others are determined to better the lives of others. Ultimately, our group recognizes that the passion we have to identify and attempt to solve local problems is our strongest united strength.
OUR PROJECT WITH LITTLE MOUNTAIN RILEY PARK NEIGHBOURHOOD FOOD NETWORK
As we are genuinely interested in food security and health-related issues, we've chosen "Garden Gaps and SWOT: The vision for growing food in Little Mountain" as our project. By participating in this project, we are able to assist in the process of developing a new garden at Little Mountain to create accessible, safe and healthy food for the community. Our goal is to assess and analyze opportunities and threats in LM-RP through interviewing, making surveys, researching and visiting schools, as well as to determine how gardening can be integrated in BC school curriculums. We also hope that our involvement in Little Mountain Neighbourhood House will help bring the community together.
We wish to:
Gain hands on experience with regards to explore and contribute to the BC food system
Apply what we have learned in LFS 250 about system thinking and utilize this to understand how the garden contributes to the community, vice versa.
Apply the principles of Asset-Based Community Development throughout the process to be able to provide the best assistance possible to Little Mountain community
Be more involved with the community
INTRODUCTION TO LITTLE MOUNTAIN RILEY PARK NEIGHBOURHOOD FOOD NETWORK
Little Mountain Riley Park Neighbourhood Food Network (LM-RP NFN), which is part of the Vancouver neighbourhood Food Network, has initiated a garden project aimed toward ensuring local food availability and accessibility to its community members, and  increasing people's awareness to food security in the community. More detailed information can be found at their website.
Project Objectives
Assessing and evaluating the existing community gardens in schools and public properties.
Performing a SWOT and Gap analysis based on these evaluations and propose improvements to be made.
Understanding the BC curriculum and the current school lessons related to gardening, sustainability and food resources.
Assisting in building and expanding the potentials of the new community based garden.
Our group initially felt overwhelmed with the amount of details within this community project. It is clear that this neighbourhood has a lengthy history that requires an inquisitive approach.  We also feel as if there is a high degree of uncertainty, this is due to a few reasons. One of which is the lack of a developed garden at Little Mountain. We have already recognized that this will be a problem that we will have to overcome, as it will be difficult to assess strengths, weaknesses, opportunities and threats to something that has not been completed. From this perspective, we realize that our objectives are flexible and could potentially be modified based off our community partners input.
INTEGRATION OF ERNESTO SIROLLI'S TED TALK & THE PRINCIPLES OF ASSET-BASED COMMUNITY DEVELOPMENT
Ernesto Sirolli's TED talk video highlights important features that are often overlooked when aid workers come into a foreign community to provide assistance. Many of these features mentioned in the video can be closely tied to the fundamental principles of Asset-based Community Development (ACD).
Ernesto emphasizes the need to respect the local community and to understand the local context and needs of the people by building a personal relationship with them. Often, foreign aid workers come into communities with their own ideas and plans, which ultimately fail due to ignorance and lack of contextual understanding. This idea of respect and understanding the local context is similar to ACD, where relationships are valued in the community.
Ernesto also stresses the importance of building a project based on local passion. He explains that it is pointless to bring in your own ideas to a community with no passion for it. Hence, it is crucial to first listen and find out what the local community wants to change before building an idea. Similarly, ACD focuses on meaningful interactions and active listening between members of the community.
Lastly, Ernesto brings up the idea of community involvement, where experts within a community are brought together to participate in its development. This mirrors a guiding principle of ACD where members of the community are the main contributors in its development and that leadership should be evenly distributed in the community.
To sum up, our goal of this community-based experiential learning (CBEL) project in LM-RP is to identify opportunities and threats of the existing gardens by conducting surveys or interviews with school administration and determine future potentials for enhanced student involvement in garden activities. In relation to Ernesto Sirolli's TED Talk and the principles of ACD, being respectful, building a relationship with community members, and listening carefully to the needs of local people are important initiative steps of an effective implementation; likewise, our group plan to begin with collecting inputs from local schools which would allow us to have a better contextual understanding of the needs and passions of LM-RP community and then propose future recommendations accordingly.