The Canadian government committed to reducing GHG emissions by 30% below 2005 levels by the year 2030. It was immediately derided by some observers as weak and others as ambitious. It is both: weak in terms of international equity, but ambitious given existing Canadian emissions policy, or lack thereof.
But there's an even more fundamental problem.
Just what is the actual target?
Here's the chart from Canada's official submission to the United Nations, technically called an INDC:

The Carbon Brief brought attention to some confusion with the submission. The data in that graph does not include the key category of "land use, land use change and forestry". Now, it is not that unusual to plot emissions without "LULUCF", which can fluctuate from year-to-year based on forestry practices, weather, etc. However, the submission states that Canada intends to include LULUCF in calculating future emissions:
Canada intends to account for the land sector using a net-net approach, and to use a "production approach" to account for harvested wood products. Canada will exclude emissions from natural disturbances.
But that's only the first problem with the data in the Canadian submission.
The graph uses historical data from the national emissions inventory completed in 2014, which includes data from 1990 through 2012 (data available from the UN). The latest Canadian inventory report, however, was published in April. Every time one of these reports is compiled, the historical emissions are recalculated based on changes in national and international methods.
Here's the comparison of old and new, straight from the report (red line is the newest data):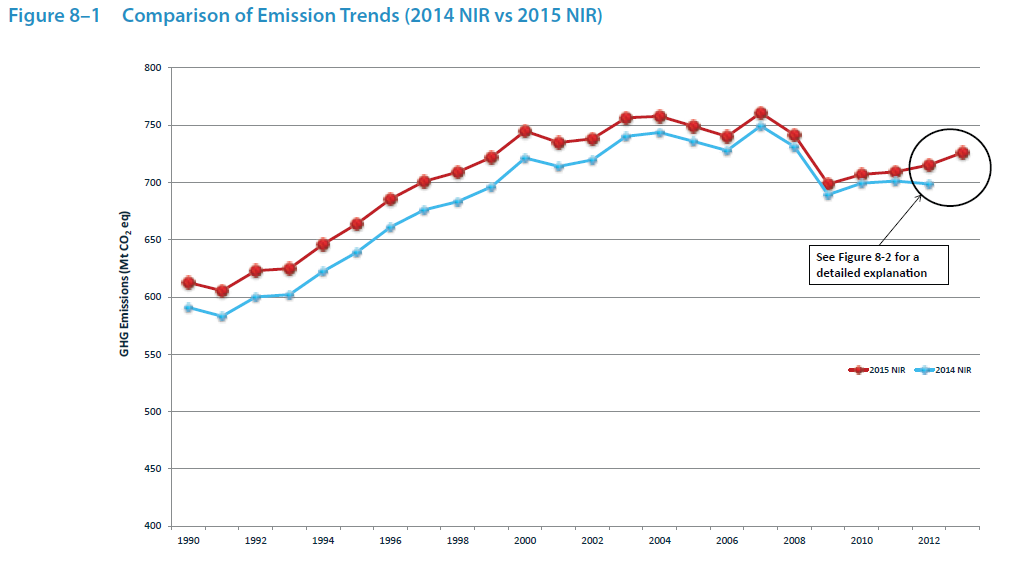 Let's be clear — the recalculation is not subterfuge. Revisiting past calculations is standard practice and takes legitimate effort.
The problem is Canada's own INDC did not use Canada's own most recent data. Given the recalculation and the confusion about whether LULUCF is included, the 2030 target is a bit fuzzy.
Here's a comparison of the possible interpretations of 30% below 2005 levels by 2030.
The target could be from 515 to 552 Mt. Semantics? No, the difference is more than half the current emissions from the oil sands. The government itself seems to be confused. Just today, the Environment Minister's communication person stated the target based on the latest data (749 Mt – 225 Mt = 524 Mt) but excluded LULUCF, which seems incorrect.
There seems to be a basic gap in quality and effort between the very professionally done National Inventory Reports and the seemingly haphazard INDC prepared for the United Nations.
Given how challenging it will be for Canada to meet its target, and how little credibility Canada has right now on climate policy, the federal government needs to straighten all this out.