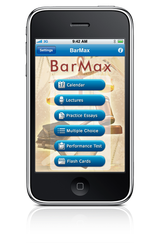 In August of 2008 a $1000 Iphone application called "I am rich" was cancelled due to its lack of purpose, it was simply a screen saver of a glowing red gem to prove your apparent wealth. However, unlike this pointless pricey app the Bar Max California Edition app has a useful purpose that may be worth every dollar. The Bar Max app is to help California law students prepare for the Bar exam. The reason for this outrageous price is because another company called "BarBri" sells test preparation for this exam for 3-4 thousand dollars. Bar Max justified their price based on the fact they are just an Iphone app and could get away with selling their product for merely a quarter of the price of BarBri's product. This app may not seem like much but it is filled with useful study materials including: 2 months of audio lectures, 1372 past exam questions, over 800 flash cards, over a 100 real practise essay questions and much more. Unlike "I am rich" and many other wealth portraying applications that have been discontinued by apple, Bar Max is a helpful tool to particularly law students of California and is worth the listed $1000
Here is a link to more information about this $1000 dollar app!
Below is a video that shows the previous 1000$ app called "I am rich" and it demonstrates how pointless it really was!!