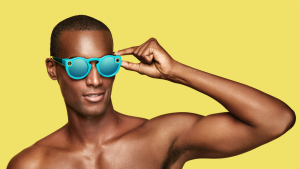 Those people you see in restaurants and in class taking a bunch of selfies every few minutes are not just infatuated with how they look. Snapchat is a commonly used social media app that allows communication with one another by sending photos or short videos with text to specific friends or posting it for all your friends to see, currently 150 million people use snapchat daily, including many famous celebrities and news websites. Snapchat's competitors consist of other social media sites such as Twitter, Instagram, and Facebook. Recently Snap introduced their first hardware system; Spectacles are picking up where google glass fell down except in a different way. Spectacles are more affordable than google glass and they excel where google glass could not. Instead of strapping a $1500 pair of technology onto your face like google glass did, snap came up with a design that is differentiable and gives them a competitive advantage over the much failed google glass product.
Snap differentiates their product from Google Glass by a more "mainstream" product, rather than pricing spectacles at a high cost like Google Glass performed, Snap will promote the sales of these new sunglasses at a price of $130 competing with lower end smartphones, and Apple air pods. This gives them a competitive advantage over some of their competitors however, when you see what $130 could get you in a sunglass store, and compare the look to the Spectacles the pros for the spectacles is that it relates back to snapchat, the pros for other sunglasses is they are much more attractive to wear. Although some may say that the Spectacles strive on their "hip" look, I personally find these glasses unpleasant to look at. I would much rather put $130 towards a pair of ray-bans or Oakley's. That being said, the market aimed for these Spectacles are the 150 million snap chatters that use the app daily. Furthermore, Google currently has 1.17 billion searchers per month and if they failed with google glass, maybe snap may fail as well? The only difference is the more affordable fact that spectacles carry in its name and also much less features than google glasses.
Overall, I would not spend money on these unfashionable sunglasses when I see my opportunity cost as ray bans that are actually appealing to the human eye. Although some may like this new look, I cannot strongly suggest that this new product will succeed.
Word count: 4o7
Murphy, Mike. "The Most Genius Thing About the Snap Spectacles Is Their $130 Price Tag." September 30. 2016. Quartz. Accessed October 2. 2016
http://qz.com/794920/the-   most-genius-thing-about-the-snapchat-spectacles-is-their-130-price-tag/
Smith, Craig. "100 Google Search Statistics and Fun Facts." August 29. 2016. Expanded Ramblings. Accessed October 2. 2016.
http://expandedramblings.com/index.php/by-the-numbers-a-gigantic-list-of-google-stats-and-facts/
Yu, Howard. "Snapchat Moves in Where Google Glass Gave up." October 1. 2016. Forbes. Accessed October 2. 2016.
http://www.forbes.com/sites/howardhyu/2016/10/01/snapchat-moves-in-where-google-glass-gave-up/2/ – 7cbc8a820903