Graduate Fellows
Fiona Beaty
I am a graduate student in Dr. Christopher Harley's lab in the Department of Zoology. My research revolves around evolutionary-ecology dynamics, in particular the adaptive capacity of coastal marine ecosystems to climate change. I am intrigued by how intertidal invertebrate communities react to environmental changes, such as altered pH and temperature regimes. In addition, I am passionate about marine conservation, and extremely invested in translating scientific research into actionable steps for decision-makers and local communities. Outside of work I love hiking, rock-climbing, biking, and exploring all that nature has to offer.
---
Sara Cannon 
I'm a PhD student and Ocean Leaders Graduate Fellow in the Geography department at the University of British Columbia. I recently finished my M.Sc., also at UBC, on studying coral reefs and resilience to climate change and local human activities in the Republic of the Marshall Islands. I hope to continue working in the Marshall Islands and the wider Micronesia region as a part of my PhD project. I'm primarily interested in integrating biology and social science to understand how human activities impact coral reef health, especially in the context of climate change. I hope my work will give communities the tools they need to make empowered decisions about resource management.
---
Anna Cho
I am currently pursuing a MSc degree in the Department of Microbiology and Immunology at UBC. I started the program in January 2016 by joining Dr. Curtis Suttle's lab. Before attending UBC, I worked as a research technician in a wildlife forensic lab affiliated with the Ontario Ministry of Natural Resources and Forestry (OMNRF), after attending McGill University (BSc in Anatomy and Cell Biology) and Trent University (BSc Hon. In Forensic Science). I am a recipient of 2016 North Pacific Research Board (NPRB) Graduate Student Research Award.
---
Kaleigh Davis
I am a PhD student in the O'Connor Lab. I am interested in studying the effects of climate change on community dynamics in marine systems. Outside of school I enjoys birding, biking, and doing crossword puzzles.
---
Santiago De La Puente Jeri
I am a Peruvian researcher that studies the ecological and human dimensions of the Humboldt Current, with emphasis on Peruvian fisheries economics and governance. Before joining the IOF, I worked in academia, as a consultant for various government organizations and NGOs, and as fisheries advisor to the Peruvian Vice-Minister of Fisheries. Currently my work is focused on linking ecosystem models with seafood value chains for management strategy evaluation. My aim is to provide a framework to foster science-based decision-making for Peruvian fisheries, which could also be used to assess the trade-offs of different policy outcomes under various levels of  uncertainty.
---
John Driscoll
For the past 15 years, I've been engaged in matters relating to fisheries and marine conservation. This time has included stretches as a fisheries observer in Alaska and New England, a commercial fisherman, a program manager for an environmental organization, an independent data analyst and report writer, and, of course, as an academic. It's my hope that the lessons learned from this varied background add nuance to my Ph.D. research, which revolves around the analysis and management of fisheries for food production objectives.
---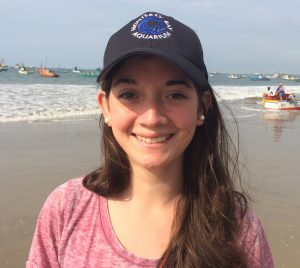 Rocío López de la Lama
I has been working in nature conservation in Peru since 2011, mainly exploring what motivates people to engage with pro-environmental behavior. I have an MPhil in Conservation Leadership from the University of Cambridge (UK), and a BSc in Biology from Universidad Peruana Cayetano Heredia (Peru). My previous work has focused on sustainable seafood, small-scale fisheries, gender studies and exploring people's relationship with nature
---
Hema Nadarajah
I am a PhD student in Political Science specializing in International Relations and is originally from Singapore.  My research interests concerns studying the political processes of translating scientific knowledge into international policy and cooperative management in regions such as the Arctic as well as studying the influence of legal instruments pertaining to science and technology, in inter-state relations.
Prior to commencing the PhD program, I worked with Singapore's National Parks Board where I was involved in liaising between local technical experts and policymakers . I have a Master of Environment from the Australian National University where I specialized in Climate Change Policy and Economics, and a Bachelor of Science from the University of Toronto where I majored in Geography and Geology.
---
Heather Summers
I am an MSc candidate in the Department of Geography under the supervision of Dr. Simon Donner. I completed my Bachelor of Science in the Integrated Science (iSci) program with a biology concentration from McMaster University in Hamilton, Ontario. My research interests include understanding the impact of climate change on the health of coral reefs. My passion for marine biology developed when I completed marine field research projects with Operation Wallacea in Cuba and the Bahamas and more recently worked as a Caribbean Reef Ecology Lecturer in Honduras.
---
Tanvi Vaidyanathan
I am a PhD Candidate at Project Seahorse, Institute for the Oceans and Fisheries, The University of British Columbia, Canada. My work focuses on the conservation of incidentally-caught marine species,using the case study of seahorses in India, in a poorly regulated fishery.
Postdoctoral Fellows
Sarah Rosengard
I am an oceanographer from Queens, NY. Upon finishing college, I realized I had developed an intense fear of waves that I hoped to cure by living on research ships. After years of wave therapy (including a degree in chemical oceanography), I am now a postdoctoral fellow in Philippe Tortell's group at University of British Columbia. Here, I study the phytoplankton communities the Subarctic North Pacific Ocean and their impact on important fisheries in western Canada. I gather information on phytoplankton populations in this region using observations of the ocean's optical properties, captured by sensors mounted onto research ships and satellites orbiting the planet. I aim to incorporate these phytoplankton data into models that predict sockeye salmon stocks in British Columbia. In a future career, I hope that the policy and education aspects of my training here equip me to address the social impacts of climate/ocean change and encourage others from diverse backgrounds to participate in the solution process.
---
Angela Stevenson
In 1986, Hexactinellid (glass) sponge reefs – thought to have been extinct for 40 million years – were rediscovered on the northwest coast of British Columbia. Their intricate and colossal structures are nothing short of breathtaking and of great biological significance; it is this precise property that make them unique and the topic of my current postdoctoral research.
During my Fellowship, I am working with Prof Chris Harley and Prof. Curtis Suttle to investigate glass sponge sensitivity to climate change. Through a series of lab experiments we strive to understand how the sponges and their microbiome (bacteria, protists, and viruses), as well as associated invertebrates are impacted by acidified conditions and elevated temperatures. I am also interested in exploring the bathymetric patterns of morphological disparity observed in crinoids, and modern day ecological relationships between them and their predators.