Silent Reading History
From reading out loud to reading in our heads.  How did it happen?
Ancient Reading:

St. Ambrose
Punctuation and silent reading Interview
In the interview above, Greg Turko, Professor from Ryerson University in Toronto, mentions St. Augustine as he comments on early silent readers. The story is often used as an example of the earliest reference to silent reading in western literature (Lyons, 2010; Manguel, 1996) and to support the idea that early reading was mostly oral.  In the 4th century, St. Augustine wrote in his Confessions about his observations of St. Ambrose, bishop of Milan, reading silently in his cell.  He expresses surprise and seeks to explain the behaviour.  Over the years, scholars have disputed this incident as the earliest reference to silent reading and Burnyeat (1997) goes so far as to name the Augustine story a myth because the interpretation of this story has functioned as one (as can be seen in the interview).  There are many references to silent reading in earlier texts (Balogh, 1927, Clark, 1931; Gilliard 1993; Knox, 1968) and scholars have debated their interpretations for many years.  Balogh (1927) was an early proponent of Augustine's story to prove his thesis that most reading in antiquity was oral and it was generally accepted despite opposition from Clark (1931) and Knox (1968). Gilliard (1993) states that there is evidence for residual orality but that "the predominance of orality does not mean exclusivity" (p. 694). Gavrilov (1997) and Burnyeat (1997) cite many early instances of silent reading and conclude that silent reading was actually more common than scholars supposed, especially for letters and short texts.  It was the gradual changes in text spaces that eventually lead to widespread silent reading and it took place over a long period of time (Saenger, 1997) but the two modes of reading co-existed (Gilliard, 1993; Lyons, 2010).
Scriptura Continua:

Ancient writers composed orally and assumed that their readers would be hearing the text as they read out loud (Manguel, 1996).  Because of this, ancient script had no word spaces, upper/lower cases, nor punctuation. This type of script, illustrated above, is known as scriptura continua.  It was written on monuments and public buildings and in long continuous scrolls without page breaks, and in early manuscripts, etc. Before a text was read out loud, a reader had to practice – a process called praelectio – (Manguel, 1996; Saenger, 1997) and sight reading was unusual as it could lead to grammar problems and misunderstandings (Manguel, 1996).  The adoption of scriptura continua by the Greeks was a result of the introduction of vowels to their writing script which made decoding easier and meant that interpuncts, or points, that had separated words in earlier languages such as Hebrew, were no longer necessary.  The Romans eventually adopted this style as well, in the second century AD, due to reading habits and the social context of reading and writing (Saenger, 1996).  Saenger (1996) cites the preference for oral reading as an esteemed skill and no requirement to spread literacy as the reasons for the very slow and gradual introduction of graphic changes to text that made silent reading possible and even preferable to reading out loud.  Scriptura continua was the norm in Late Antiquity until the central Middle Ages.  As Saenger (1996) points out "the task of separating written text, which had been for half a millennium a cognitive function of the reader, became instead the task of the scribe" (p.13).
Word Separation and Word Order: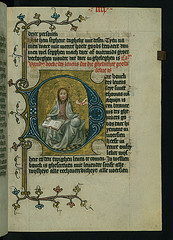 Paul Saenger, in his book Space Between Words: The Origins of Silent Reading (1997), makes a strong case for the importance of word separation in the development and spread of silent reading.  The addition of spaces between words simplified reading and allowed for oral sight reading and easier comprehension, therefore making text more accessible for average readers.  It also encouraged deeper engagement with the text.  The addition of space between words changed the neurophysiological process of reading by lessening the number of fixations (where the eyes stop on the page) because a group of words could then be combined in one glance.  With fewer fixations, the reader could increase the speed of reading by decoding the whole phrase.
Word order was not as important in ancient Greek and Latin as it in Modern English, since meaning was derived from inflections on each word, not its location in a sentence.  The introduction of word order, or "word groupings within sentences" (Saenger, 1997, p. 15), in the early Medieval period gradually led to the development of consistent punctuation signs.  This process was also influential in the growth of silent reading.
At the edges of Roman influence, scribes and monks in the remote Scriptoriums in Britain and Ireland were not as fluent in Latin and Saenger (1997) traces the beginnings of word separation to Irish monasteries in the 7th century which began as an aid to these not-so-fluent readers (Lyons, 2010).  The first attempts at word separation were inconsistent and called aerated manuscripts which served as "an intermediate stage between scriptura continua and separation" (Saenger, 1997, p. 33).  Saenger outlines this process that evolved in a series of steps and stages into consistent word separation with a consistent size of space between words.  The adoption of word spaces spread geographically from the west and across Europe and was almost universal by the 12th century (Lyons, 2010; Saenger, 1997).  Another reason for word separation evolved on the European Continent when new and difficult writings by intellectuals of the day appeared that required the reader to understand more difficult concepts and therefore word separation made them more accessible to the reader (Saenger, 1997).  What seems clear is that the adoption of word separation was a slow process that took place over several centuries.
Go to Punctuation Development