Every coach and authoritative figure in every sports league must have the ability to properly motivate their players. After a strong win or a depressing and dramatic loss, players feel an extreme bipolarity of emotions. It is the coaches, and team captains job to guide them back to the balanced middle ground, such that they stay focused and motivated. They are the leaders that the players look up to and because of this dependence, they withhold many different types of power and great influence over them. However, with younger athletes in the new Generation Z becoming a bigger part of professional sports, player deviance and arrogance are rising. Coaches must adjust their style of motivation accordingly, in order to extract the highest quality results that they can. This is not only an internal problem, but also external in the sense that many people look up to athletes and will mimic their behaviour. For example, showboating in the National Football League (NFL) has become a subject of extreme controversy and it has shown to have a correlation with ratings dropping (Mushnick, 2016).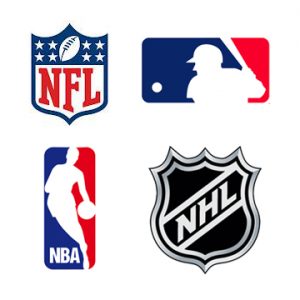 In order to resolve this issue of "pre-madonna syndrome" among certain players, coaches and team captains must create a stern environment of discipline and simply state that that kind of behaviour will not be tolerated. Upon examining the Blake Mouton Managerial Grid, they actually should have high concern for product and low concern for people in these specific situations, placing themselves in the authoritative category. Generally, concern for both should be high, placing themselves in the team category. 
In my classmates blog post on the subject, Noah Woogman stated that hierarchy is at the pinnacle of success in professional sports franchises, and I fully agree. I found this blog post to be useful as it highlights that stern authority is often a proper managerial solution in some instances like this.
Bibliography (APA):
[Professional Sports Leagues]. (n.d.). Retrieved March 29, 2017, from http://www.statisticbrain.com/wp-content/uploads/2011/12/pro-sports-logos.jpg
Mushnick, P. (2016, October 21). NFL's sinking ratings tied to shameless showboating. Retrieved March 30, 2017, from http://nypost.com/2016/10/20/nfls-sinking-ratings-directly-tied-to-shameless-showboating/
Pumerantz, Z. (2017, January 26). The 50 Greatest Coaches of All Time. Retrieved March 30, 2017, from http://bleacherreport.com/articles/1277689-the-50-greatest-coaches-of-all-time
Woogman, N. (2017, March 27). Noah Woogman's Blog – Gettin' Woogie with it. Retrieved March 29, 2017, from https://blogs.ubc.ca/noahwoogman/