Photo by Ali Kazal on Unsplash
By Elyse Tsang
Our previous knowledge hub posts have touched on the great diversity between rural communities, making it challenging to apply identical research approaches and generalize findings across rural populations. Considering this reality, what strategies can support the heterogeneity of rural health research to ensure that individual community needs are being met? Community-based participatory research (CBPR) offers an effective way to reach this objective!
After reading this blog post, we hope that you would gain an understanding of CBPR's key characteristics, the outputs generated from its application, and why it is a particularly useful strategy in rural health research.
What is community-based participatory research?
Community-based participatory research (CBPR) is based on authentic partnerships. It involves working alongside communities throughout the research process to address context-dependent issues and devise locally relevant solutions for improving health outcomes [1]. The Kellogg Community Health Scholar's program describes CBPR as,
"A collaborative approach to research that equitably involves all partners in the research process and recognizes the unique strengths that each brings. CBPR begins with a research topic of importance to the community, has the aim of combining knowledge with action and achieving social change to improve health outcomes and eliminate health disparities."
Note that CBPR is not a research methodology or set of methods itself, but rather an orientation to research. In this sense, CBPR projects may involve the use of quantitative or qualitative research methodologies and different study designs (longitudinal, cross-sectional, cohort, etc.) [2].
CBPR was shaped by influencers such as Kurt Lewin, Paulo Friere, and various feminist theorists to support planned social change and create more equitable processes between researchers and community members [3].

Check out this journal article for more on the history of CBPR.
Key qualities of CBPR
The key characteristics and components of CBPR are described below [4]:
PARTICIPATORY — the direct engagement of community members and knowledge built on authentic partnerships; empowers community members to be agents of investigation who can identify solutions specific to their situation.
LOCALLY RELEVANT — based upon community knowledge, needs, issues, and concerns with processes that reflect local values; builds on pre-existing community strengths and resources.
PRACTICAL OUTPUTS — findings contribute to positive social change, community transformation, and the elimination of health disparities.
To ensure the development of equitable partnerships and empowerment of communities, CBPR is grounded on the following principles: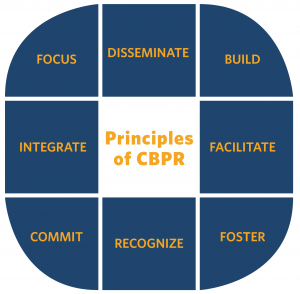 Adapted from: https://medicine.yale.edu/intmed/genmed/eric/cbprguidebook/principles/
Degrees of community participation in research
Depending on the purpose, structure, and nature of a research project, community members may be involved to greater or lesser extents. This table provides an overview of the varying degrees of community participation seen in research [5].
Degrees of Community Participation in Research
1
Community-controlled and -managed research

Full ownership lies within the community
No professional researchers involved

2
Community-controlled with professional researchers

Professional researchers are managed by and work for the community

3
Co-production

Equal partnership between professional researchers and community members

4
Controlled by professional researchers with varying degrees of community partnership such as:

Community-based advisory group involved in design and dissemination
Trained community researchers may undertake some or all of the data collection, analysis, writing, etc.
Professional researchers use participatory methods (e.g. recruiting young community members to take photos)
Adapted from: https://ahrc.ukri.org/documents/project-reports-and-reviews/connected-communities/community-based-participatory-research-ethical-challenges/
Outputs of CBPR
What exactly does CBPR aim to accomplish? These outputs of CBPR contribute to achieving more equitable and sustainable health outcomes for communities [6].
Sustainable policy and systems change
The voices of community leaders and members should be involved throughout research and policy deliberation to bring about innovative and sustainable solutions specific to community needs while also helping to address the root causes of health inequities [2].
Scale and spread of knowledge dissemination
Research findings and sustainable solutions derived from CBPR can be useful for other communities to improve their health outcomes through journal publications, framework development, and change guides.
Informing practice
As CBPR is more widely applied, further insights into best practices can be used to inform the formation of accessible resources and guides that will support local leaders in planning their own future CBPR-based projects.
CBPR in rural health research
In rural health research, CBPR is an especially effective approach as it tailors to the unique context of rural communities and builds upon their strengths. Outlined below are some of the ways that CBPR lends itself to rural health [2]:
Prioritizes locally-defined health issue

Rural communities greatly differ from one to the next and experience unique challenges depending on the local context. CBPR provides a means to understand each local context and devise community-specific solutions deeply.
Meets the needs of unheard voices

With CBPR, marginalized communities are engaged in trusting and respectful relationships where they are involved in joint knowledge generation and decision-making throughout the research process.
Leads to equitable and sustainable health outcomes

CBPR seeks to eliminate health disparities, many of which are amplified in rural and remote communities. Not only does CBPR seek to generate interventions and policy changes that improve health outcomes, but it also serves to identify and address the root causes of underlying health inequities.
Builds local capacity

CBPR projects can create funding and employment opportunities for local partners while equipping communities to develop, expand, and sustain their own prospective projects.
Adapts findings to other rural contexts

Programs, interventions, and policy changes generated by CBPR projects may be adapted to suit the context-specific needs of other rural communities facing similar health issues.
How have you incorporated a CBPR approach into your research study? Please share your experience with us in the comments!
Contact us at rhsrn.bc@ubc.ca or find us on Twitter @RHSRNbc.
References
[1]       An Effective Approach to Understanding Communities. WK Kellogg Foundation n.d. https://www.wkkf.org:443/news-and-media/article/2009/01/an-effective-approach-to-understanding-communities (accessed December 2, 2021).
[2]       Minkler M, Garcia AP, Rubin V, Wallerstein N. Community-Based Participatory Research: A Strategy for Building Healthy Communities and Promoting Health through Policy Change. PolicyLink; 2012.
[3]       Jull J, Giles A, Graham ID. Community-based participatory research and integrated knowledge translation: advancing the co-creation of knowledge. Implementation Science 2017;12:150. https://doi.org/10.1186/s13012-017-0696-3.
[4]       Burns JC, Cooke DY, Schweidler C. A Short Guide to Community Based Participatory Action Research. Advancement Project – Healthy City; 2011.
[5]       Gilroy R, Holland T, Hudson K, McNulty A, Owen J, Kindon S, et al. Community-based Participatory Research: Ethical Challenges n.d.:13.
[6]       Kornelsen J. Community Engaged Research 2021.