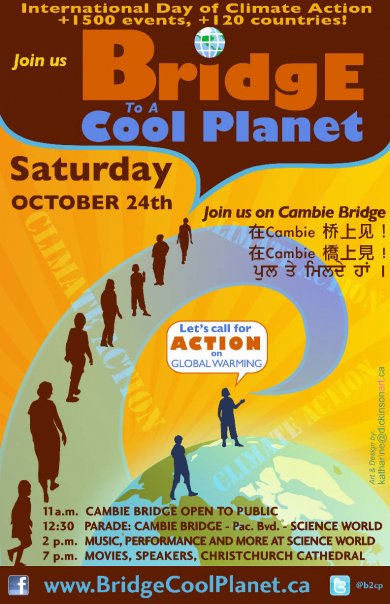 This Saturday, October 24th, thousands of people are joining more than 4000 events in 169 countries to create awareness about global climate change. 
Students in history have united and CHANGED THE WORLD with their demonstrations. They have spoken out. They have stopped what they considered wrong. They have demanded attention for their ideas. They have expressed their opinions and fought for their rights.  Now it is your turn, my turn, his turn, her turn, their turn. OUR turn. 
Let's tell the world that we DO NOT agree with the governments' low commitment to become sustainable societies. WE are the ones that want to grow old in this world. It's ours. Let's take the matter into our own hands and act. 
If you care about global climate change, about the infinite number of plants and animals going extinct, about the rising sea levels and weather changes that displace populations and KILL… come to Cambie Bridge this Saturday at 11 AM. Show the world that you DO care. Bring your friends, family, dogs and cats, dress up, make signs, have fun!