Bu ilkbahar tatilinde benim fransiz arkadasim, Bertrand, Istanbul'a geldi, bu bizim Kara Deniz 'e yolculuğumuz. Once biz Trabzon'a uctuk. Orada universitenin bir yurdunda kaldık. Sonraki gun Sumela Manastırı'na gittik.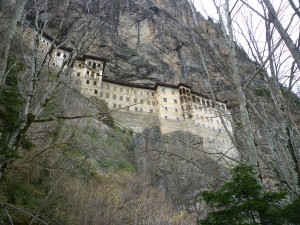 Sumela Manastırı ormanda buyuk bir dagda. O gece, biz yasli bir koylu kadinin bahcesinde cadir kurduk ve orda kaldik. Yasli kadin cok tatliydi, bize ev yapimi tereyagi, kaymak ve guzel findiklar verdi, ve sabahleyin taze sut de verdi.
Ordu'ya otostop yaptik, ama orada sadece bir gece kaldik cunku Ordu cok guzel bir sehir degildi. Sonra, Sinop'a gittik, guzel ve tatli bir liman sehriydi. Bircok tekne ve iyi lokanta vardi. En guzel turk kahvaltisinı orada yedik. Bircok ev yapimi recel, cok guzel kaymak, yumurtalar, zeytinler ve peynirler vardi, hepsi icin on lira verdim!
Daha sonra Amasra'ya gitmek istedik, ama o Sinop'tan cok uzaktaydi. Bu nedenle, biz Doganyurt'ta bir gece kaldik. Doganyurt'ta kucuk bir liman vardi ve herkes bizim ile konusmak istedi.

Orada yasli bir adamin evinde kaldik. O Almanya'ya gitti ve Almanca konustu. Ordan sonra Amasra'ya gittik, o en sevdiğim sehirdi. Orada iki gun kaldik, kucuk bir pansiyonda uyuduk.
Burası denizden uzak degildi. Bu gunler cok gunesliydi, ve ben her zaman guneslendim. Bircok cay ictik ve yuruduk de. Daha sonra Istanbul'a donduk, cok multluyduk.
***
So I recently gave up on my Turkish, but it was nice trying ! Hopefully some day I will meet a Turkish person and remember how to say "Merhaba, benim adım Valentina" and from there move on to signs and English.
Güle güle Türkçe!