As a first-year in Sauder, I am constantly bombarded by questions about my future: What business am I interested in? What will I major in? Will I go to graduate school?
As of right now I have no idea if I even want to pursue a career in business. I am enjoying my first year at Sauder, so assuming I meet the minimum requirements, I'll continue on here next year. With that in mind, I have to begin choosing my career path, which is something I am not ready for.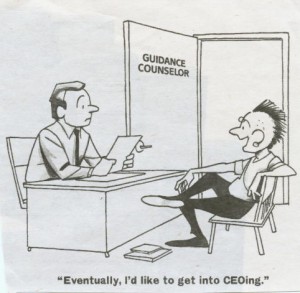 Thankfully, Penelope Trunk simplifies the process in her blog and makes it less exhausting for me to choose a career. According to her, a career isn't a job, but rather it's a lifestyle. I should love what I do, not count down the minutes until I go home. I can't overcommit myself–instead I should test many options and see what fits. Finally, I shouldn't believe the hype of the job. I need to learn for myself what I enjoy and hate, and it shouldn't matter what that job is, if it feels right to be a garbage man, a garbage man I should be.