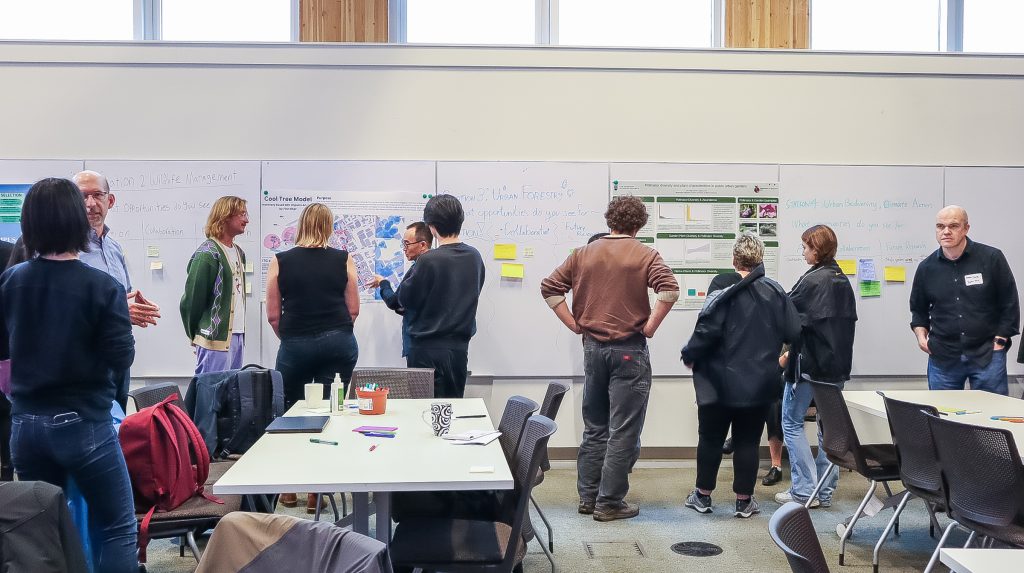 In celebration of the UN International Day for Biological Diversity (May 22nd), UBC Botanical Garden hosted a series of events in collaboration with the SEEDS Sustainability Program, UBC Farm, and Climate Crisis in Urban Biodiversity (CCUB) initiative in celebration of local and global biodiversity through the month of May.
As part of this series, the SEEDS Sustainability Program hosted Urban Biodiversity Action: Student-led Research Showcase in collaboration with the UBC Botanical Garden. This research showcase was the first in-person SEEDS showcase since the start of the pandemic, and the 40+ people who attended represented a diverse range of academic and professional backgrounds. This was an opportunity to celebrate successes in research and mobilize knowledge to inform policies, create opportunities for collaboration, and motivate future research. 
During this event, the spotlight was on three student-led projects from varying disciplines, which served to broaden the scope of conversations that followed. Explore more about these inspiring student-led research projects below.
---
Effects of Manufactured Soil Blends on Urban Forest Resilience Under Climate Change
Presenter: Daniella (Jia Lu) Zhang, Urban Forest Ecosystems Lab, Belowground Ecosystems Group, Faculty of Forestry
This study investigated whether manufactured soil blends (MSBs) are developing over time to support trees and other vegetation experiencing climate stressors.
Manufactured soils are vastly different in composition from native soils, and make up the majority of soil on campus. Over 50 soil samples were collected from across campus and analyzed.
The results of this study suggest that there is no evidence of carbon accumulation over time in urban soils on campus, and that vegetation cover and soil depth influence soil carbon accumulation. Recommendations included the integration of a Sustainable Soil Management Plan into future development plans and the creation of a soil classification system. One suggestion for future research was to explore the role MSBs play in stormwater management.
---
Bats on Campus: Living with an Endangered Species
Presenter: Timothy Wong, ENVR 400, Faculty of Science
Other Group Members: Philip Bartha, Ryan Brehon, Mark Wen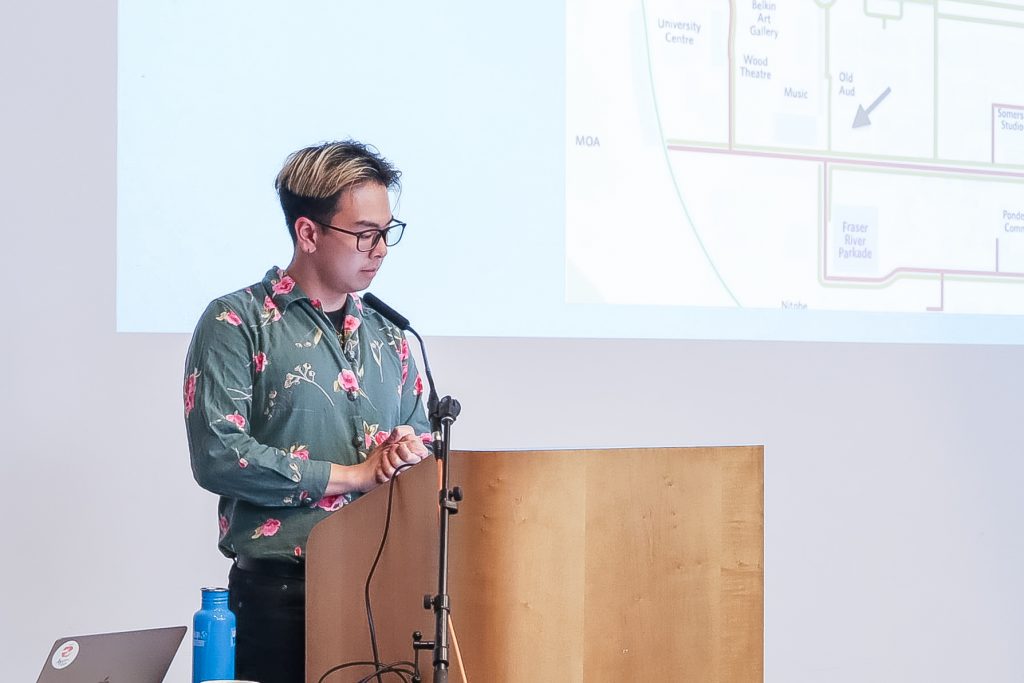 Upon finding a roost of over 100 endangered little brown bats (Myotis lucifugus) inside the roofing of the UBC Vancouver Auditorium Annex Office A building, this project aimed to conduct a bat habitat suitability analysis and install a bat box to provide a suitable alternative bat roost on campus to minimize potential human-bat conflicts. 
The students engaged with a wide range of stakeholders and balanced different perspectives and concerns with bat habitat requirements and technical feasibility. Students noted challenges in identifying suitable locations for the bat box (e.g. underutilized spaces such as small fields) that were not already slated for future development. Students also identified a gap in current UBC policy regarding the management of endangered species and other aspects of human wildlife conflict on campus.

Recommendations for future actions included incorporating bat-friendly building design guidelines into the Green Building Action Plan and launching an educational bat awareness campaign to raise awareness about endangered urban wildlife. A link to the students' final report can be found here. SEEDS will continue to work on this project over the summer, so stay tuned for updates on the installation of the bat box!
---
The UBC Tree Inventory: Purpose and Improvements
Presenter: Finn Köpf, UFOR 220, Faculty of Forestry
Other Group Members: Alex Martin, Lukas Olson, Han Yan
This project is part of a multi-year SEEDS collaboration between students and faculty from Forestry and staff from UBC Campus and Community Planning to collaboratively develop a dataset of trees on campus. Students investigated ways to improve data collection, analysis, and cleaning of the campus Tree Inventory. This project highlighted the benefits and tradeoffs of different tree inventory models, including broader limitations in accuracy of urban forest models. Recommendations included tailoring models to specific ecosystem services and parameters to inform specific planning scenarios and the tracking of tree health on campus. Future research opportunities include using automation to clean collected data.
---
Be a Part of the Movement!
Meaningful work to address biodiversity-related challenges is happening in many different fields. Join us in working together to promote biodiversity all across campus by exploring resources and events by SEEDS Sustainability Program, UBC Botanical Garden, UBC Farm, and Climate Crisis in Urban Biodiversity (CCUB)
---
The Biodiversity Research Showcase is one of many activities embedded in the Biodiversity Days month-long celebration in May to honour the International Day for Biological Diversity (May 22). Hosted by UBC Botanical Garden in collaboration with SEEDS Sustainability Program and Climate Crisis in Urban Biodiversity Initiative (CCUB), this year's events feature family nature walks, a student Research to Action Showcase, tree and bird tours, citizen science action, virtual events, practical workshops and more.