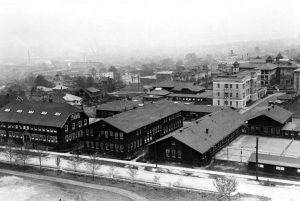 When the School of Nursing opened in 1919, students at the fledgling University of British Columbia crowded into temporary wooden buildings they called "The Fairview Shacks" – now the site of Vancouver General Hospital.
The Great War had stalled the development of the UBC campus but the lack of progress following Armistice led the students to signal their discontent to the BC government, campaigning to have construction continued at Point Grey with a parade we remember as The Great Trek.
The Science Building on the Point Grey campus was completed in 1925 and nursing students moved in with other science students. Above, the original main library is visible on the left.
By 1946, another war had ended and post-war enrolment had increased. Overcrowding forced the nursing students into "The Orchard Huts" or simply "The Huts"—the recently abandoned campus army barracks.
The Huts remained in use as classrooms and then as administration buildings throughout the fifties and sixties. For many years, faculty shuttled between The Huts and classroom space in the Wesbrook Building.
Finally, the School of Nursing classrooms and administration space came back together to take up residence in the (then) state of-the-art Koerner Pavilion Acute Care Unit, where it has remained "temporarily" since 1981.
It is fitting that 2019—the centenary of the School of Nursing—would be the year UBC took a critical step towards the realization of our new building, an innovative space designed specifically for nursing research and education. Having received Board of Governors Approval, we now enter the next phase of our history. Our proposed new home, in partnership with the School of Kinesiology, UBC Health, and Integrated Student Health, will be located at the NW cornerof University Boulevard and Wesbrook Mall, on the prominent Gateway site.​​
| | | |
| --- | --- | --- |
| Westbrook Building 1952-1981 | The Huts 1946-1960s | Acute Care Unit 1981-approx 2024 |